King, Paskey complete programming course
News | Published on June 30, 2023 at 10:42am EDT | Author: frazeevergas
0
Conference camp instructs 30 robotics students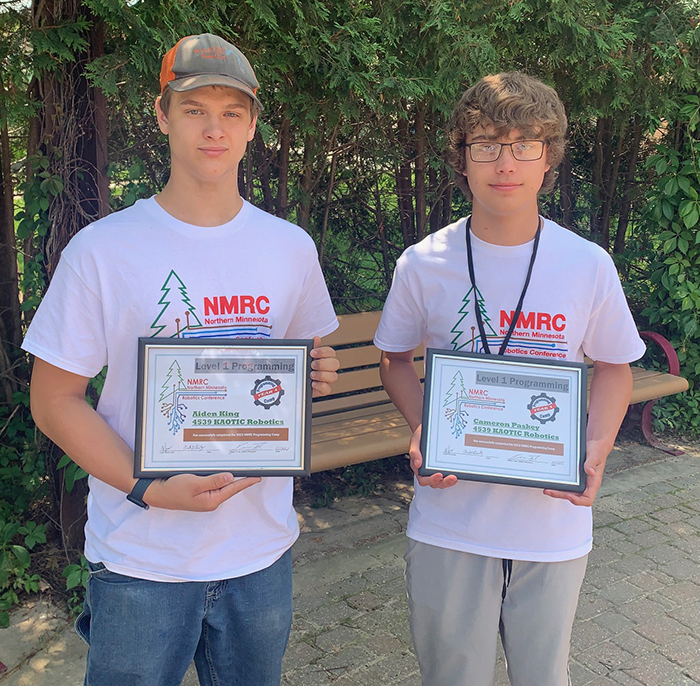 The Northern Minnesota Robotics Conference (NMRC), in partnership with Bemidji State University (BSU), held its fourth annual robotics programming camp on campus at Bridgeman Hall.
This programming camp began back in the summer of 2018 after the collaboration of NMRC member teams identified programming skills as one of the top priorities to address in order for student growth and success.
"We would like to thank all of those who participated at this great event and congratulate all of those students who completed their respective programming course," NMRC President Jesse Frost said.
These skills are not only necessary for our teams to be successful on the field but needed in business and industry within our communities in order for them to thrive as well.
This year, 30 students from teams in the communities of Hatton-Northwood (ND), Warroad, Cass Lake, Thief River Falls, Nevis, Pine River-Backus, Perham, Frazee-Vergas, Greenbush-Middle River, Babbitt, Stephen-Argyle, Pillager, and Ashby converged onto the Bemidji State University grounds for this two-day event June 12-13.
During camp, students participated in either the Level 1 or Level 2 programming course in which they wrote code, deployed code to robots, and tested the programs they wrote through a variety of hands-on activities.
In addition to the courses students received presentations on postsecondary opportunities at BSU. They also heard from industry experts and programmers from Paul Bunyan Communications about opportunities here in northern Minnesota in which their developing programming skills could be put to work in the future.
"On behalf of all our member teams and our students the NMRC would like to thank Paul Bunyan Communications, Bemidji State University, BSU's Dept. of Technology, Art, & Design, and the NCVCC (North Country Vocational Cooperative Council) for their commitment to our students and their desire to help create opportunities for our kids," said Frost. "Without their logistical and financial assistance this camp would not have been possible."
To learn more about the NMRC and member teams please visit www.NMRConference.org and read about the teams under the "Members" tab. Visitors can also learn how individuals and organizations can get involved to help kids from around the region under the "Partners & Volunteers" tab.