Sonnenberg qualifies for fifth trip to nationals
News | Published on June 30, 2023 at 10:56am EDT | Author: frazeevergas
0
10-year-old racing in the largest amateur motocross race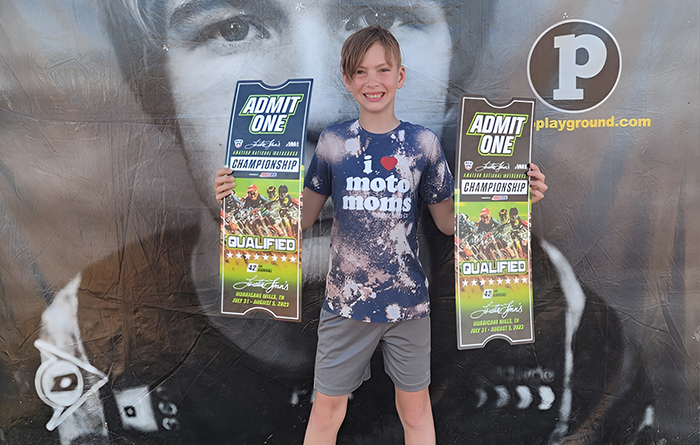 By Robert Williams
Editor
Jase Sonnenberg, 10, an incoming fourth-grader at Frazee-Vergas Elementary School, is one of the best motocross racers in Minnesota in his age division and will be making a remarkable fifth trip to the largest national amateur race in the country at the end of July.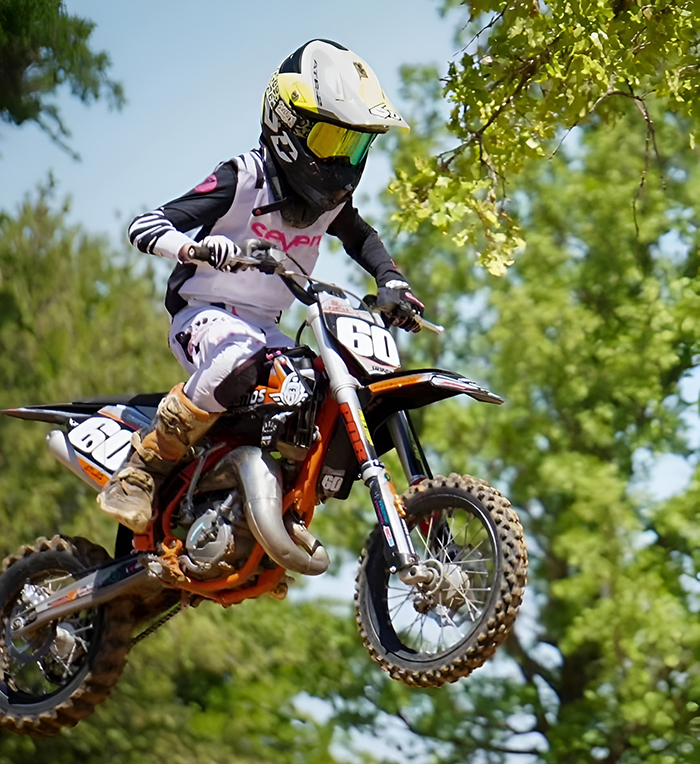 Sonnenberg is racing in the American Motorcyclist Association (AMA) 7-9-year-old 65cc division. Despite being 10, the age ranges are based on the age of the rider at the beginning of the year. He recently qualified twice riding his 65cc stock and 65cc mod in Ponca City, Okla. on June 19, punching his return ticket to the 42nd Annual Monster Energy AMA Amateur National Motocross Championship at Loretta Lynn Ranch in Hurricane Mills, Tennessee, which will be held July 31 to August 5.
"I got good starts and stuff and almost won my heat and pulled a hole shot in the last moto. I just wanted to stay up."

Jase Sonnenberg
Hole shot is a reference to the first racer to get through the apex of the first turn. Getting the holeshot gives the rider a competitive advantage and some level of control in the race.
Qualifying season begins with area qualifiers. Sonnenberg raced in three qualifiers and won all three. Upon moving up to regionals the top six finishers in a three-moto format advance.
"So, if you have one bad moto you're pretty toast," Jase's mother Jessica Sonnenberg said.
Nationwide, each region sends six riders for a total of only 42 racers who qualify for nationals.
Racing is a family function for the Sonnenberg's and after traveling all over the country, the entire family is going with Jase to nationals, including sister Hailey and dad Tyson.
"It's a lot of travel," said Jessica.
Jase is looking forward to the big family trip to Tennessee, a last one with his sister Hailey before she jets off in pursuit of a doctorate degree at the University of Oregon after completing her pre-med degree at UND in Grand Forks.
Qualifiers have taken the family from Michigan to Texas, Colorado, Utah, and everywhere in-between. The competition gets tougher the further south they travel as those riders have the luxury of racing all year long with training facilities, compared to riders from northern Minnesota.
"It was stacked in Oklahoma," said Jase.
"And those are the kids you're going to race at nationals," said Jessica. "We think it's good to do that kind of stuff."
Jase's talent is homegrown as the Sonnenbergs built tracks at the family's former home in Vergas and their new place in rural Frazee has two tracks where he practices.
Jase used to race Minnesota's six-track district races pretty heavily for four years, until his dominance in that field led the family to seek out bigger races regionally. Jase is an eight-time state points champion in Minnesota.
"This is the first year we put that aside and decided to travel more and go to the bigger races," said Jessica. "You don't really get better when you aren't pushed."
Racing takes up full weekends during the spring and summer schedule, sometimes leading to personal races to get back home in time for non-racing schedules.
"We've dropped him off at school before right out of the camper, rolling in," said Jessica.
Jase is following in his father's footsteps and is racing at some of the same tracks his dad did when he was racing, like the recent qualifier in Oklahoma.
"My dad did it and then I wanted to do it," Jase said. "He used to be on a team."
Jase's racing started with an electric faux dirt bike from Walmart he got when he was three-years-old. He took to it immediately and started upgrading his ride.
"He was actually riding a dirt bike and raced for two years before he could ride a bike without training wheels," said Jessica. "It was the most mind-boggling thing ever."
The lure of racing is pretty simple and Jase does it for the same reasons many have and his words hearken back to the childhoods of those who grew up on dirt bikes and three wheelers.
"Going fast and doing big air," he said. "Big jumps!"
Unlike many of his national competitors, Jase is a multi-sport athlete rather than just a full-time racer. He wrestles and plays football in Frazee, rather than race year-round.
For his parents, they are just happy to see him succeed and compete at the high level he has been able to race at and success certainly comes with its own share of costs.
The Sonnenbergs have garnered a lot of sponsorships to help alleviate the cost of maintaining the bikes, travel and racing expenditures.
"They all vary a lot, our biggest, hands-down is Legends; they actually gave Jase a dirt bike last year," said Jessica.
Aside from Legends Hydrovac out of White Bear Lake, the list of more than 20 sponsors includes local companies like KLN Family Brands, Pelican Dental, JH Signs & Designs, Inc., Kayla Smith of Coldwell Banker Preferred Partners Perham/Pelican Rapids, Sonnenberg Plumbing & Heating, and Bruhn Farms to individuals and families like Clay and Kim Montella, Derrick and Alyssa Cariveau to racing-specific companies like Seven, Paragon Moto Gear, Cheney Racing, 6D Helmets and others.
Added to the expenses of travel, the bikes and regular maintenance are the costs of actually racing, making any discount from sponsors even more important.
Regionals cost around $600 for entry, practice and racing. Just to register for the Loretta Lynn nationals costs over $1,000.
After a quiet moment, Jase showcased his quick wit and hilarious sense of humor.
"And then with the gas prices these days," he said.
A self-proclaimed teacher's pet and class clown in school, Jase is a riot to talk to. Racing is all about fun and catching some air. He doesn't take it too seriously.
"If he ever changes his mind and doesn't love this none of us will argue with him," said Jessica.
"I'm going to keep going until I get sick of it and then I'll become a pro fisherman," Jase laughed. "Racing you have to have patience but fishing you don't, so I think I'd be better at that, especially, if you have a honey hole."
Nationals will be a busy week after qualifying in both stock and mods, which will equate to six motos and potentially racing every day during the week.
The Sonnenbergs are looking for a better start this year after blowing up a carburetor at the beginning of the first race of the 2022 nationals.
"We replaced it at the start and I was in dead last and I ran the fourth-fastest lap time," Jase said.
Fortunes quickly turned in the second racer resulting in Jase's best-ever finish at nationals.
"The second moto I was way on the outside to start and I worked my way up to third place and I got to go on the podium," he said.
Nationals can provide plenty of ups and downs and Jase experienced that with a crash in his third race.
Sonnenberg's strategy is pretty simple for this year: don't crash and get a good start. While not imperative to winning, getting off the line is important.
"It's not like it's trouble, but you've got to go right away because people are going to start fading at the end and that's when you've got to go," he said.
Endurance plays a factor as well,with races at nationals consisting of 20-minute motos versus 10-minute races, which are more common on the local and regional circuit. Jase is hoping to be near the top and off the line early looking for the hole shot.
"I would prefer to be up front," he said. "I'm hoping for a top five or top 10 finish," said Jase.
After returning from Tennessee, Jase will race more in-state and get back on the road with the family to Oklahoma and other regional races.