True Blue Flower Co. hosts open studios, U-Picks
News | Published on June 30, 2023 at 10:52am EDT | Author: frazeevergas
0
Lautenschlager leans into 'big experiment'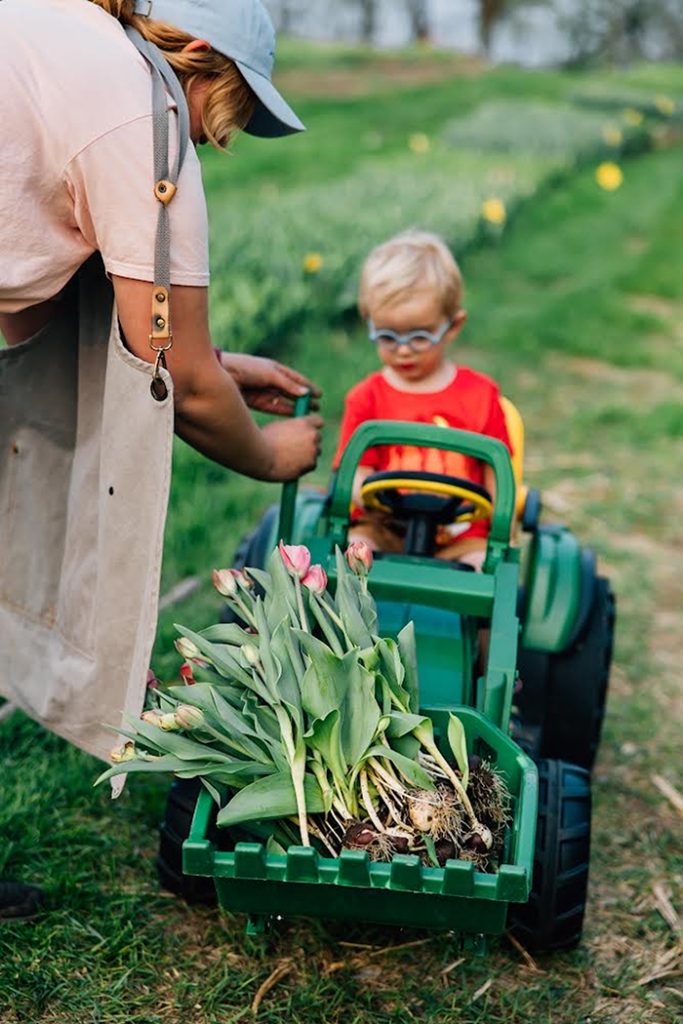 By Lori Fischer Thorp
Correspondent
When Bayleigh Antonson Lautenschlager surveys her third-year fields at True Blue Flower Co. in rural Frazee, she sees the future.
"I feel like I'm always pivoting," said Lautenschlager, who graduated from Frazee High School in 2012 and earned an Animal Science degree from North Dakota State University.
"I still love nature and biology," she said.
As she explores that with her growing business, "I'm learning that people need to see the whole journey, rather than the curated version," she said. Otherwise, "the things I would have to sacrifice are not worth it."
With a cup of coffee in her hand on a walk across flowering hills, Lautenschlager said it was a once-weekly day when her three children spend time with her mother.
"Otherwise, we probably get one hour of work done in four hours," she said. (For an entertaining timelapse version of how that goes, check out some of True Blue Flower Co.'s Facebook reels.)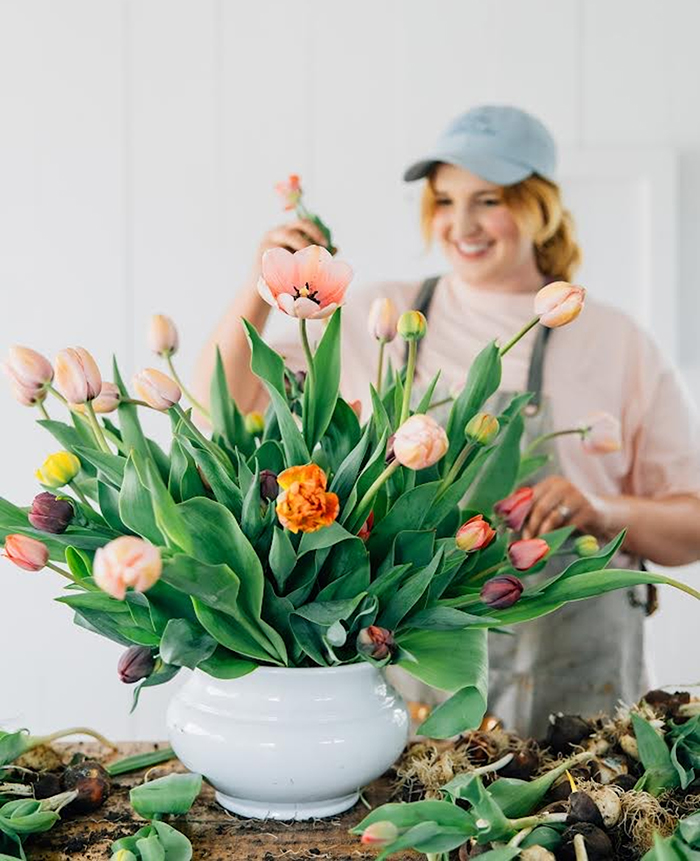 Typically her son True, 2 ½, and twins Della and Wells, 8 months, are with her as she works. Lautenschlager's storyteller voice rings out as she depicts the reality of working with a toddler and two mobile infants.
"It's a total game-changer," she said regarding the twins. "They're starting to crawl," expressing, "'We want to be involved.' I love it, that's been part of my pivot."
When a friend asked if Lautenschlager really had to execute every plan the way she'd originally intended, she realized she didn't need to ask permission to alter her course.
She said when people ask, "What is your business?" she answers, "It's a flower farm, that talks about self-care, that also blogs. I have always loved journaling."
Her posts began as an anonymous blog on a different site, while the flower farm idea was inspired by the venture of a good friend's aunt.
"I always thought that would be so cool," she said, though she envisioned it happening after her retirement as a dairy nutritionist.
That timing became "accelerated," by a number of factors, she said. She and her husband Payton, who grew up in North Dakota, were living in Rochester, when they had the opportunity to move back to the Frazee area.
"I felt like we were so busy working, nobody was ever home to enjoy it," she said.
Then, in October 2020, the couple became parents, but their daycare's plans were impacted by COVID.
By then, she had transitioned to working part-time as a Certified Nursing Assistant, and when the facility had a COVID outbreak, she revisited the flower farm idea, thinking, "Maybe this is the year I'll try it."
She pursued the idea of a Limited Liability Corporation (LLC,) and, "We sort of dove in, not knowing much," she said.
The winter was spent planning and preparing, and True was about six months old when the company's first outdoor growing season arrived.
"I wanted him to grow up kind of like I did, having outdoor space," she said. "I can't sit at home. I thought, 'What have you got to lose?'
"Initially, I was very structured. I wanted the subscriptions (contracted weekly deliveries of seasonal cut flowers in the peak growing season of July through September) and thought we'd do a few U-Picks.
"I was really self-conscious about how it looked…if there were weeds, if the flowers were thriving," said Lautenschlager. "We sold 40 subscriptions that first year, I was expecting 10."
Among many other tasks, 500 peony plants were put in, which can be harvested beginning in their third year.
Fast-forward, subscriptions are sold out for this year, with capacity at 80, and the business plan has transformed to more of an open schedule and self-serve selection and purchases.
Typically either Lautenschlager or her main employee, Sarah Behrens of Hawley, are working on-site and assisting customers as needed. Behrens brings her children, too, and with the new work cottage onsite this year, Lautenschlager sees her original plan blooming for self-care opportunities.
"We want to let people see this is what real farming is, what real gardening is, so hopefully it helps you feel better about your garden, too," she said. "We want to bring people along on the journey.
"I love teaching. At first, I was hesitant to share my knowledge, but openness comes with time. I love to help people who are curious. There's a connection with people who want to come and invest in meeting and greeting."
The trick, Lautenschlager said, is accomplishing everything, "in a way that's still enjoyable to me. It's a delicate balance, and I'm learning it." She added, "Midwestern women have a difficult time with…self-preservation and boundaries.
"Almost 45 percent of my time is behind-the-scenes on the computer to make sure the front of the business is running."
In addition to Facebook, Lautenschlager uses Instagram and the company's website (www.trueblueflowerco.com, where online visitors can sign up for event emails) to promote events such as the open studios coming up.
During open studio times, "I'll be here working and can provide guidance on an arrangement or flower crown," she said. "It's super-casual, we have beverages and snacks."
Some spring pickings of tulips are still available in the site's walk-in cooler. "We store them with their bulb on," she said. "Their bulb is their source of food…tulips bloom in different stages, early, middle and late…those are things you learn.
"In the cut flower world we treat them like an annual. They don't have a way to put enough energy back into the leaves to bloom," Lautenschlager continued. "To guarantee what we get the next year, we compost our bulbs and buy new ones in the fall."
This year, 14,000 tulip bulbs were planted.
For other flowers, Lautenschlager started 186,000 seedlings in her basement.
"There's not a lot coming off the field right now," Lautenschlager said, but there's a fair amount of work being poured into it, including weekly plantings of sunflowers. "June is a nice month of growth. We weed, plant later successions and let the heat do its magic."
U-Pick days (currently Thursday through Sunday) will expand in July to seven days weekly, sunup to sundown. No appointment is necessary. Visitors can bring their own containers, or purchase unique handmade ones made by Rising Dawn Ceramics in Fargo.
"I thought, 'How can we make it so the vase we give it in is just as special, because that's the only thing that lasts," Lautenschlager said. "Our bouquets can't be done in 20 minutes," she added, because that's one of the differences between local fresh flowers, and those which can be ordered from Amazon and come from a different part of the world.  
Similar to blueberries grown elsewhere and shipped here in the middle of winter, "It's just like a different aspect," said Lautenschlager. "What they breed in for flowers is different than what we do."
Lautenschlager said other fun options include finding a beautiful place from which to read and view the fields, or Yoga among the flowers, led each Sunday at 9:30 a.m. by Kari Hardmeyer (sign up on the website in advance.)
"It's not just yoga, it's an experience," Lautenschlager said.
"We have so much potential," she added. Some of that has led to photo opportunities, hosting a homeschool group event, and being a June 24 site visit on the West Central Minnesota Regional Farm Tour.
"We definitely have a lot of things going on," she said.
Amidst all this, the family is in a household transition. They'll soon move into their recently-purchased 80-acre homestead.
Since everything is packed up and waiting to be moved, Lautenschlager doesn't have to spend time on house projects, so she's happy to focus on her "big experiment," and take periodic glances over the hill at Fairy Lake.
"Above all, it's still my place of self-care, too," she said. "It's really helped me grow as a person."
Lautenschlager calls the results "pride," and "humbling." "This was my favorite spot, growing up."
Now, she gets to be here every day, and believes others gathering there can make the difference between people "feeling alone versus having a community."
"I think there's something magical about having people come here," she said.