McVane works on new recording to accompany musical comeback
News | Published on July 3, 2023 at 2:12pm EDT | Author: frazeevergas
0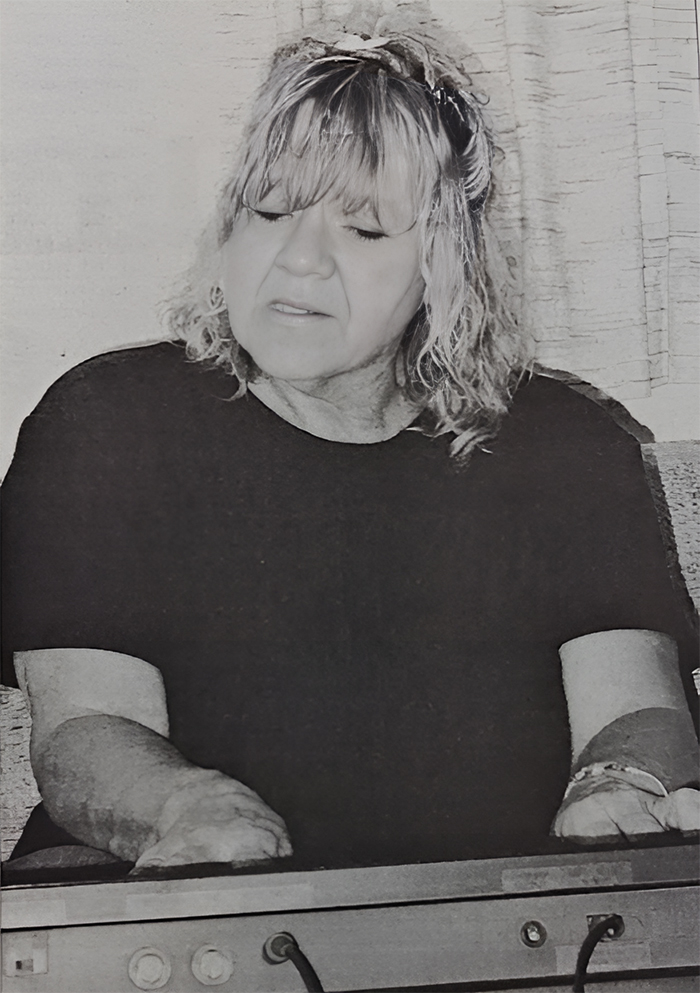 Editor's note: This story, originally published in the Forum on Oct. 11, 2001, was reprinted by request of the family.
By Jerry Barney
Reporter
After a quarter-century musical career, Patty McVane is making her 66 All these things first professional recording.
Having overcome some personal setbacks, McVane, Vergas, describes her career as getting back in gear. The heartening thing about it, she emphasized, is job offers are coming to her, rather than her having to go out and look for them.
The new compact disc, "Sing It Alone," on which finishing touches are now being put, consists primarily of laid-back blues-pop versions of standards ranging from "Over The Rainbow" and "On Broadway" to "Will The Circle Be Unbroken." They're sung in the seasoned alto voice with distinctive phrasing for which McVane is known.
Another of the selections, perhaps the best-known standard in the collection, is by the same singer, but with a very different voice. It's a recording of her as a three-year-old girl singing the Sunday school hymn, "Jesus Loves Me."
In addition to the familiar material, the recording is also to feature a new selection, the title song, written by Tim Krause, Detroit Lakes, who plays bass on it.
A native of Leonard, N.D., McVane is from a musical family. Her mother was a church organist for over 50 years and taught piano. Her dad and uncles sang in quartets.
"By age 3, I was singing," said McVane. "I've been singing all my life."
She didn't start singing professionally right away, though.
My husband John McVane was a drummer," she said. "He started hearing what I could do and encouraged me. I started taking jobs."
This led to a 2-½ year stint with the Fargo-based Sheyenne River Band. During a period in which the band was split up, McVane received a call from Vergas-area guitarist Jack Grieves, who was putting together a band and offered her a lead vocalist slot.
The result was a rhythm-and-blues band called "Cat Sass," which was formed in 1981 and included Mike Shannon, Lake Seven, drums; Fred Nicks, Detroit Lakes, keyboards; and Don Berg, Elbow Lake, bass, in addition to Grieves and McVane.
The band was "a nice idea for a while," but good-paying gigs eventually got fewer," she said.
Band members eventually got another call, with the opportunity to resurrect itself as a rock oldies band. Cat Sass had a cat logo with green eyes and members wanted to keep it, so they added a '55 Cadillac and started using the name "Catillac."
With a new name and a new sound, the band remained based in the Vergas area, but toured nationally. It did its own sets and backed known recording acts such as Bobby Vee, Del Shannon, the Coasters, the Shirelles, the Drifters, Buddy Knox,
Dickey Lee, Fabian and others. "We lasted 12 years to the day," said McVane.
In 1994, she and Mike Shannon formed a duo called "His & Hers" and then added Monte Lee to become "This Is It." Musically, the act leaned toward rhythm-and-blues and also did gospel.
McVane, who plays keyboard in addition to singing, did a single act for a while. She then went into a period of inactivity while she was taking care of her mother, Anne Laske, who was having health problems, and died in 1998.
About a year later, Shannon, her good friend and 17-year musical "My husband (Jonn McVane) was partner, lost a battle with cancer. McVane acknowledged the two deaths and the problems which led up to them made her less anxious to perform.
Also, she admitted she was having alcoholic problems at the time. But, she said, "I've been sober three years."
After McVane experienced the two deaths and won her battle with the bottle, she said she started making a musical comeback without really trying.
She began receiving calls to sing at prestigious events such as the Fargo-based Celebration of Women in Music and the Fargo Blues Festival.
She also sings for a lot of weddings and funerals.
Another of McVane's main musical outlets is an every-Sunday jam session from 8 p.m.-12 a.m. at the Shorewood Pub, Detroit Lakes, to which all musicians are invited. All types of music are featured, she noted.
At her engagements and in person, McVane said she started getting an increasing number of requests for a recording, which is what's now being finished, and is scheduled to be available in October.
Musicians, in addition to McVane, Krause, and old band-mate Nicks, include Glenn Olson, drums; Jeff Mooridian, guitar, Susan Nicks, Vocals; Roger Sell, bass; Fred Haring, sax, Steve Walterman, trom- bone; Harley Sommerfield, clarinet, John Peterson, trumpet, studio owner Mike Bullock, vocals, and son-in-law Gene Gunderson, drums. Gunderson is from Vergas, and most of the rest are from Fargo or Detroit Lakes.
McVane has three grown children, Ruby Gunderson, Jace McVane and JoDee Sayler, and three grandchildren, Alexandra, Anjelika and Jonn Gunderson, all of Vergas. She and Jonn divorced but she said they remained good friends until his death.
Citing a deep religious faith, McVane said, "I look at it as a God-given gift, my voice. All these things that have started happening for me, it's a gift from God."