Crabtree begins long journey back home
News | Published on July 11, 2023 at 4:41pm EDT | Author: frazeevergas
0
Volunteer team tackles Wolf Lake flooring project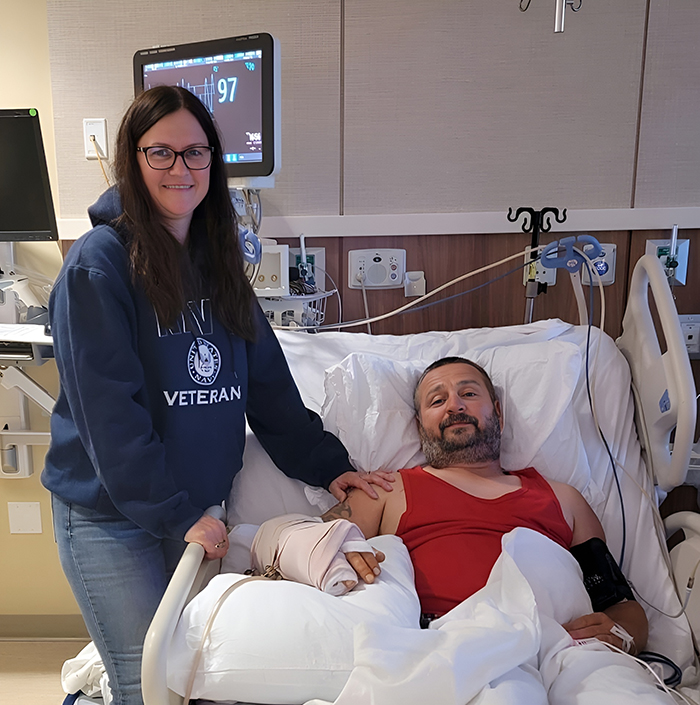 By Lori Fischer Thorp
Correspondent
Since Eric Crabtree's June 26 accident while inflating a tire, he and his wife Jamie have experienced pain and uncertainty.  ¶  "It was life-changing," Eric said during a video interview from his hospital bed. "We were just switching tires on a trailer," which was something that he'd done many, many times, but this round didn't go as planned.  ¶  Five miles away, his wife Jamie was at home.  ¶  "I'd been outside, and I didn't have my phone on me," she said.  "Our friend's wife, whose house he was at, came and got me." She came in the house, calling my name. The dog was barking…she said Eric was hurt, and they'd called the ambulance. I was out the door."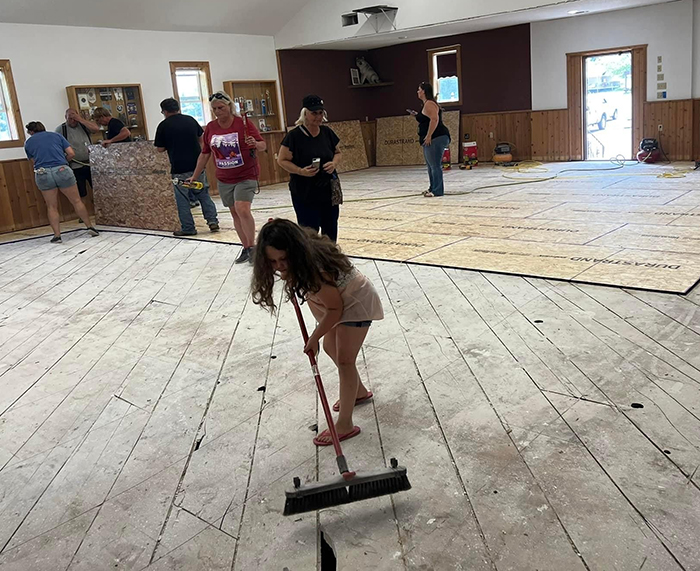 "When I got to their house, I ran inside straight to him, and just cried," Jamie said. "I saw him, and I knew it was bad, and seeing him just killed me, but seeing the people around him taking care of him, allowed me to focus on contacting his family."
Immediately following the accident, "our friend and his son and his daughter took care of him," she said.
"They kept him calm, kept him alive, and did everything to help keep his arm" until Frazee Rescue, Becker County Sheriff's deputies and First Responders arrived.
"He never lost consciousness. If they weren't there, I don't know if he'd be here today, as hard as that is to say," Jamie said.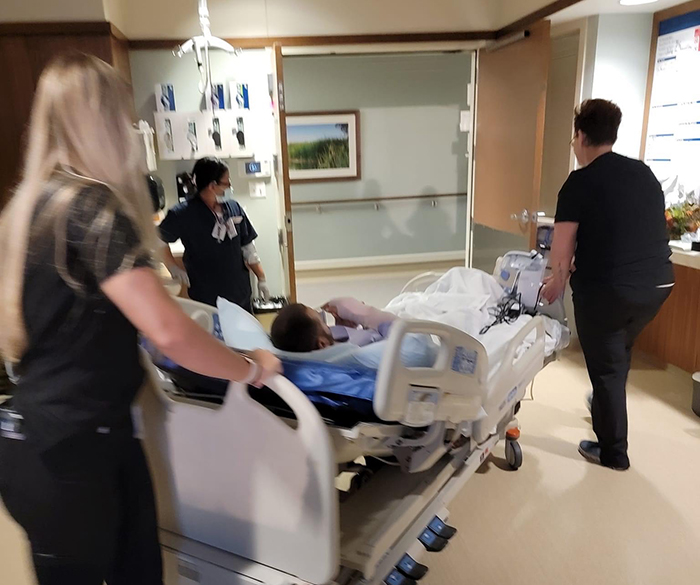 Eric, a member of Frazee High School's Class of 1994, has been hospitalized since then, with a badly injured right arm.
"It makes me reevaluate my pain tolerance," Jamie (FHS Class of '96) said. "He's at a six to eight (on a pain scale of 10) all the time. I've seen how that looks for someone I love," she said.
Alongside Eric's physical pain, the couple is battling worries they never envisioned.
"There are a lot of emotions we never thought we'd have to deal with," Jamie said, "a lot of things we thought we'd never have to deal with. Not knowing is the hardest part."
Two weeks ago, "I didn't know if he was going to make it…if he was going to keep his arm, what kind of function" he might have with it, Jamie said.
"Now we're just working on getting out of the hospital, then we'll work on what's next," she said.
"It still feels scary," Eric said. "I almost lost my arm. We still don't know how it's going to work, if I'll be able to swing a hammer or use it in general. We don't know that yet."
One piece they do know is that Eric's recovery will take an estimated 8-12 months, with many surgeries over that time.
Eric's first surgery was the day of the accident, and by their July 5 Frazee-Vergas Forum interview, there had been five surgeries for tasks such as plating bones back together, with more work to complete tendon and nerve ending repairs and plastic surgery yet to come.
"Right now it's a big, open wound," Jamie said. "They're still cleaning it the whole time, too. Thank goodness he's asleep when they're doing it," she said.
In advance of each surgery, Eric has to discontinue eating and drinking for a period of time. The surgery schedule can be shifted depending on other urgencies, such as other patients being Life Flighted to the facility, with an arrival happening during the interview.
Despite the toughness of the situation, the Crabtrees are determined.
"Not to sound greedy, but I want out of here," Eric said.
"There's so much to do," Jamie said, including working with insurance and applying for short-term disability. "Everything's kind of in a holding pattern of sorts, until we can get out of here," she said.
"That's why I'm glad we have the community we do," Jamie said. "That's taking care of stuff there so I can stay here."
That community includes neighbors and friends who have surrounded the family with support as soon as they heard about the accident.
One of their urgent concerns has been Eric's work commitments for his company, Crabtree Hardwood Floors. Being self-employed, he's been hugely self-reliant until now. He had made preparations for a big reflooring project at the Wolf Lake Lions Hall when the accident happened.
"We were all sitting around in the waiting room" and friends and family came up with a plan to accomplish the huge project, which Jamie said "had a small window, timewise." The crew has worked various days over the last week to get the work done.
The couple said Karen and Dan Pifher told them, "don't worry about it." Karen Pifher put out a called for help on Facebook.
"Volunteers just came and helped, because that's what we do, to make sure it's done and we're not out that money," Jamie said. "Karen (Crabtree's ex-wife) has been so much help in all of this. I'm grateful for the relationship we have with her. I'm the step-mom, she still cares about her kids' dad."
Overall, "I've got to make sure that stuff is taken care of so he doesn't have to worry. People have surrounded them with support in so many ways," she said.
When Eric first left in the Life Flight, Jamie called a friend, whose 13-year-old has been making sure the Crabtree's home and dog, Mickey, are fine.
Mickey has also spent time with one of Eric's four children, and Jamie said when she's been home since the accident or when others are caring for him, it's apparent Mickey misses Eric as lot.
"He knows something's wrong," she said, adding that he's "attached at the hip" to whoever is with him. He could visit at the hospital if he didn't bark, but being part Collie, she said, "He's very much a conversationalist." The family cat, she said, is "a little more self-sufficient."
One of Eric's needs when he arrives home will be an electric recliner, because he won't be able to sleep in a bed for a long time. Jamie posted the need on FaceBook, and "within 2 hours, one of his best friends said, 'I've got it.' They're getting it delivered to the house before he comes home," she said.
Some of the posts have been intense and serious, and others have been the cause for some laughter.
"That's the kind of circle we have," Jamie said, "just trying to make you laugh in the worst situation. We know it comes from a place of love. They help you laugh when the last thing you want to do is smile."
When she hasn't been focused on advocating for her husband's medical needs or making preparations on the home front for his return, Jamie has worked remotely.
"Lakeshirts has been amazing," said the 20-year Navy retiree. She has a small office nook set up in Eric's room so she can keep up with customer service work as her schedule allows.
"When we do get to go home, I'll be able to work from home for a while," she said.
"There have been some silver linings," Jamie said, as she and Eric prepare to celebrate 4 years of marriage, and six years together.
"It happened to him, to us, to everyone who knows him…but good things have come out of this. It shouldn't take something like this, but it does. It just reiterates to people, tell your loved ones you love them. Don't let petty stuff keep you apart."
Eric said he has really appreciated all the visitors, including his brother who drove up from North Carolina, and cousins who came from Grand Rapids. He's most looking forward to "be able to see my friends that I normally spend time with," he said.
"I'll never be able to thank everybody and repay them for what they've done," Eric said. "You can take all the money in the world," he said, and it doesn't mean anything "if you don't have friends."
Note: A gofundme.com account, "Eric and Jamie medical emergency fund" has been set up by Eric's sister, and there is also a donation account set up at United Community Bank.