Miosek remains devoted to aiding Frazee
News | Published on July 11, 2023 at 4:35pm EDT | Author: frazeevergas
0
Turkey Day's parade organizer named grand marshal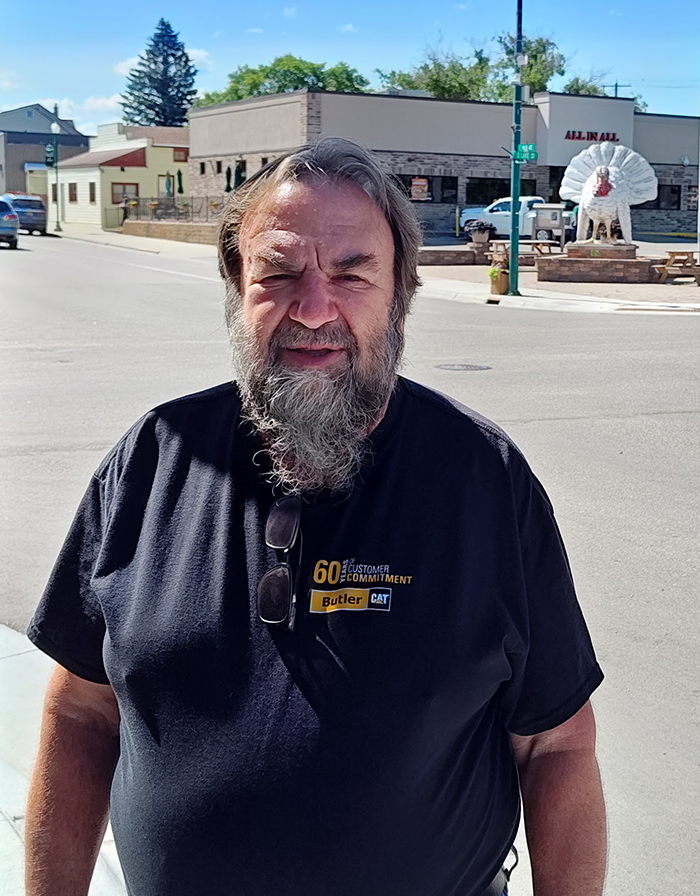 By Robert Williams
Editor
Former mayor Ken Miosek is this year's Turkey Day's Grand Marshal.
"It was a surprise to me, nothing I expected," said Miosek. "I'm appreciative that people thought I should be there."
Miosek, a New Jersey native, nearly wasn't here, at all.
Ken was born in Irvington, New Jersey, near Newark. He moved to Minnesota as a high school senior in 1973 with his parents and sister.
Miosek's father was a draftsman and designer and "just got tired of the rat race" out east. The family camped a lot and Ken's dad, who grew up in upstate New York, longed to get back to the country.
The move to Minnesota would be a big change from where the family lived in northern New Jersey, 30 miles from New York City.
"He decided we were going to come out here in April of that year and my dad looked around wanting to buy a resort and found one and put a down payment on it," said Miosek.
While the plan worked for the family, Ken was eager to get back to his original home.
"I wasn't going to stay out here; I was going to go back and spend my last year because my grandparents were still out there," he said. "I got to know a couple kids out here the same age as me and they were working for places in Pelican so I figured well, okay. My mom finally convinced me to stay."
He graduated from Pelican Rapids High School and from the two-year, automotive program at Detroit Lakes Vocational and Technical College and began working at a car dealership in DL.
"At that time, it was nice; Minnesota residents had free tuition at Vo-Tech," he said. "I ended up staying and I'm glad I did because I got to know more people and know the area more. I went back about a year after I was here and my friends out there said it sounds like you've been living out there forever. I had no New Jersey accent or nothing."
Ken married his first wife and worked at a machine shop and at the lake with his dad before joining another Detroit Lakes dealership where he worked for a dozen years of a lengthy career.
"I've worked for car dealerships, small shops, I had my own shop; the last place I worked was Butler Machinery in Fargo working on heavy machinery," he said.
One of his jobs was working for Anderson Bus and Coach of Frazee, Inc. Ken retired a little over a year ago, but returned to Anderson Bus with his wife Teri. They both are local bus drivers.
Ken's first wife passed away in 1987. He and Teri married four years later. Between the two they have nine kids and 18 grandkids.
Ken built a house near Height O' Land Lake, but moved to Frazee for the first time to be with Teri in 1991.
Upon moving to Frazee, Ken joined last year's Grand Marshal Hank Ludtke, in a career in local government and was on the city council for 20 years, the last four as mayor.
"Hank and I started together," said Miosek.
Getting involved with the city stemmed from conversations with Teri.
"My wife had been in town longer than I had and she saw some stuff and maybe we said something about it and nothing happened, so I said maybe I should try for this and see what happens," Miosek said.
A first shot at the city council ended in Ken not getting elected, but the second run at a seat worked and he has been involved with the city since.
"And then you start into it; it's not what you think it is," he said. "You say something, okay let's get it changed and move on. Well, it doesn't always work that way. Then you're hearing from more people when you're in there and we should change this and here we are a year down the road and we didn't get anywhere yet."
Miosek's patient and pleasant demeanor allowed him to be understanding when it comes to the often slow pace of working in municipal government.
"Some of that stuff just goes like that," he said. "Some things can be solidified more and better but people aren't all the same either, which is a good thing. People have different ideas. You're heading in a certain direction and something comes up or somebody throws something in there and you're like, ya know, I really didn't think of that and that's what the town is all about too."
Miosek's caring for both the city of Frazee and his large family were echoed in nomination letters from both his daughter Kylene (Miosek) Hoard and son Josh Miosek.
"He has always been an exceptionally hard worker in both his own family life and the community," Josh said.
Kylene began hers with the definitions of the words dad and community ambassador.
Dad (n): one's father
Community Ambassador (n): the face of local government. They interact with residents on a daily basis, providing information about city services, programs, answering questions, resolving issues, and building relationships that help strengthen communities. 
"The two words listed above have different meanings, but when exhibited in various situations they carry the same weight," she said.
Ludtke and Miosek ended up as mayors of Frazee with Ludtke winning in 2010 and 2014 and Miosek following with his four-year term beginning in 2018.
"Hank and I saw a lot of things together and we experienced a lot of things and moved in certain directions and there were some things that were maybe left undone, and there are still things that are undone," said Miosek. "In order to continue in this direction maybe I need to step into this role and that's kind of what I did. Some of this stuff is in the rearview mirror but what we're doing today, it's still moving on. We haven't digressed at all. I think the town is still moving. I enjoy the people here. As mayor, I wanted to make the town safe and an enjoyable place to live. Hopefully, it's that way."
One need that Frazee has is more involvement from citizens, whether it be in government or organizations like the community club.
"It's kind of always been that way," said Miosek.
When Ken finished his run as mayor in 2022, he got requests to join civic and governmental groups and has continued to share his time, whether it be on the board of CornerStone or on the Planning and Zoning committee.
While admitting organizations across the city could use more involvement from residents, Miosek is the first to acknowledge that it is difficult to find the time and the situation has to be right for people to volunteer. However, for the future of the town, new faces will need to emerge eventually.
"There is a group of people who have been around for years involved in different things and they're still doing it," he said. "I know, for me, it's a judgemental thing for me to say you need to be involved in something. I don't know family situations. I know my situation with the nine kids growing up and my wife and I going in different directions with sports and this and that. I can't say I had this so you should be able to do it too. There are different demands on people's lives now than when our kids were growing up. It is nice to have new blood; it always helps."
Miosek's lengthy list of community involvement includes Frazee Rescue, church groups, CornerStone, Bumble Bee Basketball, many different city committees, and he has been in charge of the Turkey Day's parade the past half-decade.
"I just try to help out where I can," he said.
Kylene summed up her father in the conclusion of her nomination noting this year Ken deserves a spot in the parade, not just in charge of it. Or as Ken said laughing, "In the back picking up the horse manure."
"My dad would make an amazing Grand Marshal because he would finally get to have a ride in the parade front and center, a place that he rarely goes to because his heart is always to put the community's needs before his own. Dad is a very selfless man and prides himself on making a difference among the community of Frazee and making the grass just a little bit greener on the other side."
Josh reiterated the virtues that make his dad a perfect candidate for Grand Marshal.
"He has always wanted to make Frazee a better place for everyone to live and thrive," said Josh. "He has always had a strong faith in the church and I believe that has made him the leader that he is today."
Ken continues to have a positive outlook on Frazee's future and the community as a whole—all with a dash of understanding that is uniquely his.
"It's gotten a little bigger and more structured on some things; the people I talk to still have a good attitude and like the town," he said. "You get those who wish it would stay like it is but you have to keep moving; you have to stay progressive in some areas. I think even though some people think we aren't, we are. We have a lot of good people here and I think everybody has a good outlook. We have a lot of things going on and I know there is more to come. It's a never ending chapter or else the town would just fold up."
Turkey Days will be held from July 27-30. The parade is scheduled in its usual slot at 2 p.m., on Sunday, July 30.