Automation upgrading business for BTD customers and employees
News | Published on July 19, 2023 at 3:55pm EDT | Author: frazeevergas
0
Metal fab company is looking for CTE students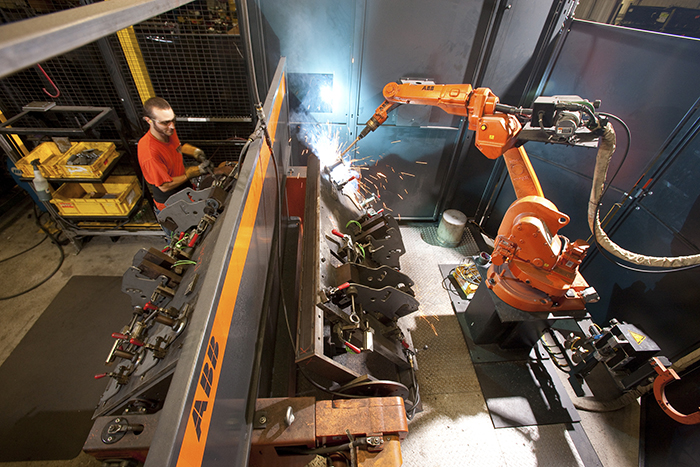 By Robert Williams
Editor
BTD Manufacturing in Detroit Lakes is a key contributor to Frazee-Vergas students with a focus on Career and Technical Education (CTE) classes and robotics and aims to be a landing spot for those kids after graduation.
"That's an important program to us; we try to engage as many young folks as we can to get them into the trade because it's harder and harder," said Jared Lotzer, vice president of commercial operations and business development.
Much of the success the KAOTIC Robotics team in Frazee has had is in direct correlation to the support received from trade sponsors like BTD.
"We rely pretty heavily on our corporate sponsors," said KAOTIC Robotics Lead Mentor Eric Schaefer at the team's annual fundraiser in March.
BTD also relies on local talent to fill their workforce and offers area students a chance to get in the door of the third largest metal fabricator in the country. BTD employs 1,375 people at five locations, headquartered in Detroit Lakes with projected 2023 revenue of $365 million, up $15 million from 2022.
The company is evolving and growing the business in keeping up with the continuing upgrades in automation and higher level technology.
"We try to spend the right amount of money on equipment and capital, that's a big thing. We want to make our employees feel comfortable," said Lotzer. "A lot of people have the perception that it's a dirty environment."
The work environment has changed rapidly in the past two decades and is far more conducive to maintaining positive safety records, along with attracting employees that want to be on the cutting edge of technology.
"We pride ourselves and that's priority number one at BTD, safety. We have a great safety record," Lotzer said.
BTD and Lotzer were recently featured in "the fabricator," the industry's largest trade publication where he discussed some of those technological changes.
"We're taking a different stab at the automation challenge," said Lotzer. "We now have almost 30 robotic weld cells. We're trying to migrate away from hand welding as much as we can. We used to say, 'If the job isn't more than 3,000 pieces, we're not putting in a robot welder.' But with some of these cobots and the new programming technology that's available, we're now processing low volumes in our automated weld cells. We just didn't see that years ago. We couldn't justify the cost. That's now changed, and we're getting better and better at it."
Cobots perform tasks in collaboration with human workers, along with robot arms that perform multiple functions. In other cases, a robot arm performs specific tasks in concert with another arm or other automated pieces.
Not every job can be automated, but it has become more intertwined with the overall business.
That has not taken away from the fact the industry still needs human employees to get the job done. At one point this year, BTD had more than 100 open positions, many of them for manual operations.
BTD has rebounded from a number of supply chain challenges during the pandemic. At one point, the company stopped hiring, and drew down its inventory. By the middle of last year, business rebounded and demand increased to kickstart the hiring process again.
"It's been a bit of a roller coaster," Lotzer said, " In this business, performance equals opportunity."
BTD has expansion plans to greatly increase its manufacturing space in the Southeast, complementing its existing plant in Dawsonville, Ga., just north of Atlanta.
"Our story is more organic; we get good customers and we grow with them," Lotzer said. "We grow our business; we don't just go buy another place to grow our top-line revenue."
In regards to its employees, the company has a similar organic outlook, one of which Lotzer is a prime example.
"I came here with little to no experience," he said. "You really can grow a career here because there are 50 different roles, all kinds of different functions. Only half of the roles we have here are production. There are engineering roles, quality, estimating and purchasing roles. I can go on-and-one from finance to product launch. People overlook the fact that you don't need to have a big degree. You can come in and learn the business and work laterally until you find what you like. There are so many jobs."
That flexibility and the opportunities to find a career at BTD go all the way up to the top.
"The president of our company started as a tool and die maker," Lotzer said.