City of Vergas adds Event Center Coordinator to staff
News | Published on July 19, 2023 at 4:27pm EDT | Author: frazeevergas
0
Fergus native finding her place in Vergas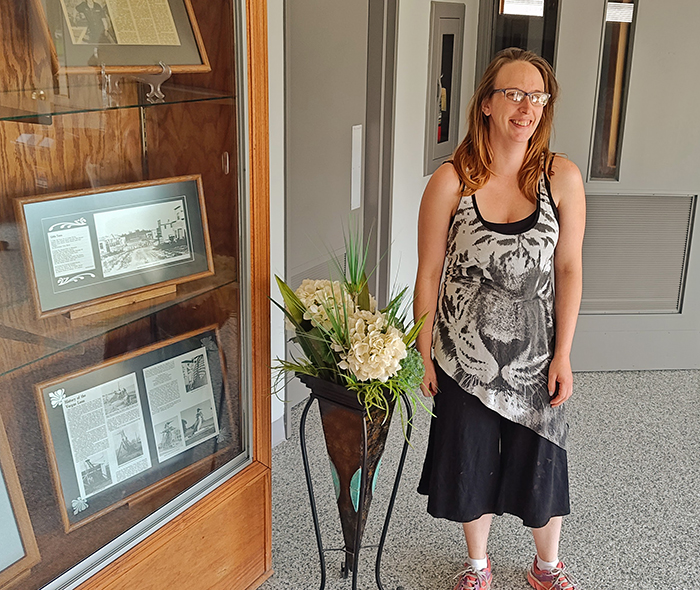 By Robert Williams
Editor
Jezmae Burkett of Vergas is the new Event Center Coordinator in Vergas.  ¶  In April, the Event Center committee requested the city council approve hiring someone to oversee the center's scheduling and management to take over the duties from city treasurer-secretary Julie Lammers.  ¶  "It's new to me," said Burkett.  ¶  Coordinator duties include showing the center, meeting renters and doing walkthroughs prior to events; cleaning and inventory, among other duties.  ¶  The contract position is a second job with the city for Burkett after she was hired earlier this year to assist manager Kyle Theisen at the liquor store.  ¶  Burkett was working at a drink sampling station for the liquor store at this year's annual Economic Development Authority meeting at the Event Center and it led to her taking on the new position.
"That's actually how I got in here and I really do like Vergas a lot," she said.
Prior to moving here, Burkett was familiar with the area having spent time at her grandparent's lake cabin near Vining.
"It's kind of funny; it's the same county, but opposite corners and both start with a V," she said.
Burkett is a native of Fergus Falls where she graduated high school and earned her certified nursing assistant license.
She moved to the area with her mother in November 2019, just prior to the pandemic.
"Because of COVID stuff I let my CNA license expire because I didn't want my mom to get sick," she said.
Jezmae's mother suffers from chronic obstructive pulmonary disease, making COVID a big threat.
"That was my deciding factor to stay home," Burkett said.
Getting back in the health field is something Burkett is aiming to do eventually.
"I miss it a lot," she said.
Burkett, a mother of one, with a second child due in January, has plenty to keep her busy between pregnancy, the liquor store and event center scheduling.
"I've had a few events already," she said. "A lot of the events have actually been our regular events, like meetings and things."
Jezmae also got her first case of crisis management while picking up new carts in Fargo for the center's kitchen prior to a family reunion that was scheduled, only to have a problem with the brake lines on her truck while driving in the rain.
"It was the most downpouring day possible," she laughed.
Information on event center rentals in Vergas is available at cityofvergas.com/event-center. To book an event Jezmae can be contacted at (218) 850-0594 or via email: eventcenter@cityofvergas.com
Free wireless internet available comes free of charge with every rental.