Summer Rec donations total over $20k
News | Published on July 19, 2023 at 4:25pm EDT | Author: frazeevergas
0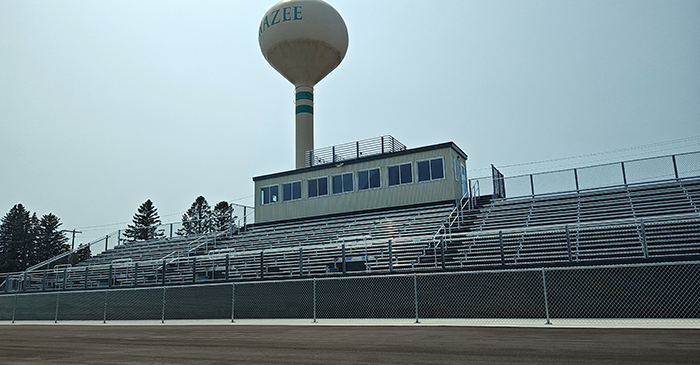 By Robert Williams
Editor
The Frazee City Council approved a $5,000 donation to the summer recreation program last month, the largest gift of more than 40 donors. The program had been running at a deficit of approximately $15,000. The donations were announced by Vice Chair Kimberly Antonsen at the meeting of the Frazee-Vergas School Board Monday, July 10.
"That is wonderful and we thank all of them so much," said Antonsen.
Summer recreation was formerly a city program before being transferred to the school. In June, the city council approved a motion to add summer rec as a budget line item with a dollar amount to be determined during end of the year budget planning for the future.
With nothing budgeted for this year, the council elected to use enterprise funds (water, sewer, liquor) to assist the program immediately and agreed to transfer $5,000 from the liquor store fund to the event center fund and then to the summer rec program.
"I would like to see the school and the city mesh together again," said councilman Jim Rader.
The summer recreation program received $20,625 in total donations from local and area businesses and organizations, seven of which ranged from $1,000-$2,000, led by: the Vergas Community Club: Lucky Little Learners, LLC; Franklin Fence; Newling Asphalt; United Community Bank and Wasche's Machine Shop.
New principal
Jason Smith attended his first school board meeting as the new high school principal after beginning his duties this month.
"It's been a great experience so far," said Smith. "I want to thank the board for the opportunity to share my love and my passion for learning, schools and for teaching and all the stuff that comes along with being in these four walls. I'm very excited to work with you here.
"The systems that were left in the high school; I was left with some great systems. A lot of great stuff to build on and a lot of great programs in place that I'm excited to take the reins on and take further," he said.
Smith acknowledged the help he has received from administration, including former principal Anna Potvin, in his new role.
Key issues coming up in the next 30 days are solidifying the back-to-school schedule for staff and students. Finalizing the master schedule, along with committee meetings regarding student handbooks are also scheduled, along with PLC's (professional learning community) and staff goals.
"I'm very excited to be here," he said. "I've been very impressed with who I've met and what I've seen so far. This seems like a wonderful place full of great people and staff. I'm excited to get going and get some things happening here."
Facilities
Superintendent Terry Karger's monthly report included a facilities schedule of coming improvements in July that included: final surfacing and painting of the new track; sidewalk completion between both buildings; scoreboard installation and final touches on the updated shot put area.
ICS Consulting LLC in Sauk Rapids completed a request for proposals to construct a 30x42x9 athletic field storage building, accepting the bid from D&S Lakes Area Construction, LLC for $42,348. ICS confirmed the bid is valid and the school board voted to accept the bid.
Reading
Karger discussed the new READ Act, along with a presentation by primary interventionist Julie Karger; integrationist Rebecca Matejka and junior high interventionist Amy Blaine.
Minnesota Reading to Ensure Academic Development Act, known as the READ Act, was passed and signed into law by Governor Tim Walz on May 24. The goal of this legislation is to have every Minnesota child reading at or above grade level every year, beginning in kindergarten, and to support multilingual learners and students receiving special education services in achieving their individualized reading goals. The READ Act replaces Read Well by Third Grade (RWBTG) in Minnesota Statutes 2022, section 120B.12, effective July 1, 2023.
"The goals are pretty simple; it's to improve literacy," Karger said. "The greatest place to do that is with our littles. The more we can do down there the greatest gains we're going to see."
Julie Karger, Matejka and Blaine discussed the elementary reading intervention program, including data and plans with a primary focus on reading in first through third grades.
Reading Intervention provides students with an opportunity to increase reading, writing, test taking, and study skills at their instructional level. Each class is designed to meet the individual needs of students within a small group setting. The pace of instruction is modified to allow for different rates of learning.
Mental Health
The service agreement for Mental Health Therapy Services with Stellher Human Services, Inc. was approved. Stellher will provide two full-time Mental Health Practitioners for the 2023-2024 school year. The district, with grant support, will be billed $15,000 for these services. The support allots a large savings for the district. Total costs for the services with no assistance would range near $175,000.
STEAM
Elementary teachers JerriAnne Burton and Russ Hackel, along with a handful of students, provided the board with a video and demonstration of robots and video creations made with the STEAM (Science, Technology, Engineering, Arts and Mathematics) educational program.
The duo discussed the benefits of STEAM for their students, while the kids in attendance showcased what they had learned with multiple bots on display.
Staffing
The board approved the resignation of Sandy Oelfke, an Early Childhood Family Education (ECFE) effective July 24.
The hiring of Danielle Spieker, a School Readiness / Early Childhood Family Education (ECFE)
Teacher / Parent Educator, was approved, along with the hiring of Kaitlyn Hoekstra as the head cross country coach.
Milk Service
The board authorized Superintendent Karger to advertise for milk bids for the 2023-2024 school year. The district seeks bids for milk products annually. Vendors will be provided with specifications and their bids will be reviewed and approved at the August meeting.
Enrollment
The district received applications for enrollment out of the district to Menahga (4) and into the district from Perham-Dent (4).
Calendar
A correction was made to the school calendar for 2023-2024. The wrong dates were listed for Easter break—the correct dates are Thursday, March 28, Friday, March 29 and Monday, April 1, 2024.