Ghosts of business past go down with Seip building
News | Published on July 27, 2023 at 4:43pm EDT | Author: frazeevergas
0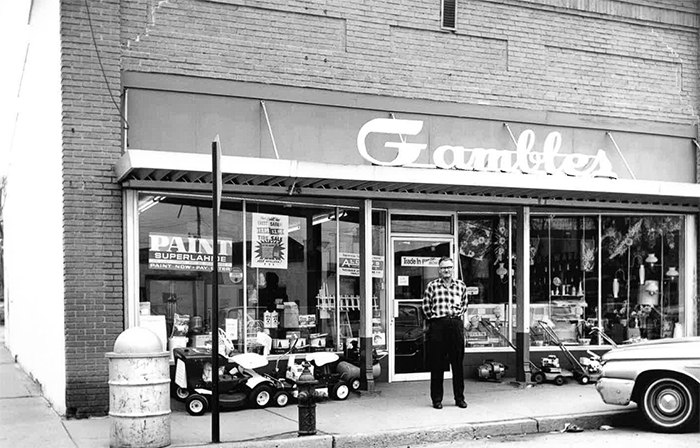 By Robert Williams
Editor
The demolition of the former Seip Drug and Sanders Oil buildings brought out a lot of emotions at the site and on social media from the lovers of nostalgia that hated seeing the buildings go to those looking to the future excited at what's to come next at the downtown Frazee corner.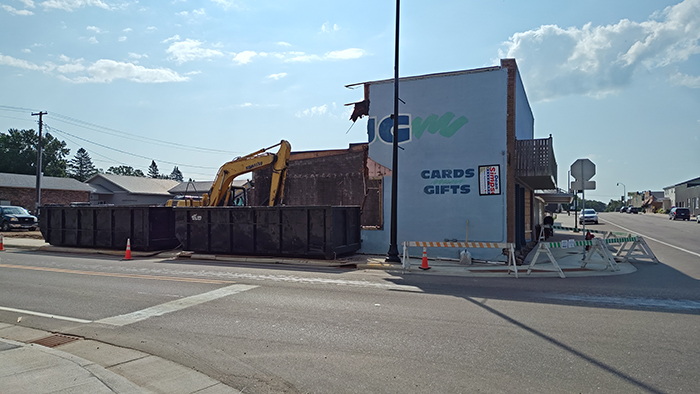 The Sanders building was taken down in one day on Monday, July 17, while portions of the Seip building remained intact throughout the week.
Mayor Mark Flemmer was on hand Monday morning, joined by a group of onlookers as the demo began. Flemmer explained the state of both buildings left little choice but to take them down.
The city council has made preliminary plans to create more parking and green space in the area.
At the council's July 10 meeting, a city kiosk, extra parking spots, multiple picnic tables, a mural and a fabricated metal turkey statue were all discussed for the future park.
The turkey is an addition to downtown that may see the small turkey on the corner moved to the Wannigan Regional Park entrance allowing future trail users to pass all three Frazee turkeys.
Business and residential parking was lost downtown during the Highway 87 construction last summer. Council member Jim Rader noted that more parking is needed in the area. City Administrator Stephanie Poegel reiterated that she has received multiple inquiries from residents in regards to more downtown parking.
The new parking lot would be placed in conjunction with the event center lot.
Councilmember Mark Kemper brought up the idea of making the entire space parking post-demolition until future plans for the space are finalized.
Those discussions on the future of the space will continue this week at the next city council meeting Wednesday, July 26, at the Event Center at 4:30 p.m.
While the future of the space remains somewhat in limbo, the former Seip Drug building has a lengthy history with multiple businesses in that spot since 1898.
According to the "Frazee Centennial history and Family Album of Frazee (1891-1991)," The "Lone Tree Saloon" was built there around 1898 and operated by Fred L. Oelfke and Mr. Kohler.
The building burned in 1918 and was rebuilt by Mr. Oelfke in 1924.
In 1934, there was a flame of a different sort. Shortly after the Fourth of July, when W.W. Newman was operating a Fairway Store, a customer came in mistaking what he thought was a piece of candy. He actually bit into a piece of Flash Salute firework causing fatal injuries.
The building stood vacant for three years and was purchased from the Fred Oelfke estate by Edwin and Eleanor Ludtke of Boyd, Minn., on Nov 1, 1944, and a Gambles Store was opened on Feb. 1, 1945.
The Ludtkes sold to Lloyd and Hazel Bothne of Moorhead, on Dec 1, 1965, and it continued as a Gambles Store.
Marvin and Sandy Nieman bought the property in 1967, establishing a grocery store, called "Marv and Sandy's," which they operated between 1968 and 1978. In 1978, they remodeled and renamed it the "Korner Kanteen."
Bruce Trieglaff purchased it in April of 1982, and continued until Oct. 31, 1989, when Kevin and Michele Ketter purchased the building. After extensive remodeling, it reopened March 15, 1990, as "Ketter's Korner," with the theme of the Fifties.
Kevin and Michele previously owned the Frazee Freeze and in their new location, combined the ice cream shop with a homemade pizza parlor.
The first of two drug stores to occupy the space came next with Teiken Drug serving Frazee on the corner lot until Feb. 18, 1997, but the company's history goes much further back in time.
Teiken Drug and Variety traces its business roots back close to Frazee's incorporation. Dr. S. S. Jones, MD was a graduate of Rush Medical College, class of 1881. He was a physician and surgeon who opened his practice in Frazee in 1897 and had a drug store as part of his business.
His son, Casey Jones, took over operations of the drug store after his father retired about 1918. William Ebeltoft purchased the store in 1928 and it was known as "City Drug." Robert Matthews bought and operated "Matthews Drug" from 1958 till 1962, when he sold it to Milt Knutson. Mr. Knutson and his wife, Carol, moved here from Grand Rapids, and named it "Knutson Rexall Drug." In 1965, Knutsons sold to Jerry and Lorna Arenson, who operated the drugstore in the original location-the former Zee Lanes Bowling Alley-until 1970, when they purchased the Baer Building and moved their business, "Star Drug, Hardware & Variety" to that location. Hal and Susan Teiken purchased the business in March 1985 and changed the name to "Teiken Drug & Variety."
Teiken Drug eventually merged with Thrifty White Drug of Perham and Detroit Lakes. The closure created concerns about business retention in town, but a couple months later Nathan Seip, owner of Seip Drug, New York Mills and Henning, committed to establishing a full-service drug store, with an on-site pharmacist, in the space, occupying it until last summer when Seip Drug moved down the street to the downtown retail center.