New and one-time events coming to Looney Days
News | Published on July 27, 2023 at 4:35pm EDT | Author: frazeevergas
0
'It's A Vergas Thing' running August 10-13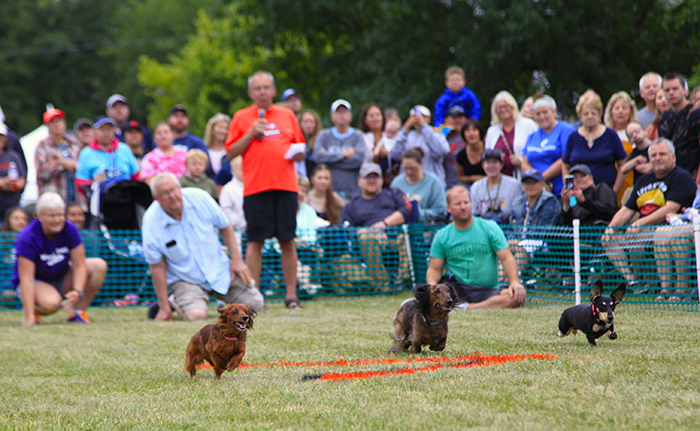 By Robert Williams
Editor
The Looney Days planning committee held its final meeting on Monday, July 17, and are prepared to announce new events and a special dedication during this year's event.
The festival is getting an early start on Monday, Aug. 7, with a kickoff to Looney Days Loon Art For the Park, a fundraiser for the Long Lake Park renovation.
A free-will, light meal will be available and a cash bar. Advance tickets are $10 for adults available at the cityofvergas.com or www.ticketstripe.com/events/1035385. Tickets at the door are $15 for adults, $5 for kids.
A limited supply of six-inch loon statues will be available to purchase to decorate at the event or to take home. Cost is $25. There will be art supplies available for decorating at the event.
Area businesses will have a decorated loon with a basket of goodies as part of the event's silent auction.
Preliminary drawings of the future park renovation options will be unveiled publicly for the first time. Multiple North Dakota State University classes have been working since 2022 on potential additions and landscaping renovations to the park.
Attendees will have a chance to comment on the city beach master plan.
The event runs from 5-7 p.m., on Monday Aug. 7.
Paint and Sip
Paint and Sip nights are nothing new at Billy's Corner Bar and Grill, but this will be a first time for the event during Looney Days.
At Paint and Sip, participants are given painting instructions and supplies to create their masterpiece, while enjoying a beverage with friends.
It is one of the first events of Looney Days, Thursday, August 10, at 1 p.m.
U-Pick Bouquets
True Blue Flower Co., is bringing U-Pick Bouquets to Looney Days all day Thursday through Saturday. The True Blue Flower Field will be open for self-serve U-Pick bouquets until sundown
Stop by the flower cottage to begin. Flowers are available by the pitcher for $30 or by the stem for $2 or kids jars for $10.
Jars, snips, and fresh water are provided. Jars can be taken home, snips must stay.
Pay at the field with cash (through cashbox), Venmo (@trueblueflowerco). No appointment needed. No pets except service animals. The flower fields are located at 35191 Co. Hwy 4, Frazee.
Vergas Got Talent
On the other end of town Thursday night, Loonies Pub & Campground is hosting "Vergas Got Talent" at 7 p.m., where contestants can win big prizes for performing.
First place is $150.
Participating acts can sign up on the Loonies Pub & Campground Facebook page, by texting the name of the performer or act to (612) 207-0533 or prior to the event at Loonies.
Local musician Damien Anderson has been running successful Monday night open mics at Loonies and Anderson will be running the Looney Days event as well.
Post Office dedication
Congresswoman Michelle Fischbach and other officials will be downtown on Friday, Aug. 11 from 1-2 p.m. to dedicate the Jon Glawe Post Office.
Fischbach sponsored a bill last September to honor Glawe, who was a Vergas mail carrier for 36 years.
Glawe passed away in 2016.
"He left a remarkable impact on his community," Fischbach said in a speech on the House floor. "This bill appropriately names the post office after Jon to honor his service to his neighbors and local area. In a letter, his family noted that since the bill's introduction, the outpouring of support from those who live in the Vergas area has been overwhelming. I agree with their words that there's no better way to honor his decades of service than this."
Vergas Bank Night
Friday night is Vergas Bank Night at the beach with the Water Ski Show from 5-6 p.m. Food trucks and a Beer Wagon will be available beginning at 5 p.m. There will be a "Battle of the Businesses" during the Loon Calling contest at 6 p.m., and an Alabama Tribute concert from 7-9:30 p.m.
The usual Saturday
Saturday, Aug. 12 will not have any new events but all the usual events, horse wagon rides, the petting zoo, Little Miss and Mr. Vergas pageant, the all ages loon calling contest, puppy plunge, bean bag tourney, a second water ski show and the street dance among others.
The 12th annual Weiner Dog races will begin at 9 a.m., with registration at 8 a.m. Up to 50 dogs are expected with thousands of spectators creating a roar from the ballfield. Pre-registration is available at the cityofvergas.com.
Forest Edge Gallery will again be providing handcrafted trophies for the weiner winners.
The street fair also begins at 9 a.m. and runs to 4 p.m., along with the Vergas Fire and Rescue Open House up the street from 10 a.m. to 12 p.m.
The Lions Looney Egg Hunt clues will be posted beginning at 9 a.m. on Saturday, at the info center and on Facebook at two-hour intervals.
Mona LaValley
Gospel Singer Mona LaValley will perform Sunday, Aug. 13, from 12-1:30 p.m., on Main Street between the classic car show (9 a.m.) and the parade (2 p.m.).
For a full schedule of events visit the Vergas Community Club on Facebook.