Sanders Oil Co. was a pillar in Frazee
News | Published on July 27, 2023 at 4:46pm EDT | Author: frazeevergas
0
Sanders Oil Co. building demolition taking history with it
By Robert Williams
Editor
Unlike the former Seip Drug lot, which housed an assortment of businesses since 1898, the Sanders Oil Co. building was a continually evolving gas business, due mostly to the work of one family.   ¶  Gordon Sanders was raised on a farm and completed eighth grade in a country school near Frazee. He made a decision not to continue with high school and began pursuing what to do to make a living. He worked for the Civilian Conservation Corps in Peck, Mont., before returning to Frazee.  ¶  Tony Smith of Perham sold him three older trucks and he started to haul sawdust from the old saw mills to the railroad, which was dumped into box cars and hauled to a place where they mixed sawdust and strychnine, which was distributed and sold around the country to kill grasshoppers. He also had a cream hauling route to Wolf Lake, according to the "Frazee Centennial history and Family Album of Frazee (1891-1991)."
Doing this much hauling, Sanders decided to cut expenses and put in his own gas and pump it himself. He located and dug up an old gas storage tank in Vergas and buried it in the alley off of Lake Street, put in a pump and bought gas from a Deep Rock jobber from Sebeka, who hauled it to Frazee.
Once he had the pump installed, so many people were stopping in to buy gas, Gordon figured maybe it was time for a gas station.
Setting the wheels in motion, an 8×12 building was built by Gordon and his brother Leslie. The building had a dirt floor and one pump. Leslie Sanders, W. E. Frost, Jr. and Gordon thus started Sanders Deep Rock Service in June of 1939, and bought their gas from Deep Rock (renamed Kerr McGee in 1989).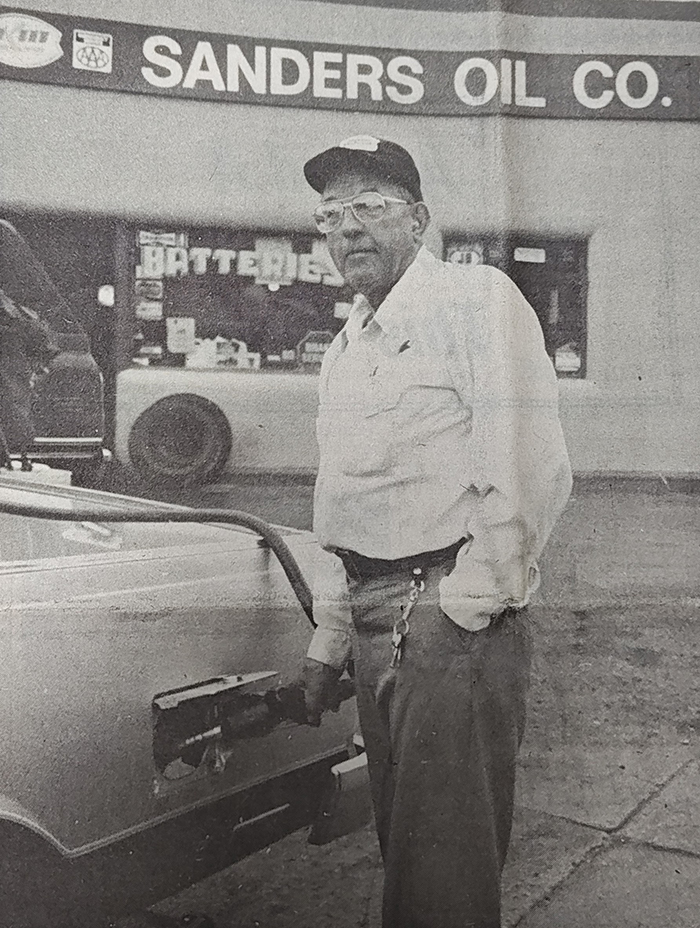 Gordon purchased full ownership of the station in 1941, but leased it for three years to Clarence Wilbur, while serving in the U.S. Navy from October 13, 1942 to October 9, 1945. Following his discharge, he and his wife Bernice moved back to Frazee where they spent 52 years of married life together. Bernice died March 9, 1995.
In 1946, Emil and Marvin Wick built a 16×32 grease room next to the original 8×12 station. Gordon built an office that connected to the grease room and Melvin Krozendorfer purchased and moved the original 8×12 building to his farm.
Sanders added a wrecker service and a bulk truck for hauling fuel and farm gas and continued to serve Frazee with a little, friendly, gas station at the corner of the alley, as reported in the 1989 Frazee Forum. Bernice and Gordon had five children and the business eventually passed to Gordon's son Roger, who removed the gas tanks prior to selling the property to the Frazee Economic Development Authority (EDA). Roger worked with his father at Sanders for two decades.
Gordon had many firsts in Frazee as an active member of the community in Frazee, Vergas, Ogema and the surrounding area.
He was the first correspondent to do the Frazee news on KDLM Radio, he and Marvin Daggett were the first co-chairmen of Frazee Turkey Days which started in 1954, he served as a substitute rural mail carrier for the Frazee Post Office for 15 years, served as a Becker County Commissioner for 12 years, was on the Frazee City Council for 5 years and was co-owner of M & S Furniture in Frazee. He also served on the boards of the Northwest Petroleum Association, the Ogema State Bank and he built the building that housed the former funeral home and current post office in Vergas. He was a charter member of VFW Post 7702 and served on the Sacred Heart Parish Council.
Gordon passed away at the impressive age of 99 in 2014.
In 2021, the Frazee EDA agreed to purchase Sander's Oil property for $43,000, which began the plans for this week's demolition.