Nord family honored by Wheels of Honor
News | Published on July 31, 2023 at 3:41pm EDT | Author: frazeevergas
0
Tribute to the Troops ride stops in Vergas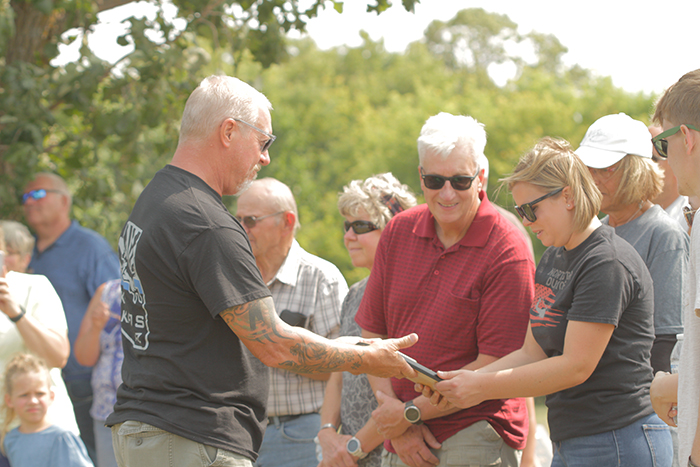 By Robert Williams
Editor
While much of the region was honoring the procession of fallen Fargo police officer Jake Wallin Saturday, July 22, a second ceremony for a fallen servant to the nation was held in Vergas later that afternoon.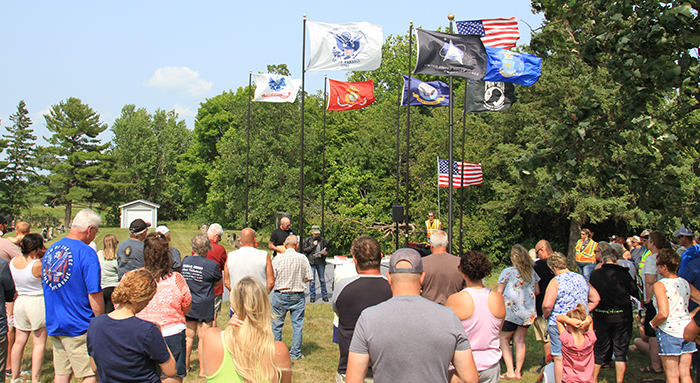 Minnesota Wheels of Honor and Tribute to the Troops visited Vergas on a ride to honor Charles Nord, who was killed in the National Guard helicopter crash near St Cloud, December 5, 2019. Nord is buried at the Vergas City Cemetery.
At 3 p.m., on Saturday, the brigade of riders approached the ceremony on their motorcycles and joined a large group of Nord family members and friends who had gathered for the occasion.
"We want to express our gratitude to the Minnesota Wheels of Honor and Tribute to the Troops for organizing the memorial ride in Charlie's honor," Paul Nord said. "It was humbling to see all those bikes come pulling in and to see all of the friends, family and locals come out to be there."
Following the flag, the riders entered the cemetery in a processional line and encircled the memorial flag area of the cemetery where mementos and photos of Charles Nord were on display, along with decorations at his gravesite.
The ride's chairwoman Tori Clunis thanked the Nord family and their friends for being in attendance.
"We are honored to be in your presence and share this day with you," she said.
Clunis read a report of the test flight and the result of the crash that killed three soldiers, including Nord.
"We were heartbroken for the families that had heard the news, wishing it wasn't true," said Clunis.
She followed with a 15-minute recital of the history of Nord's life from childhood to his final day.
Her speech had brief moments of humor amid a sentimental depiction of a life taken too soon.
The Nord family moved to Vergas in 2001.
Charles graduated from Perham High School in 2007. He enlisted in the National Guard to become part of a tank crew, rising to the rank of Staff Sergeant. He also graduated from Minnesota State Community and Technical College Moorhead in 2011, with a degree in construction electricity.
"He was very dedicated to the Guard and enjoyed everyone he served with," Clunis continued.
Charles met Kaley in 2009 at college and married in 2012.
In 2015, Charles was selected into the Warrant Officer training program to qualify for helicopter flight school at Fort Rucker, Alabama. Charles and Kaley moved to Fort Rucker in July of 2016. Charles excelled in his training and graduated with high honors.
Charles and Kaley welcomed into the world their daughter, Lydia, on May 3, 2017. Charles completed flight school in September 2017 and the family moved to Vergas where Charles was a part of Company C, 2-211th General Support Aviation Battalion.
In June 2018, he and the rest of Charlie Company were deployed to Kuwait and around the Middle East. Charles attained the rank of Chief Warrant Officer 2.
He returned home to Vergas in May 2019 and began building his family's new home near Perham. Charles worked for Bond Helicopter Service of Perham as a crop sprayer and was excited about the upcoming arrival of his son, Jack Charles.
Seven months later, Charles was killed in the crash.
"Words will never ease this tragic loss and we are forever in debt for his service and sacrifice," Clunis concluded. "He paid the ultimate price in service to Minnesota and the United States of America. We are honored and blessed to celebrate Charles' life with you today. We will remember and your family has grown just a little bit bigger today."
The Nord family was presented with a commemorative plaque that was inscribed, "Honoring the dedicated service, commitment, and sacrifice to safeguarding our community, state and nation. With heartfelt gratitude and respect, Minnesota Wheels of Honor."
The inscription was read by Wheels of Honor representative Mike Lundeen.