OTC employees participate in poverty simulation
News | Published on August 8, 2023 at 4:20pm EDT | Author: frazeevergas
0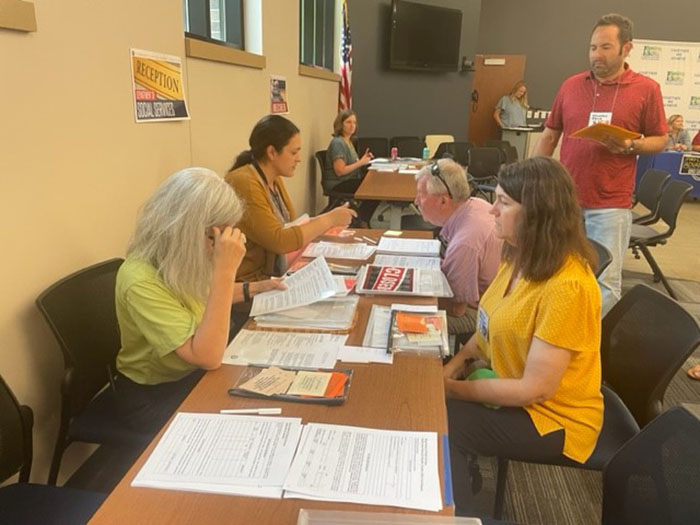 Could you survive a month in poverty? That is the question that was posed to Otter Tail County employees participating in the Community Action Partnership's Poverty Simulation sponsored by MAHUBE-OTWA. County staff, state representatives, and members of local organizations, including schools, cities, and businesses, were invited to walk a mile in the shoes of those facing poverty.
Lynne Penke-Valdes, Otter Tail County Deputy Administrator, facilitated bringing the workshop to County employees.
"This interactive training provided our staff from across all departments an opportunity to walk in the shoes of someone experiencing poverty and trying to make ends meet. This was an eye-opening experience for many, and it will hopefully challenge all of us to provide caring and quality service to all residents, regardless of circumstances or means," she said.
Workshop facilitators explained how it is difficult for those with enough to truly understand the daily situations that families living in poverty experience, their decisions, and their fears and frustrations. This training allowed participants to briefly take on the cultural identity of a person living on a limited budget.
"The simulation was very eye-opening with many decisions I would typically not make," said Otter Tail County employee Paula Grunewald as she role-played the experiences of a low-income family member. "It felt like we (the assigned group) were always behind on our payments with a lack of money to make our needed expenses. As a family, we had to make decisions that I knew were not right, but at the moment, it was the best decision we could make. Money was an issue, timing was an issue, lack of transportation was an issue."
According to Minnesota Compass, Otter Tail County is a county in which one in four households earns less than $35,000 while 27 percent earn $100,000 or more. These data reflect that 6,475 households in Otter Tail County live with less than $35,00 annually in earned income.
"This is not a game," said Sue Monson of MAHUBE-OTWA. "The objective is to motivate participants to become more involved in activities which help to reduce poverty."
As described by several participants, their awareness moved from seeing poverty as a personal failure to understanding poverty as a structural societal problem.
"The workshop was eye-opening," said Spencer McGrew. "In our office (Land and Resource), we work with people with second homes, boats, and jet skis. Participating in the poverty simulation gave me perspective on how a sizable percentage of our county's residents live day to day."
Local organizations who are interested in participating in a Poverty Simulation Workshop, please contact Sue Monson at MAHUBE-OTWA Community Action Partnership at (888) 458-1385