Pickleball Club celebrating with an Open House
News | Published on August 16, 2023 at 11:02am EDT | Author: frazeevergas
0
Food truck, brews and music on August 17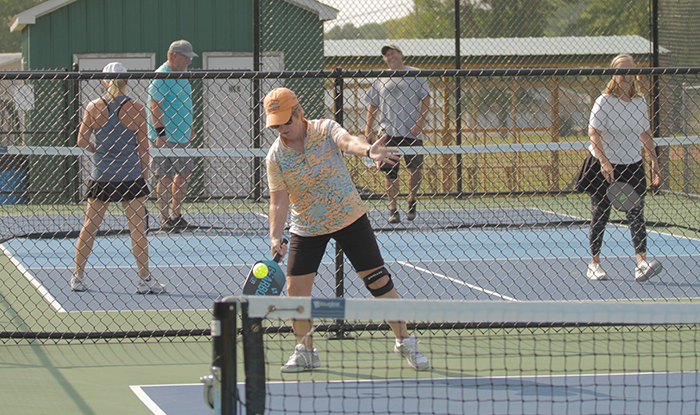 By Robert Williams
Editor
Conversations began in January of 2021 on constructing pickleball courts near the ballfields in Vergas and less than two years later, thanks to a grassroots funding effort, there will be an open house celebration at Franklin Fence Courts Thursday, Aug. 17 from 5-7 p.m.
"It's a celebration," said club president Shannon Charpentier. "We're proud of the fact that it took us a little over a year to get all of the funds and get this done. It's pretty miraculous, I think. It's all donated funds. We had several businesses and corporations, but a lot was just $500 or $1,000 donations."
Many of those donations were drummed up from the work of Charpentier and four other team members that got the project started: Jill Shipman, Maria Sontag, Ron Franklin and Sherri Hanson.
This spring the Vergas Pickleball Club was formed with a board of directors and the last piece of construction was completed—the crushed asphalt around the court that keeps sand and gravel from the surrounding lot out of the courts.
A sign thanking sponsors was being erected last week, just in time for the open house.
"We're just encouraging people to come out and celebrate a huge milestone," said Charpentier.
During the two-hour celebration there will be refreshments provided by Outstate Brewing Company, the Escobar Food Truck, along with music by Damien Anderson.
For club and fundraising organizers, the celebration is a very big deal.
"I don't think, sometimes, that we realize what a big thing we just did," Charpentier said. "We just kind of kept going. That's the purpose: to thank people and to celebrate and pat ourselves on the back a little bit. Sometimes when you're in it so deep you don't think it's not possible or that you're doing something."
While official fundraising efforts for the court are completed, the club does accept donations. There is also an optional $20 per year membership to the club.
"We're a very welcoming group and we're just so pleased with the quality of the courts and everybody enjoys themselves," Charpentier said.
The Vergas Pickleball Club Board of Directors consists of President Shannon Charpentier, Vice President (through August) Jill Shipman, Vice President (post August) Skip Alfson, Treasurer Ann Richard, Secretary Mara Davis. Advisory members: Maria Sontag, Ron Franklin and Sherri Hanson.
Attendees to the open house are encouraged to bring a lawn chair.
The courts are located behind the ballfields and parking is available on Lovers Lane.