Vergas Post Office renamed in honor Jon Glawe
News | Published on August 16, 2023 at 1:50pm EDT | Author: frazeevergas
0
State officials on hand for Friday's ceremony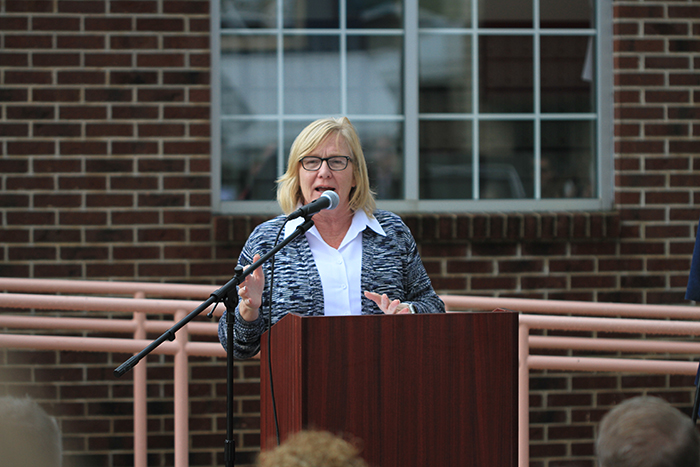 By Robert Williams
Editor
One event unique to Looney Days in 2023 was the renaming of the Vergas Post Office in honor of longtime carrier Jon Glawe Friday, Aug. 11.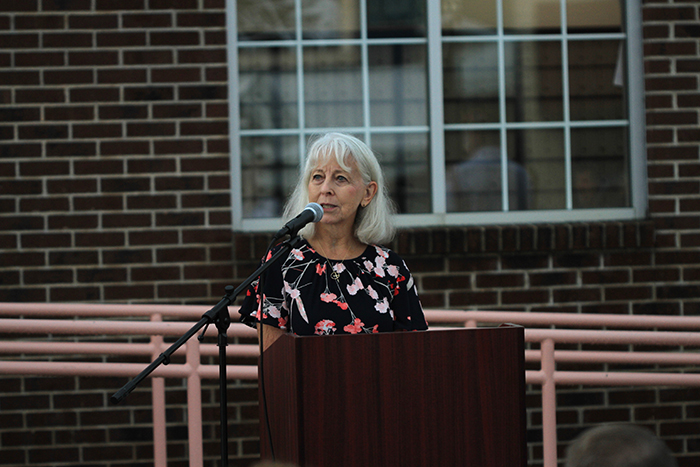 A ceremony was held downtown in front of the post office, led by keynote speaker U.S. Congresswoman Michelle Fischbach, who was integral in passing the legislative bill to honor Glawe.
Fischbach's opening remarks were centered around community, rural living and its particular way of life for residents.
"This is what it's really all about," Fischbach said. "You're honoring community. We are here because this is about our rural way of life. You might have known Jon. You know what a wonderful man he was and what he did for the community and you're here honoring him."
Fischbach sponsored the bill, H.R. 5952, that was passed last year to rename the Vergas post office after Glawe to honor his service to his neighbors and local area as a mail carrier for four decades.
Despite her efforts in getting the bill passed, Fischach downplayed her role in doing so and directed her comments to the Glawe family in attendance.
"This is an incredible honor for me to carry this legislation and an incredible honor for you, that they are honoring Jon like this and you will be able to come here every day and see that, because this community understands how important he was to you and a part of helping our way of life," she said.
Darla Glawe, wife of Jon, gave her speech under the threat of rainfall with a historical perspective on Jon's life and accomplishments.
Jon was drafted into the U.S. Army in 1970 and was a sergeant in the 3rd Armored Division (Spearhead), stationed in Frankfurt, Germany. He was honorably discharged in March of 1972. Jon and Darla (Olson) were high school sweethearts. They married in June of 1973 and raised three children: Nicole, Brett and Kraig.
After Jon was discharged he worked at the Minneapolis post office for a short time.
"But decided to come back and work on his grandfather's farm," Darla said.
Jon's father Dale was the rural mail carrier in Vergas at the time; Jon would deliver on weekends. When Dale passed away, Jon took on the full-time delivery job while continuing to farm.
"The Glawe family has always been a part of the Vergas community," said Darla. "Jon loved being a part of Vergas."
Darla noted the Glawe family owes a huge debt of gratitude to Fischbach and her instrumental efforts in getting the bill signed.
"To recognize Jon by naming the post office after him is a great honor, not only for him, but for us, as his family," she said.
Darla closed with emotional words directed to her family in attendance and about Jon as rain began to fall.
"I miss Jon every day," she said. "He was my one and only and I know he would be so honored to see everybody here and having the post office dedicated to him."
Sherri Hanson was invited by the family to give the invocation and benediction of the ceremony.
Joe Franklin sang the national anthem. The Frazee-Vergas VFW Color Guard presented and retired the colors. Senator Amy Klobuchar submitted remarks via correspondence. Desai Abdul-Razzaaq of the USPS Communications department was the master of ceremonies.
Sen. Jordan Rasmusson and Rep. Tom Murphy were also in attendance.