Wieben takes first place at loon calling contest
News | Published on August 16, 2023 at 11:27am EDT | Author: frazeevergas
0
Grand champion edges son in loon calling finals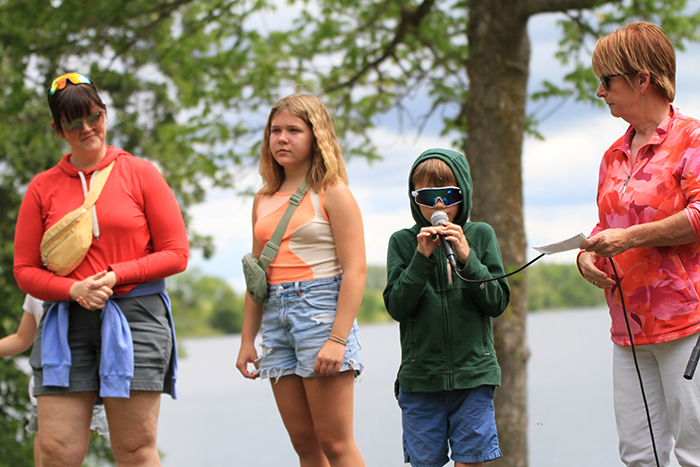 By Chad Koenen
Publisher
As a handful of loons swam in the water within earshot of the annual loon call contest, Rebecca Wieben was crowned as the loon calling grand champion on Saturday afternoon in Vergas. In what proved to be a family affair, Rebecca edged her son Arnold Bohlman, who was the 0-8 age champion in the championship round. Also advancing to the championship was the 9-15 age champion Leah Ellingson.
Even before making it to the championship, Rebecca had to defeat her sister Anne Wieben, who took second place in the ages 16 and above category. Anne was the one who originally encouraged her sister to compete in the loon calling contest for the first time this year.
"I kept telling her for years you have to do it," said Anne.
While Rebecca lives in St. Paul, Minn., her family has had a cabin on Loon Lake for approximately 20 years. Rebecca said she has been making loon calls off her dock for most of that time and even joked that people at Loon Park have probably heard her loon calls even before Saturday's competition.
"I have been screaming off our dock for 20 years now," she said with a laugh.
Rebecca said having both her sister and son in the competition made the experience of competing in the loon call contest even more special on Saturday.
In the 0-8 age category, Walker Hanson took third place, Rosie Lake took second place and Bohlman took first place. In the 9-15 age category, Quinn Peterson finished in third place, Joss Winter took second place and Leah Ellingson took first place. In the age 16 and above category, Chuckie Boehm took third place, Anne Wieben took second place and her sister Rebecca Wieben captured first place.
In the battle of the lakes, East Spirit Lake captured first place in a contest that was judged by the crowd.