Liquor store profitable, fund balance needs improvement
News | Published on August 22, 2023 at 5:06pm EDT | Author: frazeevergas
0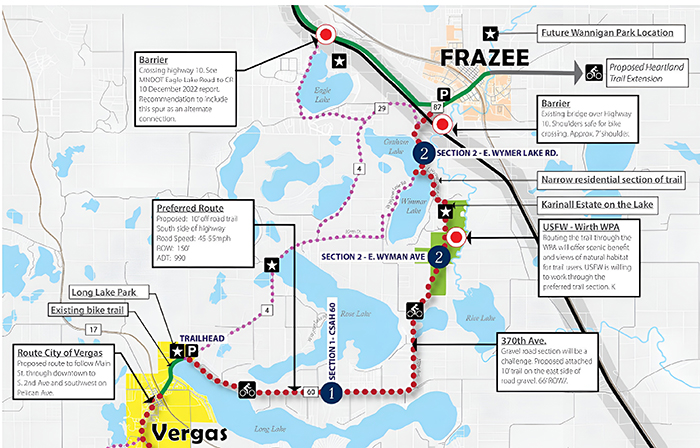 By Robert Williams
Editor
Colleen Hoffman, managing partner at Hoffman, Philipp, & Knutson accounting firm in Thief River Falls, Minn., presented the 2022 audit of the City of Frazee to the city council Monday, Aug. 15.
"This is a really, vibrant, active city," said Hoffman. "As far as the audit goes, your utility funds, water, sewer and even liquor all made a nice profit this year."
The net worth of the city is $12 million, according to the audit.
"That's a lot for a city of your size," said Hoffman. "The budget to maintain that is about $3 million, including depreciation and pension liabilities."
Hoffman addressed the fact that liquor funds have not always done well in Frazee and there have been limited contributions to the city's general fund.
"Their fund balance is a little bit low for what their annual spending is, so we're looking at building up their balance just a little bit," she said. "If they need anything major, such as repairs, we're not going to have any money there."
Hoffman advised rather than move any money to the general fund, it is best to keep it in the liquor account and continue building.
Portions of the liquor store and event center are both in need of roof repairs.
In June, the city sought bids for the repairs. One company backed out, according to public works supervisor Larry Stephenson, citing more structural issues than can be determined from outside the structure. That company was not large enough to handle the project.
"It's hard to get a bid; they can quote it for square footage of coverage of material but what's underneath, how do you bid that?" said Stephenson.
According to Mayor Mark Flemmer's monthly report, the roof project is waiting on architect review before companies will bid, and there are two interested in bidding.
Poegel expects to receive the architect's report in the next week or two.
Hoffman was positive about liquor store operations for the year and urged the city to build on that success.
"They only have $107,000 in fund balance so we're trying to build that up a little bit, but they had a good year," she said.
Hoffman's big project for the coming year is helping City Administrator Stephanie Poegel in budgeting and properly transferring levy dollars. Frazee has debt service funds that are in the hole due to a lack of levies being used to pay off bonds, along with Tax Increment Financing (TIF) monies that are supposed to be used to pay bonds.
"Those are some things that have never come together for you, so we're going to drill down on that this year at budget time and fix that up," said Hoffman. "It specifically says in those bonding documents that there must be an annual levy and there isn't. It's not earth-shakingly bad, but it could be better."
Trails
City Engineer Kris Carlson gave a report on the draft trail connections to Wannigan Regional Park. Two segments were identified: the existing Red Willow Heights trail across Highway 29 and around the ballfields and the North River Drive connection that is part of the North River Loop construction project that includes the paving of North River Drive.
Next steps are a cost analysis and pursuing grant or bonding funds. The Capital Investment Committee Members and other state senators were in Frazee on Tuesday, Aug. 15, to meet with a large group of city officials and park supporters to discuss a $1.85 million bonding request to complete the project.
Widseth Landscape Architect Jillian Reiner, the consultant for the City of Vergas, joined the meeting via Zoom to give a summary of the plan to connect Frazee to Vergas and Maplewood State Park via the Heart of the Lakes Trail.
The proposed trail from Vergas to Frazee will begin at Tin Can Alley with a trailhead near the end of the Vergas boardwalk and travel on the north side of highway 60, turn north on 370th. At the intersection of E. Wymer Lake Road, the trail will turn to the west on 493th St. and immediately turn north onto 396th St. and again turn to the east and run adjacent to W. Wymer Lake Rd. until it connects to the preferred alignment intersection and crosses the Highway 10 overpass.
The trail plans were funded by PartnerSHIP 4 Health. Patrick Hollister expanded on the future grant opportunities and timelines.
The total project cost for delivering these two segments constructed was estimated to be $3.8 million based on planning-level cost estimates. It also includes expenses for certifying agency administration, construction across multiple jurisdictions, and engineering.
The trail plans do not include connecting to the bridge on County Road 10 at Highway 10.
Cannabis
The council held a public hearing to hear comments on ordinance 167 regulating the use of cannabis and cannabis derived products in public places.
This ordinance was adopted for the purpose of protecting public health and safety by regulating and prohibiting the use of cannabis and cannabis derived products in public places and places of public accommodation within the city.
Frazee joined other cities in the area in drafting similar ordinances that limit cannabis use to private residences.
A violation of this ordinance will be a petty misdemeanor subject to a fine up to $300.
While consumption and possession have been legalized, the sale of marijuana will be limited throughout most of the state until early 2025, other than at dispensaries on reservations, currently opened by Red Lake and White Earth nations.
The Office of Cannabis Management will be the regulatory state agency for marijuana use and will issue licenses once it becomes operational, which is expected in 2025.