MnDOT holds open house on future Highway 10 J-turn
News | Published on August 22, 2023 at 4:57pm EDT | Author: frazeevergas
0
State organization contends J-turn would reduce conflict at Hwy. 10, CR 60 intersection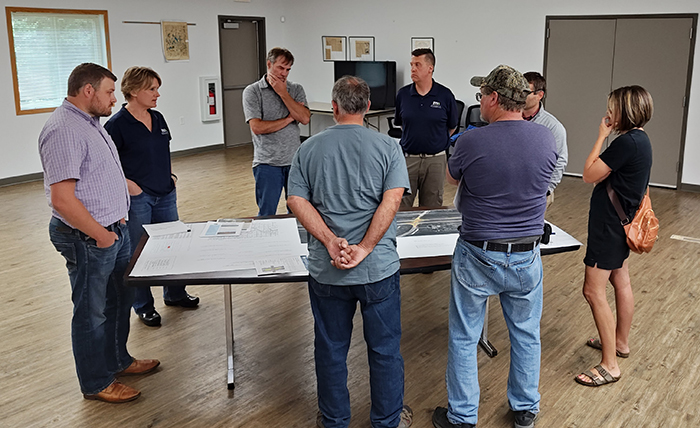 By Robert Williams
Editor
A Minnesota Department of Transportation (MnDOT) open house in Frazee garnered consistent foot traffic from area residents looking for more information on the 2024 Highway 10 and County Road 60 project.
"There are a lot of crashes that happen at that location and we need to do something," said MnDOT Public Affairs Coordinator Emma Olson.
This summer, there was a multi-car accident at the intersection on June 23 and a train derailment on Aug. 3.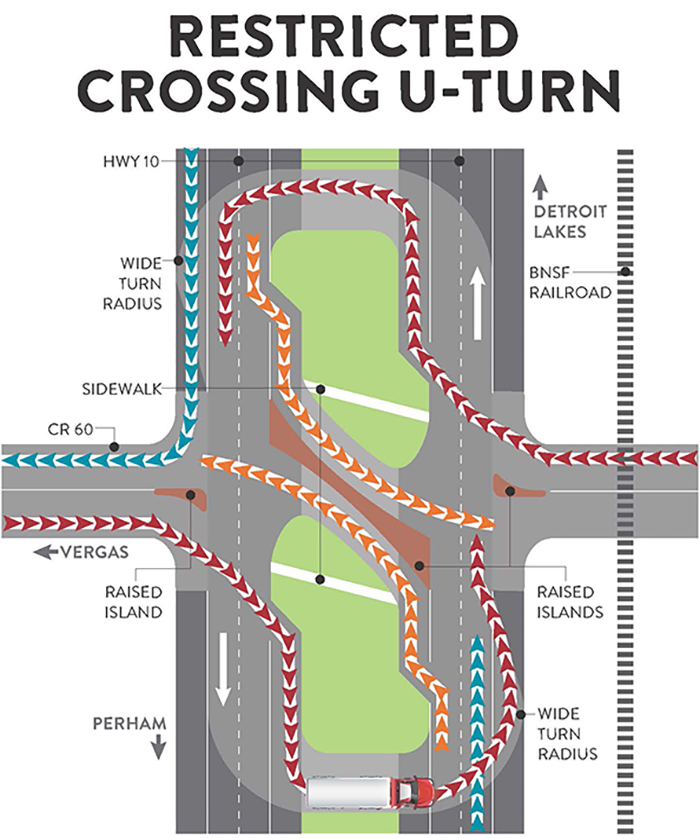 "That intersection was the top intersection in Otter Tail County, as part of their safety plan and needing to do something about it," Olson said. "It's part of MnDOT's top two in this area. There is a clear need and we needed to figure out what we could do to make an improvement of some kind."
The solution is to construct a J-turn, a type of reduced conflict intersection. It converts side street thru-travel and left-turn movements into right turns, followed by a U-turn. At the Highway 10/County Road 60 intersection, side street left turns and thru-movements are the most common generator of serious crashes.
There are no J-turns located in this portion of the state, making them a new concept to some area drivers. While roundabouts have made their way into the region, the location of the intersection and average speed of drivers ruled that option out completely.
"There are issues with signals at these locations and roundabouts are not really the best thing for high-speed locations," Project Manager Joeb Oyster said. "These J-turns aren't new. They've been around the state and the nation for a lot of years. This is the first in this localized area in District 4. It was chosen because it limits the crossing movements where the accidents are happening."
MnDOT officials were on hand at Hobart Township Hall to help residents understand the approach to making the decision and discuss what the other options were. Those were limited to three other solutions.
One study recommended closing the intersection completely. Although likely the safest option, the potentially significant impacts to local commuters and the economy were taken into consideration, despite safety being MnDOT's top priority.
One of the first options considered was a traffic signal. However, due to the intersection's rural location, drivers would likely not expect to encounter a signal and crashes could increase. Plus, signal prioritization would be given to the railroad, causing delays on Highway 10 every time a train came through the area.
Traffic counts did not justify the construction of a new interchange, which would likely cost $10 to $20-plus million to build. In addition, there would be major right-of-way impacts, and the overall planning process would be long and tedious.
"The most important message is we're making the revisions and improvements due to safety issues," said Oyster.
Area Emergency Management Services staff contacted Oyster about investigating the intersection. MnDOT was subsequently awarded safety dollars for the project, according to Oyster.
"It's above and beyond our normal district budget project," he said.
Safety and cost were two highlighted benefits. According to MnDOT's information shared at the open house, studies show a 70 percent reduction in fatalities and a 42 percent reduction in injury crashes where J-turns are used and J-turns are often less expensive than constructing an intersection with a stop light and are a fraction the cost of building an interchange.
The 1.1 million project is currently scheduled for construction in 2024 with an approximate timeline of one year until completion.