Ditterich Mercantile completes downtown Vergas
News | Published on August 29, 2023 at 3:38pm EDT | Author: frazeevergas
0
Community welcomes return of grocery store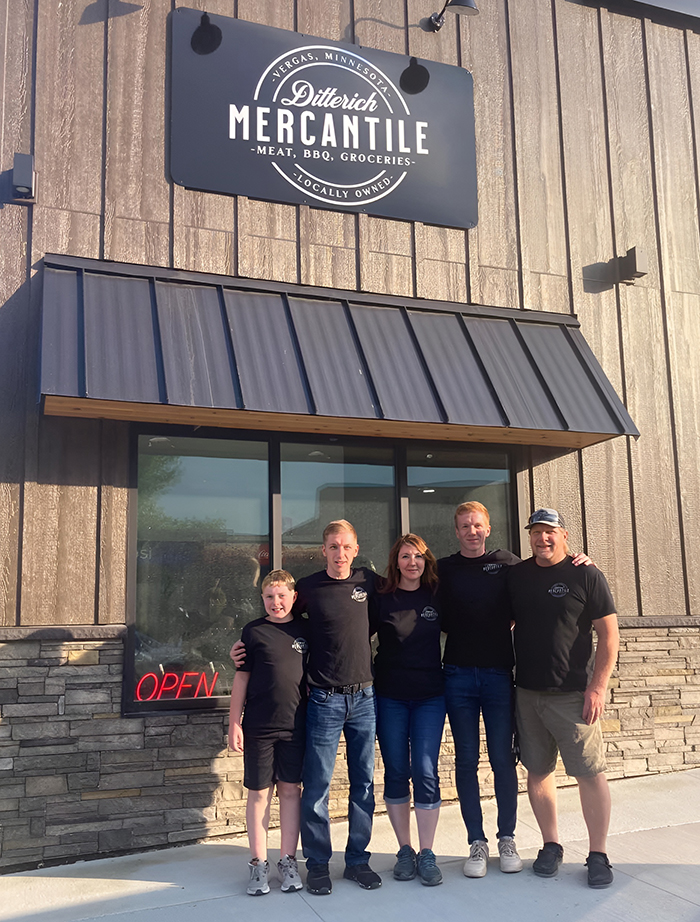 By Robert Williams
Editor
Vergas went without a grocery store for nearly six years before the Ditterich family brought a needed staple back to downtown in the form of Ditterich Mercantile. In early August, the Ditterichs celebrated the store's one-year anniversary, along with sister merchants MW Pastry and Lakes Fit, that make up the commercial success of Altona Square.
For owner DuWayne Ditterich, the success of his family's business is because of all the other businesses in the village.
"I think everyone is doing so well because everyone's working together and trying to get the goal of getting downtown Vergas complete again," he said. "There is always room for more businesses to come in, but without a grocery store—that's the hub of a community—and everyone's been very supportive of me in town and in return we are supportive of them. We try to send customers each other's way and work together to make things happen."
The Mercantile is a family-run company, but things happened during the first year of business that created job openings for others.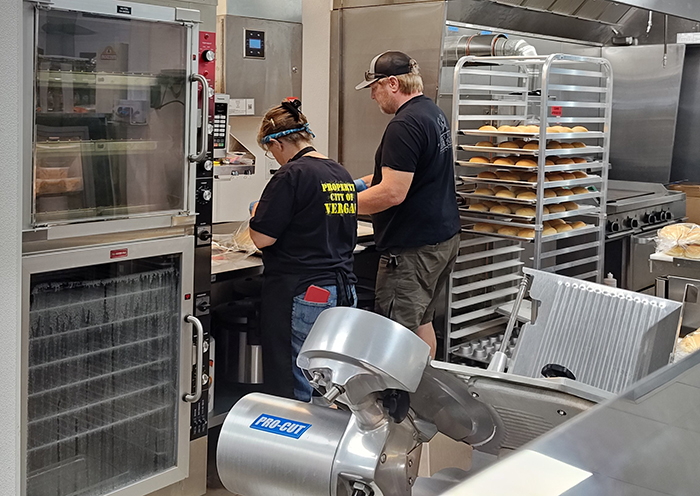 "We brought Connie (Lee) on last year, pretty much a month after we opened to help with the deli part," said Ditterich.
DuWayne and Jenn's three sons Boone, Colton and Hunter all share duties with Colton managing the store and handling operations when DuWayne is away.
"It's still a family thing, but we've definitely brought on quite a few part-time people, so it's grown to be more than just a family thing," Ditterich said. "Now that summer is over you don't need as much staff during the winter months, but next summer, the way our deli, kitchen and catering has grown, we're definitely going to want another part-time person back there and it's nice to have a couple extra people."
The opening 12 months of business have been full of learning, from operations to timing the market amid changing weather that definitely affects business.
"It's a guessing game and my experience running a grocery store was…the first minute we opened was my experience," said Ditterich.
Mason Brothers Grocery Wholesalers were a big help in the initial setup of the Mercantile's inventory, but the Ditterichs had multiple plans of their own for specific items they wanted in the store.
"We always knew the meat was going to go over well because of the relationship to the farm," said DuWayne. "We worked together, but I've always liked cooking. I know what you should have and what you need from life experience. Think about what you buy when you go to a store and that's what you want to have —those core items."
Carrying a wide variety of locally-sourced, unique products was imperative to both the store's success and complementing the store staples.
"Our biggest thing is looking for new products that nobody else carries and we're going to bring out a couple new snack items that will go with our popcorn sales," said Ditterich. "We always want to serve unique popcorn flavors."
Seasonal favorites will soon be back on store shelves, like customer favorite caramel apple and holiday-themed flavors. Popcorn sales were one of the biggest surprises of the year.
"I wasn't sure, in a small town, if you could make it work or not," said Ditterich. "Obviously, it's a product that has a shelf life to it that's very short. It was either going to work or not and if we don't put it in at the beginning we're never going to put it in. It's been very popular."
Featuring other local producers is another big part of what makes shopping the Mercantile an experience.
"Finding that unique product," DuWayne said. "You can go to every store and find that Hunt's tomato—who cares? It just needs to be on the shelf because people need to buy it. But you can't walk into every store and find a Brad's Seasoning or a Peter's Pure Maple Syrup. That doesn't happen. We carry Amor Pork Products, which is a local farm down the road. Top notch—our pork sales went from $100 per week to $2,000-$3,000 per week."
Being adaptable became more important in trying to deal with the four seasons in Vergas.
"I thought winter wasn't going to be enjoyable, but it's just different," said Ditterich. "When it's storming out we actually have some of our busier days and it makes no sense to me. That was a little bit of a surprise, not a negative. It was just different from what I thought was going to be a negative. Everyone said January and February were going to be slow and boring. It wasn't. When you have a crappy spring, it turns off in March and April. If we would have that good spring, if it would have been nice in March I think people would have come back earlier. April was colder than January and January and February were surprisingly good. March and April were surprisingly bad."
As temperatures warmed business began to get hot as the village transformed into its summertime destination.
"It was more of a gradual kind of thing because spring didn't show up again for a third year in a row," Ditterich said. "We didn't have much new business in April. May, with fishing opener, it was still pretty crummy out. It just kind of gradually went up and then Memorial Day was crazy. The 10 days surrounding July 4th were crazy and the week after the Fourth got really quiet. I think everyone's credit card was maxed out because everyone was having a good time the week before. With the Fourth on a Tuesday, it created a long holiday for some people—almost 10 days."
Holidays like the Fourth of July warranted stocking two to three times more inventory than a normal business week.
"We get freight on Thursday and Monday and on Thursday you couldn't walk into our walk-in coolers—you couldn't move at all," Ditterich said. "By Sunday, they were wide open and ready for Monday's freight again. The nice thing is we really only have to prepare for three to four days."
The upticks in action in Vergas are definitely most noticeable to downtown business owners. Ditterich Mercantile has definitely added to that traffic.
"There's a lot more foot traffic in town and Looney Days was probably as big as it's ever been," DuWayne said. "All the events in town, they seem like they're as big as they've ever been. It seems like we're hitting on all eight cylinders."
As important as the success of his family's business is, it's sharing that success and helping the other businesses in town that is creating the new downtown dynamic.
"Working together is the key," DuWayne said. "We send people to Lavish Loon, Loon's Nest, Billy's, the liquor store. There are no businesses in town we don't send customers to help them get what they need, so they don't have to leave town."
The lack of having a grocery store for more than half a decade was a big factor to people leaving Vergas.
"Being a local person, you couldn't get all your needs in town and sometimes you'd have to pick that other town," he said. "That money is leaving the community. Now, with all the businesses that are in town, it's an opportunity for people to get a one-stop shop in town. We've found out it's more important to work together than be successful on your own. Being successful together will raise the whole group."
The Ditterichs are excited for the future of their Mercantile and Vergas where people in a small town do some pretty big things.
"It's pretty cool that this is a prospering area, even though we're rural and very small," he said. "I don't know what other businesses did this summer, but I don't think anyone had a bad summer.
More information on Ditterich Mercantile is available at www.ditterichmercantile.com and on Facebook.