Jacobson appointed OT County Assessor
News | Published on August 29, 2023 at 3:15pm EDT | Author: frazeevergas
0
Ashby-native to lead county assessor's office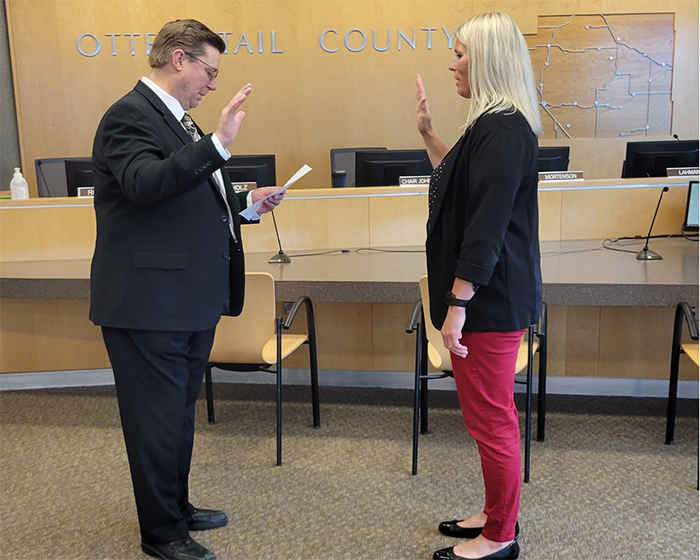 Heather Jacobson was appointed by the Board of County Commissioners to lead the Assessor's Office.
Wayne Stein, County Auditor/Treasurer, swore Jacobson in at the start of this week's Commissioners' meeting.
"We have a great team in the Assessor's Office," Jacobson said. "I hope to utilize everyone's strengths and have a positive work environment. I am excited about the challenges this position brings in an environment of an ever-changing market."
Jacobson began her career in a clerical position in the Otter Tail County Assessor's Office in 2011. Shortly after, she moved to an appraiser role where she treated people fairly and respectfully as she valued and classified properties under the direction of state law. Jacobson served as Chief Deputy Assessor for one year before being appointed the Otter Tail County Assessor.
Jacobson graduated from Ashby High School and attended college in Boston, Mass., where she played basketball. She and her husband have four children and one grandchild. She is very active as a runner, attending local sporting events and enjoying time on area lakes. She also gives to her community by serving on the Battle Lake Area Rescue Squad.
"Working for Otter Tail County has given me the opportunity to raise my family near where I grew up; our kids are lucky to be close to both sets of grandparents, and we love the lakes area," Jacobson said. "Otter Tail County employees are supportive, kind, and help one other to succeed."  
Otter Tail County provides employment opportunities to grow and advance with the organization. Take on the challenging and rewarding work of public service and sign up for employment notifications on the county's website: www.ottertailcounty.gov