Little Turkey to stay put on the corner 
News | Published on September 5, 2023 at 2:29pm EDT | Author: frazeevergas
0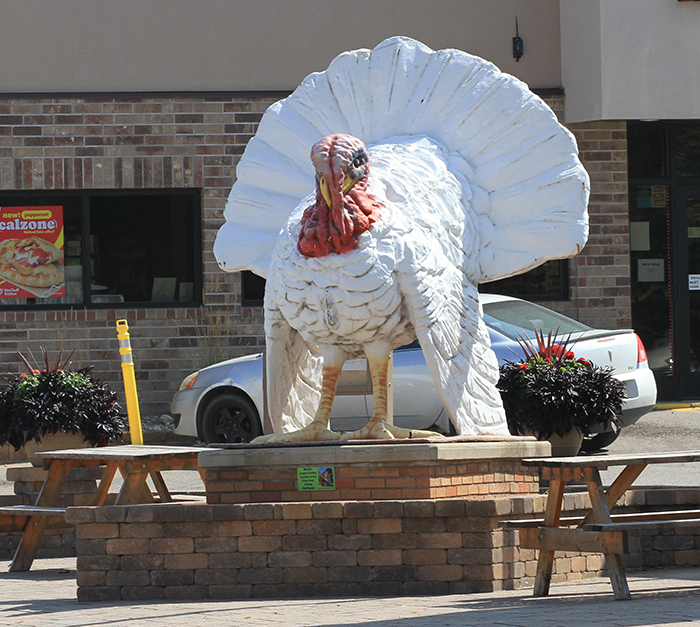 By Robert Williams
Editor
Discussions around moving the little turkey across the street from in front of All in All to the new space on the corner have fizzled and it appears the bird will stay put where it is, according to Mayor Mark Flemmer.
Flemmer updated the Frazee Economic Development Authority (EDA) at their monthly meeting on Tuesday, Aug. 29. The initial plan involved a land swap with All in All and the city, but the city council decided not to pursue that.
"Basically, it looks now that the white turkey will be staying where it's at, unless they (All in All) want to purchase that property, and I don't see that occurring in the near term," said Flemmer.
Flemmer created a motion to the EDA board to pursue some basic work to be done on the property before winter, like planting grass and putting in a few picnic tables.
Five future parking spots have also been marked off.
Economic development consultant Don Lorsung noted the positives of keeping the turkey where it is and using it to boost what is planned for the future across the street.
"You can tie the mural to the turkey across the road," said Lorsung. "You could put a pedestrian crossing right through there and the trail goes right along there anyway. You tie both in and have placards on both. It's just part of the whole display, even though it's across the street."
Frazee Community Development Corporation member Polly Andersen had detailed photos from Perham that showcase downtown artwork as a continuation of elements.
"It's a continuity of space concept," said Lorsung.
The EDA also discussed a collaboration on a future mural project, along with combining both the former Seip and the Sanders' land parcels into one. The board approved a motion to direct city administrator Stephanie Poegel and the city's attorneys to pursue that process to combine the parcels.