Perseverance pays off in Breitenfeldt's pumpkin patch
News | Published on September 5, 2023 at 2:38pm EDT | Author: frazeevergas
0
FFA alum earns ribbons at county and state fairs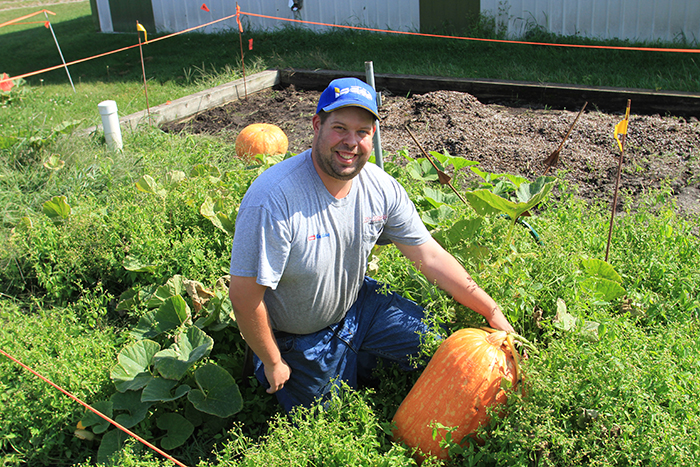 By Robert Williams
Editor
Andy Breitenfeldt has a history of finding early success when showing animals and that experience translated to pumpkins as he garnered multiple ribbons this summer at the Becker County Fair and the Minnesota State Fair.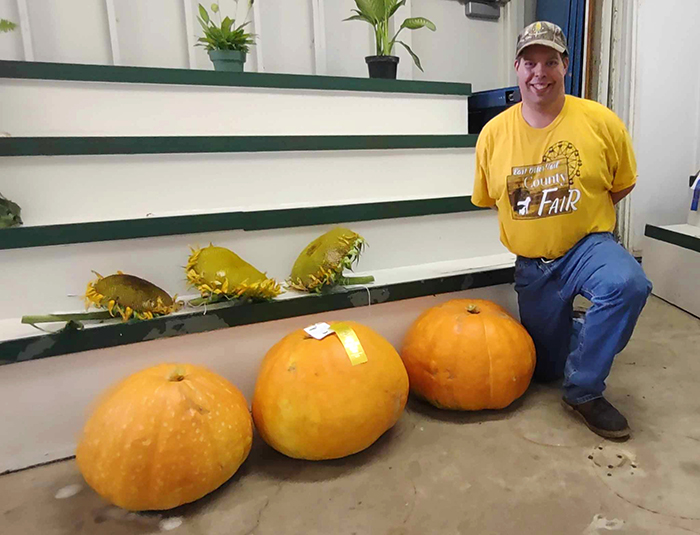 The Class of 2005 Frazee-Vergas high school graduate and active FFA alum grew up on his father's beef farm near Evergreen and raised ducks as a teenager.
A chance meeting on the side of the road led him to the ducks.
"I used to work up in Winger at the stockyards," Breitenfeldt said. "A guy was selling baby ducks there on the side of the road. I bought them, raised them up and brought them to the fair. Those were the first four I ever brought to the Becker County Fair and I actually received Grand Champion on both cages."
A similar situation played out this year in Andy's first showing of his pumpkins where he received a blue ribbon on his 31-pound Atlantic Giant pumpkin at the Becker County Fair and earned a fifth place ribbon in the large field class with his three Big Moon entries at the Minnesota State Fair.
How Breitenfeldt got into growing pumpkins is a personal rebound story. Breitenfeldt lost his farm to foreclosure in 2020. That caused him to move into town. He chose Perham, where he currently works at Swan Machine and Kitmasters. City living is not the most ideal situation for a lifelong farmer.
"I'm a farm kid," he said. "Living here in town, what am I going to do? I raised ducks and goats in Evergreen. Well, you know what, I have to try to find something here."
That process was made more difficult when the East Otter Tail County Fair was canceled the same year due to the pandemic.
Breitenfeldt has been on the East Otter Tail Fair Board for 11 years. He is in charge of open class poultry, the rooster crowing contest, and exhibit building contests that includes the painted pallet, metal junk sculpture and scarecrow contests.
"A little bit of everything," he said.
Breitenfeldt was looking for space, or any place, to grow pumpkins in 2021 and that took some perseverance.
"I said I'm going to try to do something up on my balcony," he said. "I tried pumpkins and it went pretty good until they started to bloom and blossom and then they died on me."
He also tried growing Big Max and Atlantic Giant varieties at a friend's place.
"I was too hasty and put them out too early and they froze on me," he said.
Rather than quit, in 2022 he asked the 4-H garden coordinator in Perham if he could use the junior master garden at the fairgrounds that was out-of-use.
On a quest for seeds, a local Perham business brought a new type of pumpkin into focus.
"I didn't know a lot about these Big Moons until last year when I went over to Ace Hardware in Perham," said Breitenfeldt. "I was looking for some seeds and most stores were already sold out. I had never heard of Big Moons before so I gave it a try and last year I had a 113-pounder."
Breitenfeldt also figured out a simple way to grow his pumpkins.
"Just plenty of water and care," he said.
Breitenfeldt did not show during the 2022 growing season but heard the giant pumpkin contest was coming back to the Lake Park Pumpkin Fest in the fall.
"I was the only entry to bring my large one in but a lot of people came and looked and were amazed by it," he said. "I showed interest and tried to bring interest to other people."
That lone, giant pumpkin created this summer's award-winning pumpkin trio.
"I kept the seeds and all of these pumpkins and the three from the state fair came from that 113-pounder from last year," said Breitenfeldt.
Those three pumpkins were judged on uniformity, something that was made more difficult by the fact that Breitenfeldt was harvesting from only eight plants in the EOT garden. Andy is hoping to get back to living in his own space where he can plant many more plants and have a much larger selection from which to harvest..
"Then I can grow 30-40-some plants and then for the state fair try to find the three that are the most uniform," he said.
Creating uniformity takes a constant eye and a little jostling of the fruit while it grows.
Part of what made earning a state fair ribbon special was Breitenfeldt's choice to bring Big Moons.
"A lot of them grow Jack O'Lanters, they're always the most common ones," he said.
Big Moons look different than the typical pumpkin people are used to.
"Size, coloration and pattern," said Breitenfeldt. "Your Jack O' Lanterns will start green and then turn orange. Big Moons have a little bit of a pattern on it where you'll see spots of lighter orange compared to darker orange. A lot of the larger varieties will be yellow and then turn orange. I was the only one to bring down Big Moons; a lot of people were admiring them when I brought them in my wheelbarrow."
Showing a different variety of pumpkin fits Breitenfeldt's personality. He likes to be original and a bit contrarian. He also wants his pumpkins to stand out when being shown and when growing in the area.
"I'm going to stay away from Jack O' Lanterns because you've got Otter Berry Farm in New York Mills and Janu's Pumpkin Patch in Frazee," he said. "The majority of them are Jack O' Lanterns and I'm sure they have other varieties."
Finding success after overcoming the loss of his farm and a few tough early growing attempts has Breitenfeldt pumped to get back into the patch.
"I also want to try a different variety next year," he said.
After his pumpkins helped garner a large following on Facebook, Andy polled his followers on what he should grow next. The results came back with Porcelain Doll pumpkins—an eye-catching variety.
"They are pink pumpkins," he said.
Those particular seeds were gifted to Breitenfeldt by local greenhouse staff at Jean's the Right Plant Place.
Given his history of good luck seeds from Perham businesses, Breitenfeldt is already in the planning stages for his next bumper crop.
"I'm in clean up mode currently, but I have one that's still growing; if he's big and ripe enough I might take him to Lake Park and I'm already thinking about next year's project," he said.