Calving season comes to an end with final birth
News | Published on September 20, 2023 at 2:37pm EDT | Author: frazeevergas
0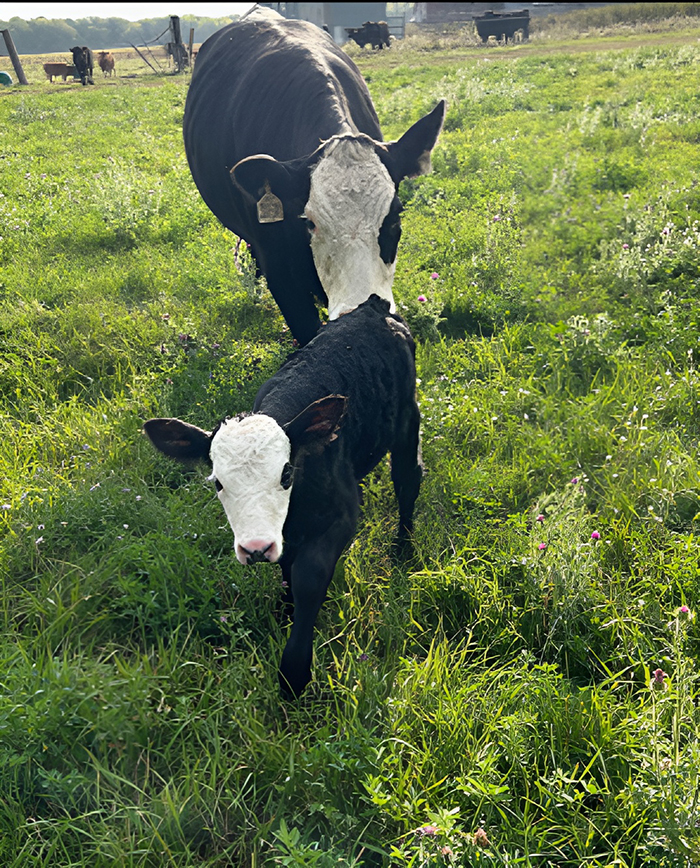 By Tyler Trieglaff
Notes from the Chief
Well, it is finally over…. Calving season that is. 
Calf number 70 is on the ground, alive and well. We had one heifer that did not calve during the normal calving season, but I knew she had to be bred. Calving in September is not what we desire in our operation, but a live calf is always a blessing.
Mama was with calf when we pregnant-checked the cows in late October, but must have lost that embryo at some point. She was rebred around December 4 to have a baby in the last couple days. I am not sure what we will do with this pair at this point, but we already have an offer to buy the pair for their small hobby farm. 
The reason this pair may go down the road is because we like to keep our calving season under 60 days, preferably 45, which I have talked about before. This gives us a more uniform calf crop when it comes time to sell the calves as feeders. One straggler would have to be raised on its own so it may be beneficial to sell as a pair now.
Ten more pairs and a bull are home from another pasture. Hopefully, that pasture can get a little regrowth before the frost comes. Next year will be a fun challenge on the home farm with the new water tanks and rotation system, so maybe we can give a couple of our other pastures a little rest. We have already started to talk about not having the cows on a couple pastures for so long, trying something new. The biggest issue we have faced the last three years is the lack of rain. Basically a drought in which we are scraping by with our feed production, but the pastures seem to be taking the worst beating. I am looking forward to next year and what kind of new farming practices we can employ. 
Have a good week!
Friday, Sept. 8
12:53 p.m. Resident reporting getting "call girl" type of pamphlet in his gas tank cap and one in another car a few weeks ago. No other reports of similar activity.
1:54 p.m. Report from FBI of a possible sextortion incident over social media. Resident lives in town and pictures were supposedly sent or threatened to be sent as a threat, therefore demanding money. The IP address from the threatening party was in Nigeria. Always be aware of what is being sent on social media.
5:09 p.m. Report that three female students were made to feel uncomfortable by an adult male downtown at lunch. Officer followed up with male involved and found nothing to be out of the ordinary.
2:17 a.m. Assist with a traffic stop on 130th St. north of town. Deputy had a car pulled over with juveniles. One had a warrant, who was arrested and a stolen firearm was in the vehicle and another arrested for that. Also, some were cited for minor consumption.
Saturday, Sept. 9
5:07 p.m. Tenant calling to report that a landlord took property from the yard he was renting.
Sunday, Sept. 10
8:46 a.m. Report that there was a broken water line by the baseball fields. Dispatch contacted school personnel.
6:47 p.m. Report of a male by the bridge on US Hwy. 10. Male was just taking a break.
8:05 p.m. Juvenile male calling to ask how to get property from his friend who was arrested. Told to call the jail or detention center.
10:36 p.m. Disturbance downtown between family members over taking a dog to the emergency vet.
11:25 p.m. Officer found a male in a trench coat sleeping on the sidewalk. Male said that he was from Idaho and checking out Minnesota at this time. Male said he did not need a ride at this time.
Monday, Sept. 11
9:27 a.m. Report of homeless male in town. After a few contacts, male was given a ride to DL.
12:32 p.m. Report of a traffic complaint on US Hwy. 10. Unable to locate.
3:07 p.m. Report of pickup driving with very dark windows. Driver already had a warning from the state patrol about the window tint. Driver was encouraged to remove tint from the windshield and lessen the tint on the side windows.
6:04 p.m. Domestic incident between family members.
8:13 p.m. Report of a loose dog in the Red Willow area. Unable to locate,
9:28 p.m. Domestic assault with juvenile male arrested.
Tuesday, Sept. 12
7:47 a.m. Report of a mailbox stand that was damaged/knocked over again.
9:50 a.m. Civil standby while party gets personal belongings from former residence.
12:44 p.m. Civil complaint with property owner concerned that a neighbor built a pole shed partly on the property a few years ago. 
Wednesday, Sept. 13
11:57 a.m. Assist with a medical.
3:21 p.m. Officer collected several years worth of contraband from the high school office.
8:26 p.m. Vehicle unlock. This one may get me some homemade ice cream.
Thursday, Sept. 14
7:02 p.m. Report of a cat being hit in the roadway and cat needed to be put down.