Crabtrees describe 'heartfelt' support from community
News | Published on September 20, 2023 at 4:00pm EDT | Author: frazeevergas
0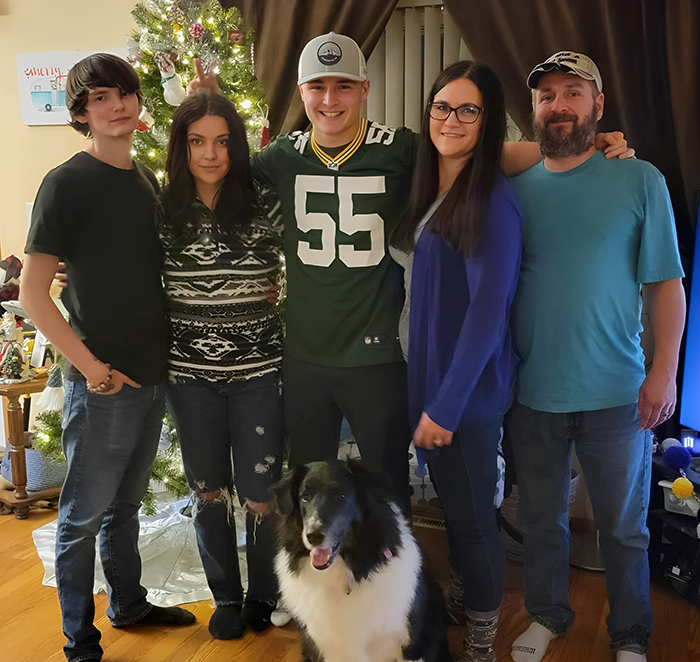 By Lori Fischer Thorp
Correspondent
Two-and-a-half months have passed since Eric Crabtree's life-changing accident occurred on June 26.
It's been a rough 10 weeks. The Frazee man has progressed from being helicoptered to Fargo and rushed into surgery to save his arm, to being discharged, undergoing skin grafts and doing grueling physical therapy.
Crabtree says that a lot of the time, it doesn't feel like he's making much progress.
"It's tough to be excited," he said. "This morning I actually squeezed shampoo out of the bottle, and put deodorant on with this (right) hand."
He's completed about 20 days of therapy, and has "a long way to go," he said, since the traumatic accident that nearly cost him his dominant arm, sent debris flying into his left eye and caused hearing loss in his right ear.
Crabtree was at a friend's shop, changing a trailer tire to help haul a large load of plywood for a flooring job, when the tire sidewall blew. The force of the blast sent both men flying backwards, and later a quarter-inch arched dent from the propelled tire rim was found in the concrete.
Their friends immediately called 911 and contacted Jamie, who rushed to the scene and then began making arrangements for what she knew would be a challenging time.
Multiple surgeries occurred in those first days. The couple said that at their last visit with the plastic surgeon who did the skin graft, Eric will now be referred to a hand specialist, and might have future surgery to remove scar tissue and loosen the tendons.
"The goal is for the tendons to break away from whatever they're stuck to," Eric said. "They really work me at physical therapy. Three days a week I go to DL (Detroit Lakes) for them to hammer on me, and all day long I'm bending them and using (the hand).
"My brother bought me a robot hand," he said, which helps "move my hand in ways I can't make it move on my own" during mobility exercises.
Eric also uses a TENS (transcutaneous electrical nerve stimulation) unit, which sends low-voltage electric currents to temporarily relieve nerve discomfort, and wears a hand brace at night.
"The nerve pain in my hand continues with shooting pain," Eric said. "The therapist says it's good, it means the nerves are reconnecting."
He said he'll probably be on pain medication for the rest of his life, but is extremely cautious of the amount he's putting into his system now in case some of the next phases require more meds.
One of Eric's worries is that future steps might involve temporarily having his hand surgically attached to his stomach. Both his brother and father had to have that done due to injuriries.
"I'm just impatient, I want to go to work," Eric said, but for right now at least, his career floor installation is on hold.
"I miss working," he said. "I've been turning floors down, and that's something I've never done."
His timing and potential for returning to a very active work life is "totally uncertain," the couple said.
"I can hold a toothbrush in my right hand now," Eric said. "I can finally do that. I don't really have a lot of pinching power."
As an example, Eric used to enjoy playing guitar, but currently can't hold a guitar pick.
"I miss hearing him play," said Jamie.
"It's never going to be one hundred percent," he said of his hand mobility. "Right now, the pinkie isn't doing anything. That was the broken one. The fingers were in a cast for nearly a month," but with continued physical therapy and lots of determination, Eric will make as much progress as possible.
Important pieces of his life are returning. The other day, he made ham and bean soup, and baked a loaf of bread and a pan of lemon bars.
"Cracking those eggs one-handed, those guys on TV made it look so easy," he said.
Eric added that "your brain is saying, 'Yeah, go for it,'" on familiar tasks such as carrying a gallon of milk or a crockpot, and then is surprised by the realization that the ability isn't currently there.
As Eric explores his altered abilities, the Crabtrees are surrounded by the support of friends who have helped with a major flooring project at the Wolf Lake Lions Hall, located an electronic chair in a matter of hours, and are hosting a benefit this weekend to help with expenses and long term costs.
The event is being held at Loonies Pub & Campground outside Vergas (31870 CR 130, Vergas) and will feature a full day of activities coordinated by the couple's friend, Jason Bruun, who hosts a yearly "Sippi's Block Party."
This year, Bruun told the couple, "This year I want to turn it into a benefit for Eric…Jason said we didn't have a choice," the Crabtrees said.
"You almost feel guilty," Jamie said regarding receiving the help, "but at the same time, humbled over and over and over again."
"The way the economy is right now, and people still donate," Eric said. "You don't realize how big your circle is, how many 'real' people are still out there."
"We've got a lot of big donors," Jamie said, and Eric emphasized that whether the donation is $10 or hundreds of dollars, it's all appreciated. For that reason, he asked that donors not be listed for these and other silent auction and raffle items: a 12'x12' concrete patio slab, a $1,500-value basket from a Vergas resort including a week-long cabin stay, a five-night stay at an Air BNB in Florida, portions of beef, four MoonDance Jam tickets, a casino package, two tickets to Chanhassen's Jersey Boys dinner show, two custom ice fishing rods with reels, a $200 jewelry store gift card and many other items.
"There's something for everyone," Jamie said.
"There's all kinds of licorice so people can go see their dentist afterwards," Eric said, "and liquor so they can go see their therapist," Jamie added.
Featured events during the day include live acoustic music from 11 a.m. to 3 p.m., a bean bag tournament (registration starts at noon), a pulled pork meal with sandwich, coleslaw and chips starting at 4 p.m., a bake sale, and the live band Back for More (for which there is a suggested donation cover charge), playing street dance style on Daggett trucks throughout the evening. The event is kid- and pet-friendly, and camping is available.
Jamie, who works at Lakeshirts and has appreciated her employer's outpouring of support through the situation, is stretching her schedule even further to help with the benefit. She has been amazed at the response of contacts she has made to ask for help, even when companies are distant and have only known Eric through years of working together by phone for flooring orders.
"It's that heartfelt kind of stuff," she said, that has impacted her, when those contacts "sent help. It's just an outpouring of support," she said. People, "just are helping pay it forward."
That response reminds Eric that he has a future.
"I'll find something to do, even if it's one-armed," he said. "I ain't going to be fighting kangaroos," but as a man who'd lost an arm in an accident told him, "You adapt and you overcome."
"You can't give up," Eric said. He's working to focus on what he is able to do, like "going to have coffee…just those little things."
"He's figuring out what his new identity consists of," said Jamie.
Through it all, she and other family members and friends form a wall of strength by his side.
One of the current family highlights is watching Eric's son, Brady, compete in his senior year of football and track at FHS. This past spring, Brady captured fifth place in Minnesota state pole vault competition and is in the midst of making college visits with his family.
Eric said that later this winter, "I'm really hoping that sometime before ice fishing is over, I can fish with this hand…that's my goal for things I love doing," he said.
The Crabtrees realize there are still unknowns in their lives, but whatever happens going forward, Eric said, "I'm going to make something out of it."
To support the Crabtrees, make plans to attend the benefit event this Saturday (check out the poster at local businesses or on FaceBook,) make a donation on the Go Fund Me page. "Eric and Jamie medical emergency fund," or contribute to the donation account set up at United Community Bank, Frazee.