Frazee Care Center, Vergas Senior Living full of opportunities
News | Published on September 20, 2023 at 2:29pm EDT | Author: frazeevergas
0
Complex combines to provide careers and full lifecycle living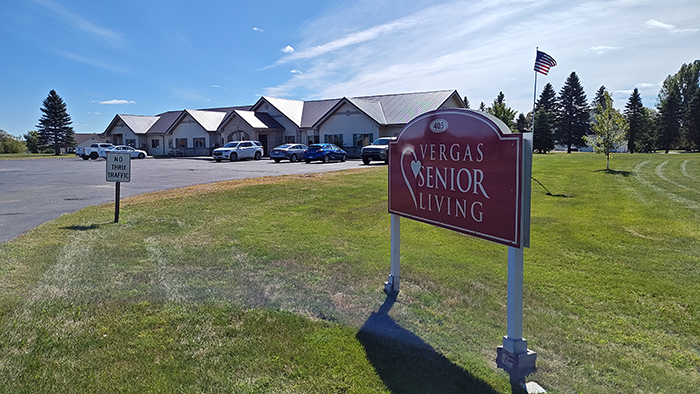 By Robert Williams
Editor
The Frazee Care Center Complex and Vergas Senior Living need to fill nursing positions in both towns to add to staff providing full lifecycle care for seniors in both communities.
"We definitely have some needs there," Administrator Patrick Krejci said.
Registered Nurses (RN), Licensed Practical Nurses (LPN) Trained Medication Aides (TMA), and Certified Nursing Assistants (CNA) are in continual demand.
"The nice thing we have here is we have our own in-house program, so we can train our CNAs here," said Krejci. "They don't have to be a CNA to come to us. They can come if they're interested in healthcare. A lot of people like to start their pathway in healthcare as a CNA."
New employees have access to an online program with the state of Minnesota to further their education while learning on the job.
"They don't have to travel anywhere else and by working with us, naturally, you'll get your CNA and that's really nice," said Krejci.
Continuing education is a big part of the job and CNAs are encouraged and assisted in furthering their careers.
"Frazee Care Center, specifically, prides themselves on having quite a few people who have done that; where they start off as a CNA and work their way up to an LPN, then RN, some of them go off to become doctors and work at our local hospitals," Krejci said.
Krejci pointed out a recent example in Leah Hochstein, who recently received one of Sanford Health's Employee of the Year awards.
Leah began her healthcare career as a CNA at Frazee Care Center. After earning her nursing degree, she continued her education. Today, she is an advanced practice registered nurse with specialties in geriatric and internal medicine and makes regular visits to Frazee as a rounding physician.
"That's such a great example of what we do here," said Krejci. "The growth opportunity in the same place, getting that consistency is what a lot of people like."
The candidate pool for openings is wide open from people looking to make a full career change to high school students, the latter being prime candidates for the opportunity to start a career early.
"It's definitely a big cohort of our worker population, high school age or just finishing high school," Krejci said. "They start earning a paycheck and they're also advancing their career with us and getting their CNA really opens up a lot of things in healthcare from nursing to the administrative side."
The Care Center prides itself on providing a career ladder for their employees, along with providing a full continuum of care from independent living to assisted living and full intensive care.
Of the three, assisted living provides the biggest variety of care from permanent residents to rehabbing visitors post-op, providing dialysis and other treatments.
"Our assisted living residents have that nice benefit; if they were to need a heart surgery or a hip replacement, they know there is somewhere they can go just down the hall, stay at our nursing home for a couple weeks. We get them feeling better and they move right back into their assisted living home."
That feeling of home and having care available in their resident's hometown is an underrated part of the services the care centers provide.
"Without Frazee Care Center, the families who live in Frazee, their timeline and resources are stretched much thinner," Krejci said. "Going to places like Fargo is just not doable for some families. Being able to be in the town that you live in is such an important resource to have."
Vergas Senior Living is also a part of the care center complex, providing assisted living in the village.
"I can tie all the great benefits of the Frazee Care Center and Assisted Living to Vergas, as well," said Krejci. "A lot of people who have loved ones who are elderly that live in that area, it's one of those great options to keep their loved one in the community their loved one knows."
For more information and to peruse career openings visit www.frazeecarecenter.com or Frazee Care Center on Facebook.