CornerStone becomes a pillar of Frazee
News | Published on September 26, 2023 at 2:34pm EDT | Author: frazeevergas
0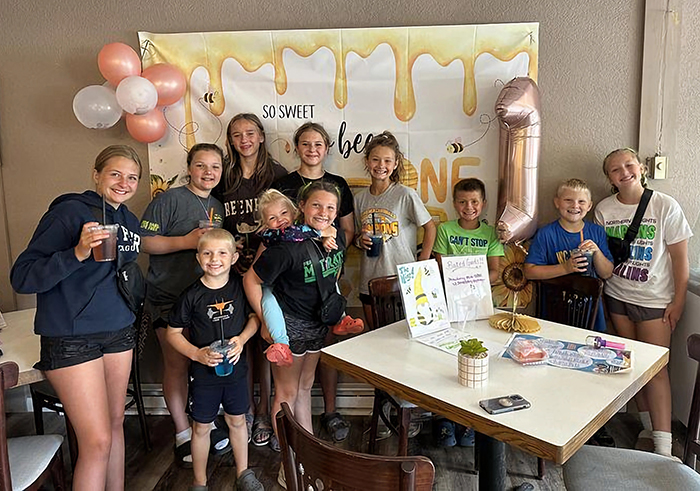 By Mackenzie Hamm
CornerStone Executive Director
In the heart of the community, a beacon of hope and empowerment stands tall. CornerStone Community and Youth Center, a non-profit 501(c)(3) organization, is dedicated to engaging the community and nurturing the potential of local youth.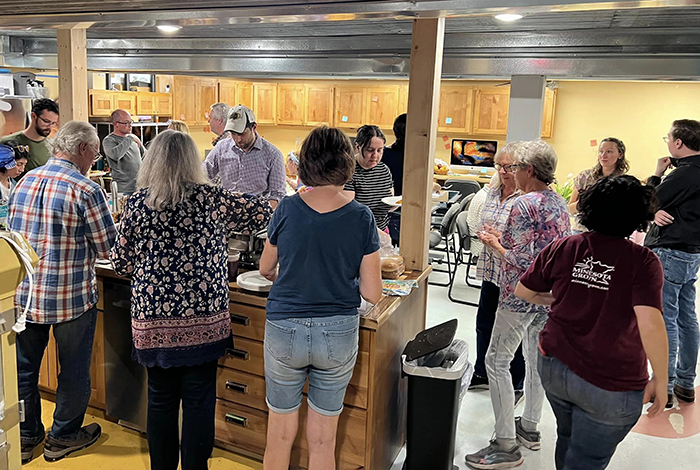 CornerStone Community and Youth Center was created with the mission of partnering to develop a healthier community by providing healthy food, mentoring, physical fitness, arts, culture, and skill building in a safe and caring environment in Frazee. Youth participants are provided a safe place to gather and so much more. Youth will gain much needed skills for life and leadership.
Volunteers see future entrepreneurs being developed in the MakerSpace area promoting creativity and fun. Youth will also have free access to a food pantry and full kitchen so no kid goes hungry at the Youth Center.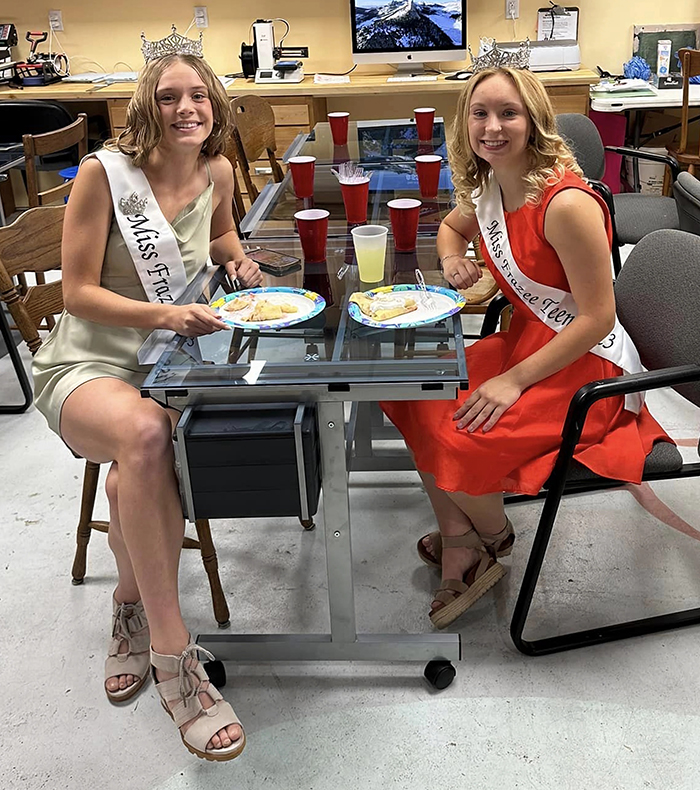 CornerStone provided Open Community Hours Monday through Friday 9 a.m. to 5:30 p.m. this summer and is currently operating those same hours during the school year. 
Open community hours (this is when staff/volunteers are present in the facility and doors are unlocked) are for youth who are in 4-12th grade free of charge. Third grade and younger children must be under the supervision of a caregiver assigned by the parent/guardian. Before entering on their own CornerStone volunteers ask that the parent consent and liability/waiver be complete 
Adults are welcomed in the building during all open community hours, as well with a small daily fee of $3 or anytime from 7 a.m. to 10 p.m. seven/days a week with using a door code that they receive with a monthly membership of $20/month. CornerStone has an introductory price if people sign up for a yearly membership for $150. If a family has a membership, all youth (12th grade and younger) must be under the supervision of an adult on weekends and during extended member hours. Background checks are completed for all staff and volunteers.
Over the summer, CornerStone reached about 150 different youth. Every day there were youth coming and going. Since school has started, the group is up to 200 youth who have registered to attend CornerStone. CornerStone is currently open to youth right after school until 5:30 p.m. The facility follows the school hours and closures. 
Many people are asking, what is to offer in the building?
Lower Level: community and youth center
CornerStone encourages the community to stop in to see the facility.
The lower level is complete. The real gem is the community makerspace. It's a place where people of all ages can let their creativity flourish. Whether you're interested in crafting, woodworking, or other hands-on activities, the makerspace offers the tools and guidance you need. Moreover, it will be part of an entrepreneurial program that allows individuals to create and sell their products on the upper level, providing an opportunity for local entrepreneurs to thrive. Some equipment within the MakerSpace includes: 3-D printer, laser engraver, Cricut Maker 3, screen printing, photography equipment, arts and crafts, painting and sketching, wood burning, metal stamping, jewelry-making, Legos and more. Other equipment that is bringing lots of joy to the youth are the Pool table, ping pong, foosball, Nintendo gaming, Karaoke equipment, Board games and puzzles. The Lounge area brings a sense of home into the space.
For those seeking recreation and connection, there are games, hangout spaces, and even a 40-foot chalk wall for artistic expression. CornerStone is a place where local youth can grow, learn, and thrive. This space is available for rent and perfect for hosting parties, meetings, or any gathering that brings people closer.
CornerStone Community and Youth Center is home away from home for local youth. CornerStone volunteers want youth to feel comfortable stopping in to cook up some food, have a snack, lounge around, play a game or be as creative as they want to be. Volunteers have lots of things available to use, but it is up to them to use the items with care.
Local youth can be as active as they choose with their engagement throughout CornerStone, but volunteers always ask them to show their respect and leadership skills for all who use this space. CornerStone is a safe space for local youth to be and enjoy watching them make this space their home away from home. CornerStone has a Policies and Procedures Manual for everyone to reference. 
To clarify for those who may be wondering, CornerStone has its own 501c3. They are a separate organization from the local school, but they collaborate with many youth organizations within the school. Volunteers are a believer that it takes a community to raise the youth, and through CornerStone, the group feels that's what they will help do. CornerStone is a huge advocate for all the wonderful activities happening throughout the community with multiple organizations within this district and enjoy working alongside all youth to better serve the community as one. Anyone who would like to be a part of an organization and would like to collaborate with CornerStone please reach out anytime as executive director Mackenzie Hamm would love to help reach all youth in the community and serve them well.
CornerStone is also proud to be a place where the community can safely engage with our youth. Volunteers can connect and provide outreach opportunities for youth to volunteer and serve their community. These opportunities teach youth great skills that have been shown to help successfully guide them in the upcoming years. CornerStone is willing to meet youth where they are at and help guide them into great leaders not only for the community, but for other communities local to the group if they are interested in those opportunities. CornerStone youth have volunteered countless hours by participating in community events, serving meals, cleaning up the streets, helping residents play bingo, and helping with many tasks at CornerStone.
The youth have been blessed to participate in many things for the first time. Played frisbee golf, water skied, attended Vikings game, rode the Becker County Transit, hung out at DLCCC, went Kayaking, sewed pillows, played card games, kickball and played pickleball.
Upper Level: Crepes and Coffee Bistro and retail, arts and entertainment
The upper level is currently under construction. The kitchen and plumbing plans were approved through the state at the end of August. The plumbers and electricians are now busy at work.
The upper level of CornerStone is soon to be bustling with energy and community spirit. Here, local residents will find a full-service crepe and coffee shop that not only serves up delicious treats, but also provides a cozy space for neighbors to gather and connect.
The retail space will offer unique gifts and products, often crafted by local artisans, making it a wonderful place to shop for special occasions. There will be an area for up and coming artists as it will highlight young entrepreneurs as they will be able to display and sell their creations and art work. The revenue from the Crepe and Coffee Bistro supports the operations and programming to engage the community to empower youth.
CornerStone Community and Youth Center is not just a building; it's a lifeline for our community. CornerStone volunteers invite local residents to come and be a part of this empowering journey. Whether you're a neighbor looking for a warm cup of coffee or a young person seeking guidance and inspiration, CornerStone welcomes residents with open arms.
To stay connected, keep up to date on current events, learn more about CornerStone's programs, events, and how to support this vital community resource, stop on in and visit with Mackenzie Hamm, visit CornerStone's website cornerstonefrazee.org, provide an email to receive newsletters and updates, follow CornerStone on Facebook, connect through remind by texting 81010 text this message: @frazee300 or call Hamm at (218) 329-6199. 
Together, CornerStone and residents can build a brighter future for the community and empower the youth who will shape it.
Where is CornerStone financially in their Capital Campaign? 
CornerStone has currently raised $323,960 in donations. The church building was donated with a value of $390,000, which brings a total of $713,960 received to date. CornerStone has approximately $110,000 in outstanding pledges. With those pledges the group will have received $823,960.00.
CornerStone has original capital campaign goal was $870,000, but with unforeseen construction costs and delays in state licensing for kitchen and plumbing the final campaign goal is $925,000. CornerStone is excited to announce that they are in the final stages of their Capital Campaign, with the goal of raising $100,000 to complete this vital initiative. To help finish this campaign volunteers are excited to be participating in a phone-a-thon event on Friday, Oct 13. CornerStone has received a very generous match of $30,000 from a kind-hearted individual. Volunteers will be asking businesses and individual donors to make a commitment on October 13 to donate any amount that will then be matched and this will help us finish ConerStone's capital campaign. Volunteers hope donors will call in any time from 9 a.m. to 4 p.m. on October 13.
Upcoming events
Youth Advisory Meeting Sept. 28 at 5-5:30 p.m.
CornerStone youth helping with the ninja course at the Vergas HairyMan event Sept. 30 at 2 p.m.
CornerStone phone-a-thon October 13 starting at 9 a.m. To give now to be a part of the matching dollars. Go to www.cornerstonefrazee.org/give.html
Haunted Forest for the community Friday and Saturday October 20-21 6:30- 11 p.m. $10/person
CornerStone Annual Art and Giving Gala at the Frazee Event Center on October 28 starting at 5 p.m. To purchase ticket: www.eventbrite.com/e/cornerstone-arts-and-giving-gala-tickets-717331727507? aff=oddtdtcreator
CornerStone is also accepting art pieces from youth and adults for the silent Auction. Items can be delivered to CornerStone.
Monthly board meetings are first Mondays of the month at 6 p.m. at CornerStone.