Wallin crowned as Miss Moorhead Outstanding Teen
News | Published on September 26, 2023 at 2:25pm EDT | Author: frazeevergas
0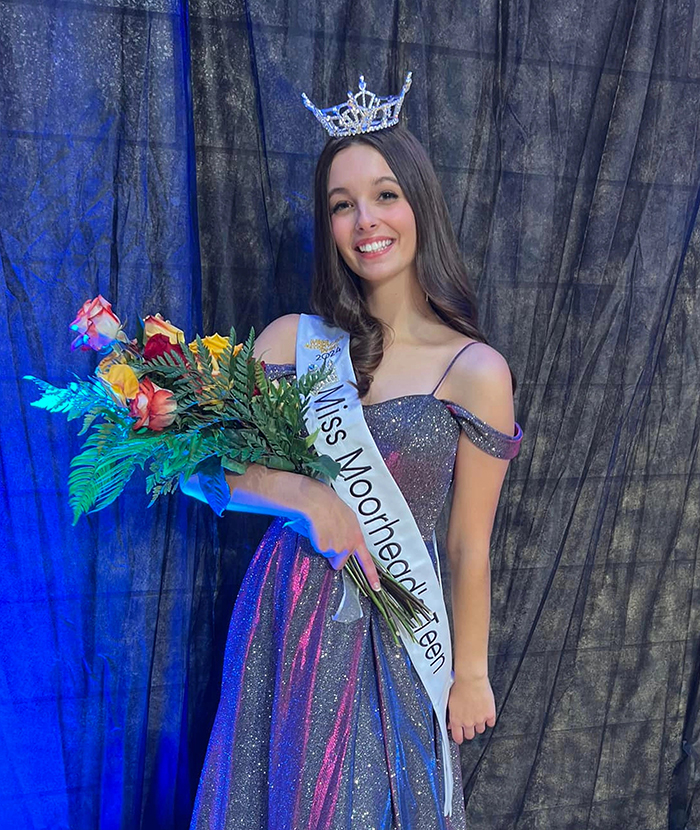 By Robert Williams
Editor
Annalynn Wallin earned the title of Miss Moorhead Outstanding Teen earlier this month, something that came as a big surprise during the crowning ceremony at Moorhead Middle School.
"I was excited," she said. "I just thought I'm not going to win; I'm kind of just doing this as a favor for a friend and trying it out; if I get scholarships, even better," she said.
Wallin had not planned to even compete for the title.
"I was roped into it," said Wallin.
Wallin was contacted multiple times by pageant director Melissa Kroetsch, but Wallin's good friend Jillian Bain, last year's Miss Moorhead Outstanding Teen, was the convincing factor in the decision.
"Finally, I gave in and said, yes," Wallin said. "She just kept pushing and pushing and I just couldn't say no to the girl."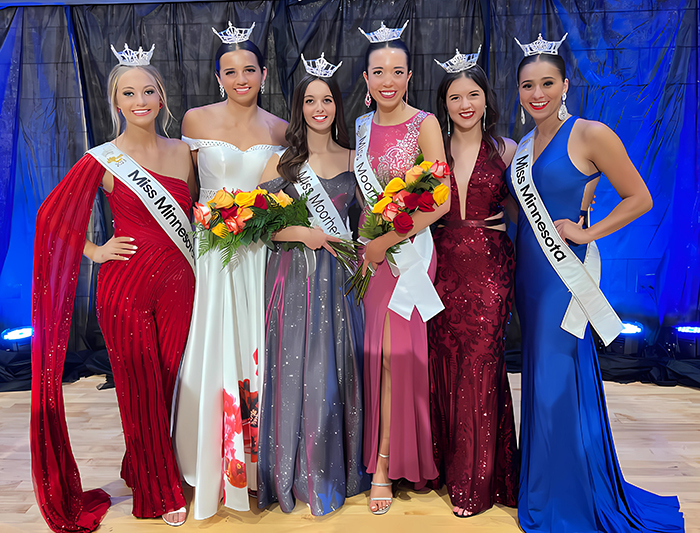 Wallin was the Miss Frazee Outstanding Teen in 2022 and competed at Miss Minnesota's state pageant in June of that year, earning a scholarship for her dance talent performance. She also was one of two top girls to raise the most money in the fundraiser for the Miss Minnesota pageant.
Wallin is a junior at Frazee-Vergas High school. She is taking all college credits online in the school's Postsecondary Enrollment Options (PSEO) program, working two jobs at United Community Bank in Frazee and Caribou Coffee in Detroit Lakes. She participates in band at the high school also. With a full schedule, another pageant was not in her plans.
"It was not even on my mind to do another one," she said. "
Wallin agreed to run just two weeks before the pageant. She had kept a box of pageant necessities, just in case she ever needed them again, but this past summer she got rid of nearly everything. She kept enough for the Moorhead pageant, but had to borrow an outfit for her dance performance.
"I got rid of almost everything," she said.
Wallin tapped into her pageant history to compete in such a short timeframe.
"I didn't feel unprepared for it because I've done it before, but I also didn't go into it practiced," she said. "It's like when you're going to take a test but you didn't study for it, but you've learned the topic before. Thankfully, I had mostly everything from Frazee done, so I just used and revamped everything."
She earned the crown and scored highest in the interview and talent competitions.
Not bad for running at the last minute.
Wallin has a little more time to prepare for the week-long Miss Minnesota Teen 2024 competition from June 16-21, 2024, at Treasure Island Resort & Casino.
"I went from 'I guess so' to everything," Wallin laughed.
Despite pursuing her associate degree, which she will likely earn before getting her high school diploma, Wallin is still involved in a little bit of everything at school. She is the president of the Interact Club, on student council, in the Match program, honor society, prom committee and band.
"I think that's all for now," she said. "There's more to come."
Wallin's goals are to complete her AA and complete her bachelor's degree out-of-state in business, before pursuing a Master of Business Administration degree in project management.
Although, another unplanned title victory at Miss Minnesota Outstanding Teen might cramp her schedule a bit.
"It's going to be a long year," Wallin laughed. "They consider, when you win the title, it's a full-time job. I would spend lots of time traveling around Minnesota being an ambassador. Being a PSEO student would actually help because I could travel and do my schoolwork along the way. It wouldn't be too bad to figure it all out."
One thing to figure out is restocking everything she needs for Miss Minnesota Teen and changing up her style of talent performance.
"My goal is I'm going to do the complete opposite of what I've been doing, which is musical theater," she said. "I think I'm going to go more lyrical. I haven't decided yet. I may go jazz.