Hornets put up a fight, fall to Vikings 32-22
Sports | Published on October 3, 2023 at 3:47pm EDT | Author: frazeevergas
0
Frazee to travel to Roseau on Friday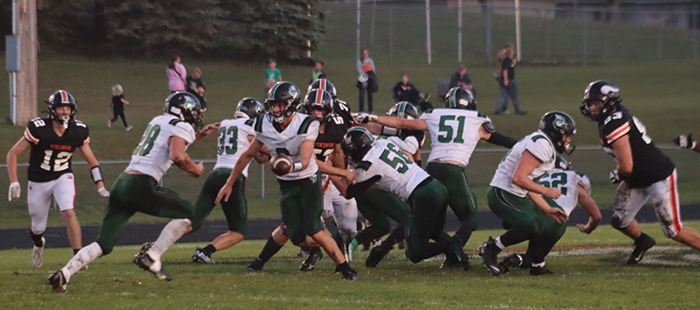 By Chad Koenen
Publisher
The Frazee football team was able to hold a Pelican Rapids offense that scored 54 points just one week earlier to just 32 points and came up just short in its upset bid on Friday night.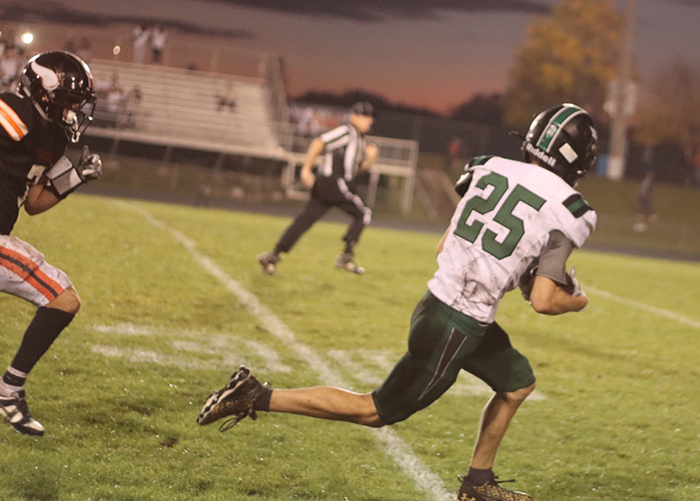 Frazee trailed by single digits for most of the first half, before a blown coverage late in the second quarter allowed Pelican Rapids to find the end zone. The Hornets played right with a high powered Vikings offense in the second half, but ultimately fell to the 4-1 Vikings by a score of 32-22. The loss drops the Hornets to 2-3 on the season, but provided a number of positive things for the team to build upon as it heads into the final three weeks of the regular season.
"Our offensive and defensive line is what kept us in the game," said head coach Russ Hackel. "We didn't know if we could physically hold up against them. We battled them pretty well I would say."
Taking on a much larger Pelican Rapids team, with a quarterback that was bigger than most of the Frazee offensive and defensive line, the Hornets gave the Vikings quite a bit of trouble up front throughout the game.
"I felt like we challenged them to where we caused them some fits," said Hackel.
This week the Hornets, who are 2-3 on the season, will make the trek up north to the Canadian border for the second time in three weeks, this time to take on the Roseau Rams. Hackel said the Rams are a physical team that will look to run straight at the Hornets.
Roseau comes into the game with a record of 1-4 overall, after picking up their first win of the season last week against Crookston by a score of 36-19. They come into the game averaging 12.8 points per game on offense, while surrendering 32.4 points per game on defense.
Frazee averages 23.6 points per game on offense, while surrendering just 15.8 points per game on defense.
Individual stats for Friday's game were not available at the time of press.