Love INC to host fall fundraiser, searches for new director
News | Published on October 3, 2023 at 3:32pm EDT | Author: frazeevergas
0
Fundraiser set for October 8 at St. Paul's church in Perham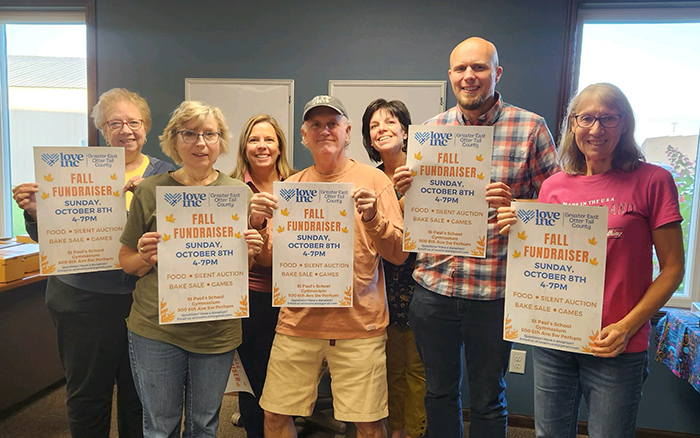 The month of September has been a busy month for the Board of Directors for Love In the Name of Christ (Love INC) of Greater East Otter Tail. 
The board has been working to recruit and interview candidates for the Executive Director and has begun fundraising efforts in earnest. The board is excited to be working on a fall fundraiser, which will be held on Sunday, Oct. 8, from 4-7 p.m. at St. Paul's Lutheran School Gymnasium. 
While the Love INC Fall Fundraiser is being organized by the Love INC Board of Directors, it is really a collaboration of talents and gifts from many church congregations in the community. People are invited to come and enjoy a delicious meal of pulled pork sandwiches, potato salad, baked beans, coleslaw, desserts, and beverages. Each menu item is prepared by a different church in the community.
Other things to enjoy at the Fall Fundraiser include a silent auction, bake sale, games, and entertainment. Items in the bake sale and silent auction come from members of local churches, and volunteers at each of these are from area churches. There will be a brief program at 5:30 p.m., which will include some light entertainment and a message about what Love INC is and how it transforms lives, churches, and communities. The Board of Directors is excited to share this message with the public.
The silent auction, which promises to offer many unique and beautiful items to choose from, will start at 4 p.m., with bids closing at 6:30 p.m. Donors will have opportunity to use a credit card to pay for purchases at the event. The board is excited about this evening of fun, food, and fellowship, and we'd love for the community to join Love INC on October 8.