Streiff's credit community, staff for cafe success
News | Published on October 3, 2023 at 4:14pm EDT | Author: frazeevergas
0
Palace owners celebrate one year in business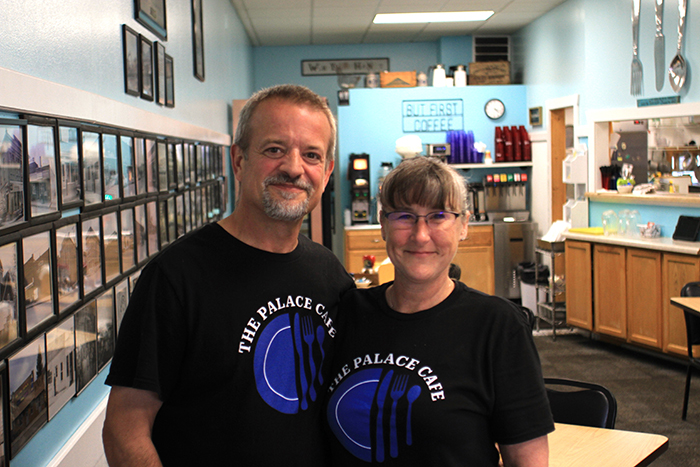 By Robert Williams
Editor
Friday, Oct. 6 marks one year in business for David and Debbie Streiff, owners of the Palace Cafe in Frazee. That year has been a challenge, but a profitable pursuit creating a place for the community to gather and providing a consistent mainstay for diners in a town desperate for dining establishments.
Getting through the first 12 months was not always easy.
"It was tough," Debbie said. "We've had some great times; we've had some horrible times. We've gotten through it all."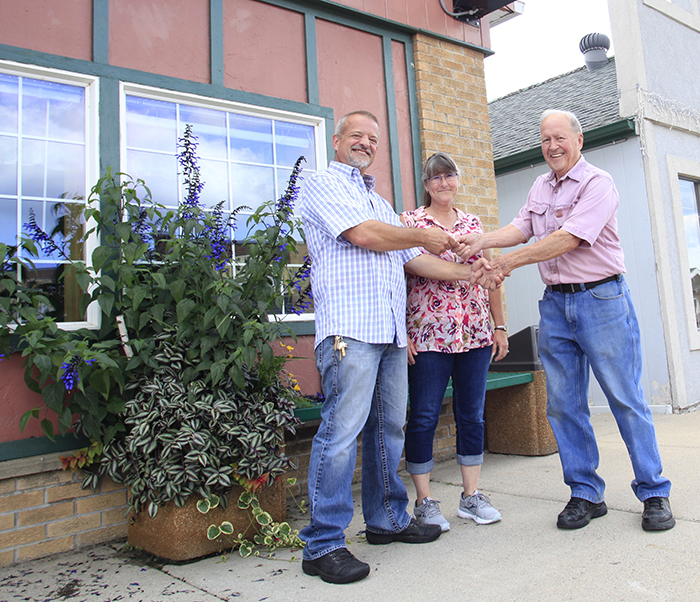 "A roller coaster," said David.
Both David and Debbie are quick to acknowledge their main crew of employees who have been at the Palace since the opening.
"We are successful because of our employees," Debbie said. They're the front of the house and take care of everything. They deserve most of the credit. I am so thankful for the employees that we have."
The core group consists of three experienced wait staff members who manage the dining area.
"Amanda (Aschnewitz) is a godsend, so are Kat (Torgerson) and Delaney (Kellogg) too," Debbie said.
The Streiffs also credit their part-time staff members Megan Kelsey and Kylie Euke, and especially the effort being supplied by their younger staff members like students Kellogg and Euke. Staffing issues caused the Streiffs to look to hire teenagers, who ended up being a very pleasant surprise.
"I will say, the kids from this high school, in all my years, I've never had kids that are as good as the kids from this high school," David said. "They're absolutely amazing. What a breath of fresh air."
Consistent support from their customer base has been key to the Streiff's success, allowing the couple to turn a profit since day one. The first year can often be the most difficult for new food businesses.
"We've worked really hard to get where we are, but the community has stood behind us," Debbie said.
"We have some customers who will just get up and bus tables; we love these people," said David.
"That's how much they want us to succeed and want us to be here," Debbie said.
The Streiffs listened to feedback from their clientele and have created a space that keeps regular and new customers coming back.
"My goal was to be reminiscent of the 50's-60's diner, what a lot of these people and their parents went to," said Debbie. "I really think we've succeeded. I feel really good about it."
The couple also wanted the cafe to be the place where everyone gathered.
"It's really come together as a community meeting place," Debbie said. "The coolest thing is when we're getting our butts kicked and you'll see somebody sitting by themselves and somebody else will just join them. My mom has met some really cool people numerous times when she comes here every day for lunch."
The cafe hosts the monthly meetings of three graduating classes and have picked up groups like the variety dancers on the third Tuesday of every month.
"There are anywhere from 25-40 people who come and we open up just for them from 4-6 in the evening," said Debbie. "They're just so sweet and 99 percent of them order our special because they know that's easy for us."
Community members have also contributed to the decor and vibe of the Palace. The walls of the cafe are decorated with historical photos from around the area and there are handmade examples of the community contributions hanging on the west wall, custom made wood picture frames and photos from the 1800's donated and hung by Lloyd Bertek and Tom Watson.
"It's history that I don't know that anybody alive remembers," David said.
"In a lot of places the stuff on the walls just becomes part of the walls," Debbie said. "Not here. Every day, people get up and look at the pictures and talk about them."
The Streiffs can also count on the daily regulars who are always in the cafe for breakfast and morning coffee, a crew they call their morning "tables of knowledge." Many will recognize the names of those gentlemen: Duane Holmer, Roger Boe, Tom Watson, Gary Somerville, Kenny Ketter, and Rollie King.
"There are others…," both Debbie and David said.
"The second we need something, those are the first guys that stand up and help us," said Debbie. "This community truly wants a cafe and they will do anything they can to make us successful. The amount of people that stop me and thank me for being open…it's just crazy. I never expected that many people to be so thankful."
The Streiffs also credit high-traffic creating neighbors like The Backyard Station and Ketters Meat Market in helping drive customers to the Palace.
"I kind of knew it working at Seip, but this community is rare," Debbie said. "People really do care about each other; they care about what's going on."
Regular downtown visitors in the morning will also be familiar with a different, younger group of people who appear everyday.
"The day I got to read the story to the daycare kids, best day ever," said David. "They all piled in a booth and they brought a book. We made cookies for 'em and had story time. "
The busiest day of the week at the Palace is Tuesday, which the couple found surprising and the church crowd continues to grow on Sundays. The cafe has also enjoyed the year-round downtown events that allow for business outside of the normal working hours.
"We had a great Turkey Day Saturday; it was crazy," Debbie said. "Snowplow parade was awesome."
"Some of the days here —it's not as tourist-driven as it is in Vergas or Detroit Lakes," David said. "Yes, it's a little busier in the summer, but it's not as extreme."
The increasing number of food options in Frazee that are on the horizon is also good news to the couple.
The upstairs at CornerStone and two more food-oriented businesses downtown should help create more foot traffic in 2024.
"I welcome friendly competition," said Debbie. "I'm excited that the town of Frazee is growing a little bit. That will just bring more people to this town."
The Streiffs made a big impact on Frazee by keeping the Palace Cafe open and managed to operate a first year in business full of ups and downs in a successful and profitable manner. Looking back, they are both glad they made the big decision to own their own restaurant.
"If I had to do it all over again, I would," said Debbie. "It's been tough. It's been the toughest thing we've ever done personally. Trying to manage this place and have a separate life for ourselves as a married couple."
"That was the biggest challenge, trying to separate the two and not go home and talk shop," said David.
"It's been a growing experience for David and I," Debbie said. "For the friends that I have now in this community, I wouldn't give this up for anything."