Best-selling author inspires middle school students
News | Published on October 10, 2023 at 4:34pm EDT | Author: frazeevergas
0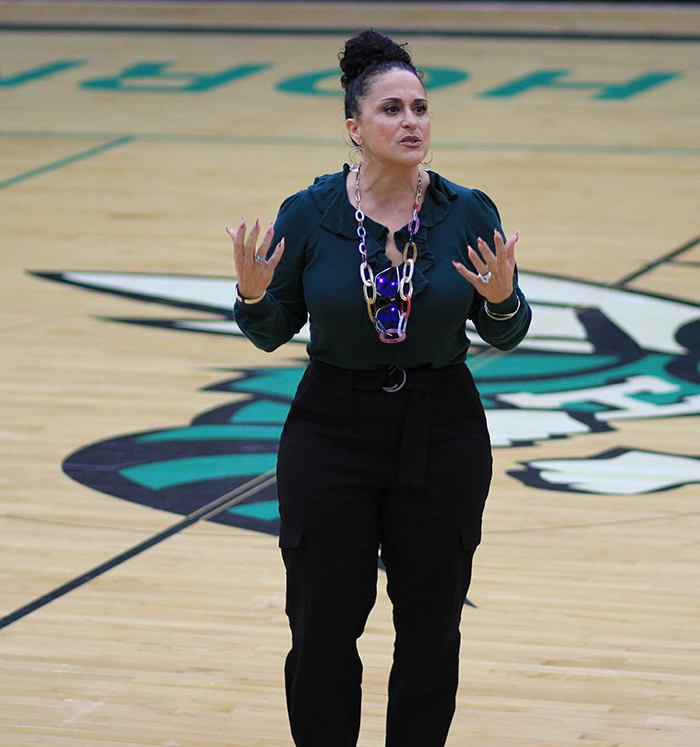 By Robert Williams
Editor
Best-selling author, philanthropist, and senior level executive Steve Pemberton, along with special guest Carmen Ortiz-McGhee, joined instructor Charles Wake in a presentation to sixth through 10th grade students at Frazee-Vergas High School on Friday, Oct. 6.
Pemberton is the author of "The Lighthouse Effect: How Ordinary People Can Have an Extraordinary Impact in the World," and Ortiz-McGhee is the Chief Operating Officer at the National Association of Investment Companies and was one of ten people featured in "The Lighthouse Effect."
After the success of Pemberton's book, his publisher Houghton Mifflin Harcourt created the inaugural HMH Lighthouse Awards. Wake was one of 10 award winners from a pool of 1,200 candidates and Friday's visit was a part of that award. Pemberton and Ortiz-McGhee made the selections of the 10 award winners.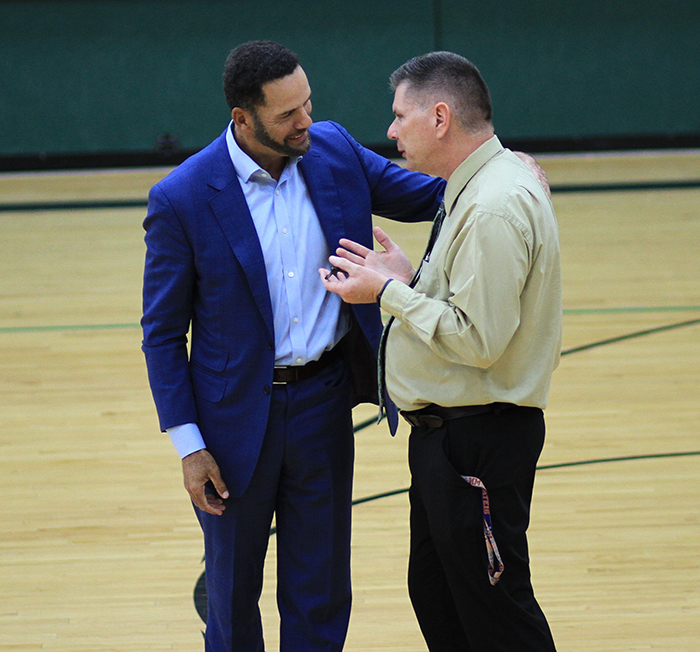 They selected Wake, then a sixth grade science teacher at Frazee Elementary School, for guiding his third grade class through the tragic loss of one of their classmates three years ago. Upon moving to sixth grade, he taught that same class and supported those same children, uplifting and encouraging them through the good times and the bad as they continued to grieve the loss of their former classmate.
Wake has since moved to a high school teaching position and continues to mentor that same class and included the three upper classes (8-10) to attend on Friday. Wake spoke about the award in a humble manner and concentrated his introductory speech on his students.
"I am no better than any of the other teachers in this building; I was just so lucky that I got nominated," said Wake. "I've talked to many of you, even today, about your choices in life," said Wake. "You come into this school every day and you don't make those walls a prison. You make those walls an opportunity. Make the best you can of what you have here. You are the captain of your story and you have that chance to be the best you—you can be."
Wake traveled to Orlando, Florida as part of the award to meet Pemberton and Ortiz-McGhee.
"These two people are my lighthouses—they show me the way," said Wake.
Pemberton gave a brief biography about defying insurmountable odds to become a trail-blazing corporate executive, enlightened diversity leader, visionary youth advocate, and acclaimed speaker. He also spoke about the movie that is being made about his life "A Chance in the World," that is based on his best-selling memoir.
"I was the somebody who was never going to have a chance," said Pemberton. "I was considered disposable. People who were entrusted with my care gave up on me. Not because I had done anything wrong, but because of what I had inherited."
Pemberton was taken from his mother a fortnight before Christmas at three-years-old and never saw her again. A few years later, he lost his father to gun violence.
"Believe it or not, things actually got worse after that because I went into the foster system where I'd like to tell you I was taken in by kind families but that was not what happened; the opposite happened," he said.
Pemberton was told he would repeat the cycle from which he had come.
"You might have guessed by now, they got that wrong because I turned out to be everything that everybody said that I could not be," said Pemberton. "The reason for that was because of my high school and my friends."
Pemberton discussed how his friend Ray Hernandez helped him get to college and on the road to becoming a success.
"I share that with you because I'm hopeful that you have or that you are a friend to someone like Ray Hernandez was to me," he said.
Pemberton also encountered a teacher that told him he was going to turn out being somebody special.
"That was the first time I ever heard anybody say that about me," he said. "I had been told the opposite of that my entire life."
Pemberton was homeless at 16-years-old and that teacher took him into his home.
"What Mr. Wake was referring to as the lighthouse effect I dedicated to him because he opened his home and his heart to me," said Pemberton. "He was a lighthouse."
Ortiz-McGhee also discussed how her life began as the only child of a single-parent Puerto Rican mother who decided to leave everyone and everything they knew in Puerto Rico to move to Washington, D.C., to pursue a better life.
Ortiz-McGhee stood out in her new area and was one of the least well-to-do students in the school.
"People always let me know that they knew I was less than them," she said. "It wasn't just the other students. The teachers, in some cases, did. The principal told my mother I probably couldn't cut it in the high school my mother was going to send me to."
Despite excelling in school, Ortiz-McGhee developed a model of herself that she was a person who was not smart or tough enough.
"I wasn't packaged; I didn't look the part," she said. "I couldn't possibly succeed or be successful because I didn't look like everyone else. My entire schooling, I dealt with people underestimating me."
Ortiz-McGhee explained how she overcame those doubters and gave an inspiring speech showing how she understood the plight of middle school students, providing them encouragement, along with showcasing Wake in how he did that for them.
"There was this fighter deep inside of me; there was this thing that they will not be right about me," she said. "I share this with you because you're in a really tough time in your life. Middle school and high school, you go through all sorts of doubts. You're all trying to figure yourselves out. You've got to make some big decisions in life. As you find yourselves in these times and positions where you're making life choices, make choices that will build you and make the naysayers wrong about what they say about you. No one can decide what you are capable of."
Wake closed the presentation encouraging the students to make their stories as great as they can be, prior to a question and answer period.
For more information on Steve Pemberton visit: stevepemberton.io; Ortiz-McGhee info can be located at: www.apbspeakers.com/speaker/carmen-ortiz-mcghee.