Estenson awarded by DL Chamber for community leadership
News | Published on October 18, 2023 at 1:25pm EDT | Author: frazeevergas
0
Frazee transplant closing in on half a century of stewardship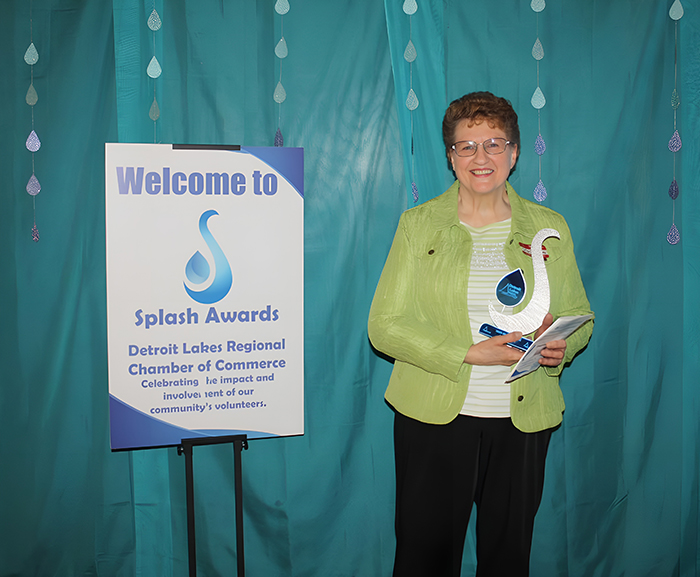 By Robert Williams
Editor
Jay Estenson of Frazee was awarded the Skipper Award at the Detroit Lakes Regional Chamber of Commerce's annual Splash Awards ceremony Thursday Oct. 5, at the Holmes Theatre Ballroom.
The Skipper award acknowledges an individual's outstanding leadership in their company or organization and individuals who have gone above and beyond to help their community in the past year.
Estenson is less than comfortable being publicly acknowledged for all her efforts and had a chuckle when reading the description of the award.
"Somewhere it was listed as this year and I thought I haven't done anything different in 30 years," she laughed. "A lot of my volunteering came because Gary (Jay's husband) drove truck and was gone all the time. I had a different kind of time. I had excellent daycare here in town; she fed my kids supper and that's what a lot of people don't understand about volunteering. You do what works for you. I do a lot; I don't need somebody else to help me do it. I might be making bars at 9 o'clock at night, but that's when I can do it. You do what fits into your schedule and interests."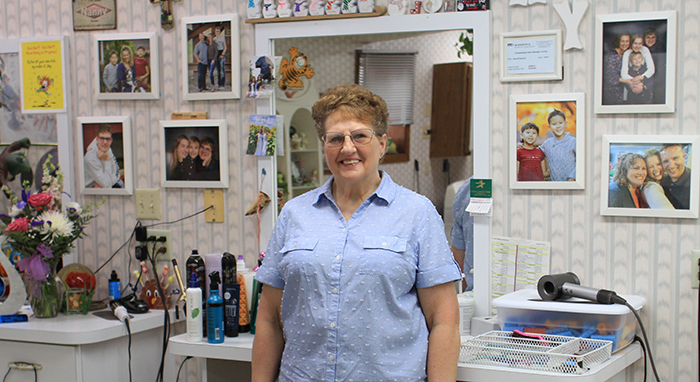 Jay is well-known for providing salon and tanning services at the Yak Shack in downtown Frazee for the past five decades and can be found in the Event Center kitchen helping out at various gatherings and celebrations or her own kitchen whipping up cookies and bars for fundraisers and many other events in the area.
"I made 1,000 cookies last weekend for Holy Rosary and the high school kids for Homecoming," she said. "And I took the extras down to the bus garage."
Jay has been the director of the Miss Frazee Scholarship Program and Pageants since 1982 with Alice Furey and Heather Perrine.
"I suckered Alice in and Heather came on board later," she said. "The teen pageant, we were kind of forced to do that with the state, and I love it. Now that we're not with the state (Miss Minnesota) anymore, which is another thing I think is great. All we were doing was making money for them. We are successful because we keep our pageant closed, when you only have Frazee high school students. That teen is always here and they work together well. They just have that attitude after they win. They're all amazing even though they all have different personalities."
Estenson credits local organizations like the Lions, who contribute annually to the pageant program and Jay was in the kitchen for the Lions' 50th anniversary celebration last weekend.
"We can count on them for $500 every year, so if we can come help them do one event we will and it's to honor them," she said.
In looking back at the Chamber's award ceremony, Estenson provided a quick quip of the experience.
"I'd rather be in the kitchen," she said. "There's an awful lot of fun in the kitchen."
Jay was joined in Detroit Lakes by many of her fellow church members and friends from Frazee at the ceremony. Whether or not she was comfortable with the accolade, Jay was appreciative of the Chamber allowing her award to bring a positive light on Frazee.
"It is really nice that they would reach beyond the borders of Detroit Lakes, so that's pretty cool," she said.
"(Jay's) long list of successful contributions showcased her outstanding leadership at the helm," emcee Jim Brufoldt said at the ceremony. "From cooking at community events to free haircuts to those in need; she is a brick in her community."
Estenson was the second Frazee resident to receive a DL Chamber Splash award in the past two years. In 2022, Karen Pifher was awarded the Accelerator Award, which recognizes an individual who motivates their friends, colleagues, and community to get involved.
In May of this year, Hank Ludtke was honored in Detroit Lakes with the United Way of Becker County's Everyday Hero award.
Estenson continued with witty quips about the leadership qualities embedded in the award she received.
"As long as they listen to what I say," she giggled. "I like to call it directing traffic. Some people are followers and some are leaders and you need both."
There is also a reliable group of friends Estenson can count on to help, referred to as "Jay's Peeps."
"I just issue a lot of orders and I love working with the same people all the time because then you don't have to do a lot of orders and I like things organized before they all get there," she said.
Estenson is not a Frazee native. She was born and raised in the town of Dickey, south of Jamestown, North Dakota, and got to Frazee by way of her future sister-in-law, Marlyce Berend Estenson, who was teaching in Fargo and owned the salon in Frazee. The two made an agreement for Jay to work in Frazee, but not for long.
"I agreed to stay one year; how do you think I did?" Estenson laughed.
One reason for staying was that Marlyce introduced Jay to Gary.
After a few months, the salon moved up the block between then-existing Gary's Furniture and Furey Funeral Home prior to Marlyce selling the business on a contract for deed.
The new owner failed and the salon went back to Marlyce.
Jay purchased the building across the street where the Yak Shack currently exists, but opened in a smaller space next door that had an adjoining wall to the current salon.
When the neighboring business moved out, Estenson purchased that space and moved next door.
"It's kind of funny because Gary was gone and we never even talked about this; so I called Merle Sherman and then I called Marvin Daggett and told him to tell Gary to call home because I didn't want him to find out from somebody else that I bought a building without his input," she said.
Estenson's career began in 1975 and she made the purchase for the current Yak Shack location in 1986 and has been working there steadily ever since.
"The styles change a lot and the weekends, like on Fridays and Saturdays, are not what they used to be; which is great," Estenson laughed. "When I started doing hair, curling irons were just coming into the picture. Then you had brush irons and they're kind of out again."
Salon ownership was not a plan; it just kind of happened.
"I almost felt a little forced into it," she said. "I was young, but I always wanted to do it. I do have a lot of relatives that do hair too."
Jay learned about hard work and responsibility growing up on the family farm, especially after losing her father in a farming accident when she was a teenager.
"When you live on the farm you have a lot of responsibilities; you're an adult before your time," she said.
Customers travel from around the region and even from out-of-state for Jay's services.
"I have a lot of that," she said. "I had a lady yesterday from Rothsay. Usually they have kind of a connection."
That customer was the mother of former Harvest Church pastor Joseph Claussen.
"She came in on a whim to get a haircut while she was waiting to teach at release time and she comes back now because she didn't know hair could be so easy," said Jay. "She has beautiful hair and just never had the right cut."
Closing in on 50 years in the business, Estenson is a master of her craft and provides all kinds of styles from those five decades.
"I'd like to think so," she said. "You have to be old to know how to perm hair; young people don't perm hair and oh my goodness, they don't know what they're missing out on. I still think it's great when you pour this stinky stuff on and you've got curls. It's a miracle. I have really straight hair. If I didn't have a perm, I just couldn't live without one. I like them so then I like to do them."
Being the go-to salon in Frazee for so long has created dynastic relationships with local families.
"Sometimes it's multi-generational," she said. "A lot of people that come here, nobody else has ever cut their hair. Even my own kids come back for haircuts."
Jay and Gary have three kids Tim, who works at RDO Equipment Company in West Fargo, Ashley, who manages the YMCA in Mankato and Amber, better known for her own coif and internet personality That Midwestern Mom.
"Totally different kids. Tim is more like me and then there are the girls," Estenson laughed. "They all kind of do their thing."
Jay took to motherhood, much like she does in efficiently running her business and community events.
"They said I led by intimidation," said Estenson. "If they needed something they always came to me because Gary was gone. They still come to me."
Much like her customers, who filed into the salon for tanning sessions Thursday afternoon while Jay had an hour between clients. The workday is never the end of her daily duties either.
"I never put off until tomorrow what I can do today," she said. "I always have a plan for the end of the workday of what I'm going to do."
Estenson also plans to continue being a fixture of the Frazee business district, the pageant program and all the community and church events at which she volunteers.
"I like what I do and as long as my health holds out," she said.
Jay will celebrate 50 years in business on July 1, 2025.