School board tours facility upgrades, district receives $11k in donations
News | Published on October 18, 2023 at 11:53am EDT | Author: frazeevergas
0
New STREAM Lab to provide unique learning experience for elementary students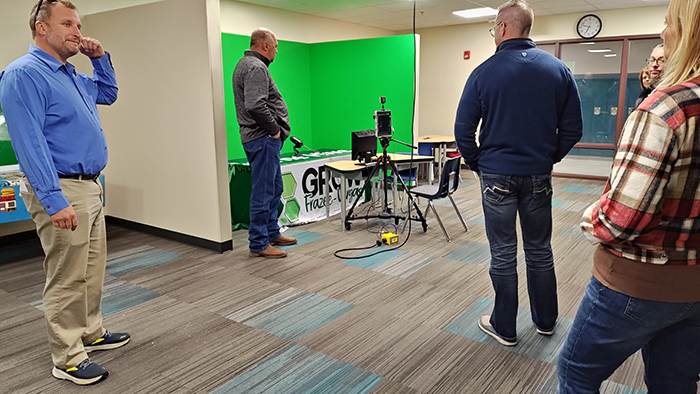 By Robert Williams
Editor
Frazee-Vergas School Superintendent Terry Karger and elementary principal Travis Nagel led the school board and district officials on a guided tour of recent improvements made at both schools, and the new outdoor facilities, during the monthly meeting of the Frazee-Vergas School Board on Monday, Oct. 9.
Karger also explained the activities and itinerary planned for the celebration and ribbon cutting of the new football field prior to the Homecoming game on Friday, Oct. 13.
The walking tour included views and discussion about upgrades made to the Highway 87, student and kitchen staff parking lots, the parent pick-up drop-off loop and bus lot, the recycling/dumpster pad, vehicle garage for landscaping/irrigation, new signage, the athletic storage facility, the new track, football field, grandstands, shot put facility, concession and bathroom areas, along with HVAC improvements at the high school.
At the elementary school, the board saw the new STREAM (science, technology, reading, engineering, art, and math) Lab, early childhood parking and drop-off area, the junior varsity baseball field and a new batting cage.
Principal reports
Elementary principal Travis Nagel discussed enrollment fluctuations, noting there were four additions since submitting his written report to the board. The additional four students keep the elementary at the same numbers as the start of the school year.
There are 27 fewer students than at the end of the last school year, but those numbers were discussed in the September board meeting noting a larger than average sixth grade class that moved on combined with a smaller than average kindergarten group this year making up that difference.
Elementary enrollment
Grade, 22-23, Sept. Oct.
K 60 50  49
1 59 60  60
2 57 61  61
3 59 59  57
4 58 60  58
5 68 57  57
6 75 67  67
Totals 436 413 409
"Grade level teams continue to meet and review their assessment data to determine where their students are at and what they need to master their skills," said Nagel. "Upon determining this the teams work to improve their instruction and also determine what additional support those students need to be successful."
Nagel also reported on the Student Assistance Team (SAT), which has been working with Kevin Johnson, a behavior specialist from Freshwater Education District in Wadena, to improve the SAT process.
"We were able to give Kevin some feedback on what is working well with our SAT process and what could be improved," said Nagel. "Some of those highlights would be how our team works well together and provides support to our students and teachers. A highlight of what we can improve would be a tool box that teachers and the SAT team can utilize to work with students and their behaviors when they arise."
High school enrollment
High School principal Jason Smith also submitted enrollment numbers for the end of last school year and the first two months of this year. Enrollment has risen by five students since September.
Grade, 22-23, Sept. Oct.
7 66 73  73
8 68 60  61
9 72 67  68
10 56 74  74
11 57 54  57
12 51 58  58
Totals 370 386 391
"We are on a steady rise, but as Mr. Nagel said it fluctuates—we've lost a couple this week opting for an online option versus an in-person option," said Smith.
Parent-teacher conferences were held on Tuesday, Oct. 3. In all, there were 249 individual conferences held.
"It's a nice, optimistic number," said Smith. "We had a good turnout for a fall conference."
Smith also reported that truancy numbers are currently low. Smith has met with the county and will have further meetings with families to determine how the school can support them, see what kind of barriers are in the way, and how the school can get kids who are missing class to attend regularly.
Band
Band Director Brian Selander took seven students to participate in the subsection honor band at Minnesota State University-Moorhead on Wednesday, Oct. 4.
"We are very strong musically at our school and we push our kids to take part in these events and community things," said Smith. "It puts a good light on our school, district and Mr. Selander's program we have here."
Selander was also responsible for inviting the North Dakota State University marching band to join the high school pep band at the Homecoming football game.
Karger thanked Anderson Bus for their willingness and donation to pick up the NDSU band and return them to Fargo. ICS Consulting LLC also donated to the bus trip.
Lori Christensen, Business Development/Mechanical Engineer at ICS, was also along for Monday's tour to answer any questions. Construction at Frazee-Vergas public schools was one of 58 summer projects for ICS this year.
Staffing
The board approved the following hires:
Part-Time Food Service Worker, Troy Tieden
Assistant Girls Basketball Coach, Dave Conzemius
0.5 Teacher for Social Studies, Physical Education, CTE Intro to Business / Hornet Zone and Advisory Supervisor, Roger Thorp
High School Special Education Paraprofessional, Valerie Turnbull
After-School Detention Supervisor – shared position, Julie Wake and Charlotte Putnam
Social Media Coordinator of K-12 for Athletics and Activities, Markay Larson
0.5 Elementary Music Teacher, Delaney Matejka
The district continues to attempt to fill two open custodial positions.
Resignations:
Grades 7-12 Choral and Elementary Music Teacher/Musical Director, Jennifer Nannenga
Junior High Boys Basketball Coach, Taylor Greenwood
C-Team Girls Basketball Coach, Dave Conzemius
0.2 Gifted and Talented Teacher, Delaney Matejka
Enrollment
The school district received the enrollment option applications for out of the district to: Detroit Lakes (3), Menahga (1), Perham (7) and into the District (2).
Hornet Pride
The school board approved the following donations:
• The school district was awarded $2,566.03 from PartnerSHIP 4 Health for the purchase of bicycle racks, to provide a safe place for students to store/lock up their bicycles and encourage students to use active transportation as a mode to get to and from school
• A donation of $3,000 to the High School Outdoor Concession Stand was received from the Lion's Club of Frazee for cooking equipment, food holding displays and other items as needed for the space.
• Arvig donated $2,480 for the High School and Elementary Activity Accounts
• Lakes Country Service Cooperative through the Lakes Country Perkins Consortium awarded Frazee High School $2,950 for instructional materials, Trescha Mitchell requested, OSHA 10 Course and Certification, hoping to contribute to achievement in career and technical education for students