Vergas approves Lawrence Lake street lighting
News | Published on October 18, 2023 at 12:25pm EDT | Author: frazeevergas
0
Water, sewer system getting online upgrades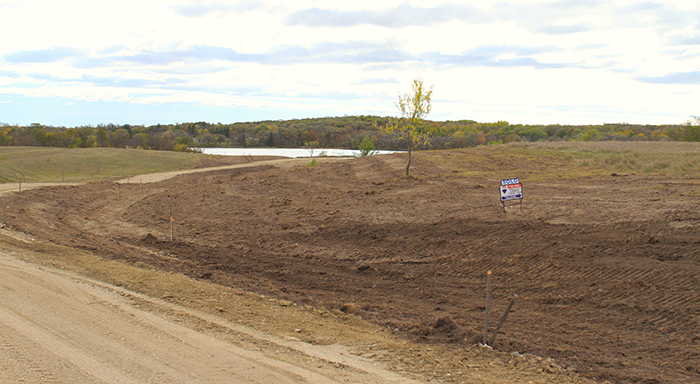 By Robert Williams
Editor
The Vergas City Council approved moving forward with decorative street lighting options for the Lawrence Lake subdivision. After meeting with engineers on-site and Border States Electric, three options were redesigned.
Otter Tail Power Energy Management Manager Lori Moxness gave a presentation on the differences.
The first included nine poles and fixtures at a cost of $1,286.54 per month, the lowest of the three options. Three additional poles and fixtures are the second option at 1,563.22. Option three includes 17 poles and fixtures at a cost of 2,072.02 per month.
"It's a matter of how much you want to spend; how many fixtures and poles you want to see and do you have concerns about having more light for more uniformity and a little bit brighter for safety and security?" said Moxness. "This third option is the one that is closest to the design that you reviewed last month."
There is a one-year lead time on getting the poles and fixtures, but Moxness noted that the timeframe has since shortened a bit.
"At this point, if the city would make a decision and enter into a contract, I expect they could be installed by late next year before freeze up," Moxness said.
Billing would not begin until the lights were erected and functional.
Bruce Albright, speaking on behalf of the streets department, noted they are trying to keep costs down.
"This is kind of a rural subdivision; it's in the city; the lots are large and it isn't like you've got houses on 50-foot lots and you've got eight of them every block," he said. "We were thinking, kind of keep that rural look; it's scenic back there. These lights should be placed in strategic locations and the cul-de-sac and each road intersection where it leads to property on both ends. We would recommend that we go with action one. Save our dollars when we start dealing with Main Street and other areas."
Moxness noted people buying out there would likely want it to remain rural-looking and not have it look like Main Street.
The council approved option one unanimously.
Water and sewer
A recommendation for a new system to be used for utility billing was approved. A Munibilling System will replace the current UBMAX system
The change is being made to modernize payment options for customers, allowing easier use of automatic payments and to reduce potential errors in the system, according to Lammers.
The system will also allow users to login to the system to review three years of usage, historical data, billing and make payments online. Implementation will take 3-6 months.
The Water and Sewer Committee's proposal to cover monthly fees for the new system is to raise the monthly water/sewer base rate of customers from $28 to $28.50. Customers who sign for online billing will get a monthly $1 rebate. Billing will not change until the system is in place.
The upgrade will save city employees 10 hours of work time weekly, according to board and committee member Natalie Fischer.
"Over time it will save us money," Fischer said.
Implementation and training will cost a one-time fee of $2,340. Monthly fees for the billing software platform, merchant processing and multimodal notification services will run $270.
The water plant and lift stations will be upgraded with a SCADA Web Insight System by Sweeney Controls Company (SCC) of Fargo. The upgrade will provide: alarms sent to unlimited users, acknowledgment of system alarms, online viewing and controls, full control to start and stop equipment, trending reports and remote access by SCC for troubleshooting assistance.
The total lump sum for installation is $11,600 with $5,400 additional programming additions to the PLC program and Insight System to add a flow meter.
According to Fischer, the upgrade will save $10,000 per year of local employee workforce time, thus paying for itself. With the current system, an employee is on duty every weekend.
Utilities Superintendent Mike DuFrane requested the city purchase a battery-operated, ratcheting wrench to open hydrants to avoid back strain and workers compensation claims. The city council approved the committee's recommendation to use the water and sewer fund to purchase a wrench for $2,685.99.
New city office building
The city entered into a lease-purchase agreement with Vergas State Bank to finance the purchase of a building which will house city offices and an office for the United States Postal Service. The city retains ownership of the building. Rather than taking a mortgage out for financing, it is being done via lease-purchase agreement closing on Tuesday, Oct. 24.
The city also released a proposed budget for remodeling costs of $29,000 and an office furniture expenditure of $5,000. Of the $34,000, an application is being submitted for a safety grant of $10,000 from the League of Minnesota Cities and the Occupational Safety and Health Administration to cover a portion of the costs.
The grant is quarterly, so the funds will not be available until January. An emergency exit, and tempered glass for the windows can be covered by the grant, along with security cameras on both the front and back of the building. The grant is expected to be approved by December. Remodeling can begin, but the safety items covered by the grant would have to wait until after the first of the year, according to clerk/treasurer Julie Lammers.
"It's slowed things down a little bit; we will not be in the building as quickly as we thought," she said.
Vergas 125th
Vergas will celebrate its 125th anniversary in 2028, and a committee is being formed for planning. Meetings will begin in 2024 and volunteers are being sought to form that committee. If interested, contact the city office at (218) 302-5996.