OTC approves two housing projects in Dunvilla village
News | Published on October 24, 2023 at 4:54pm EDT | Author: frazeevergas
0
Development could include 59 residential parcels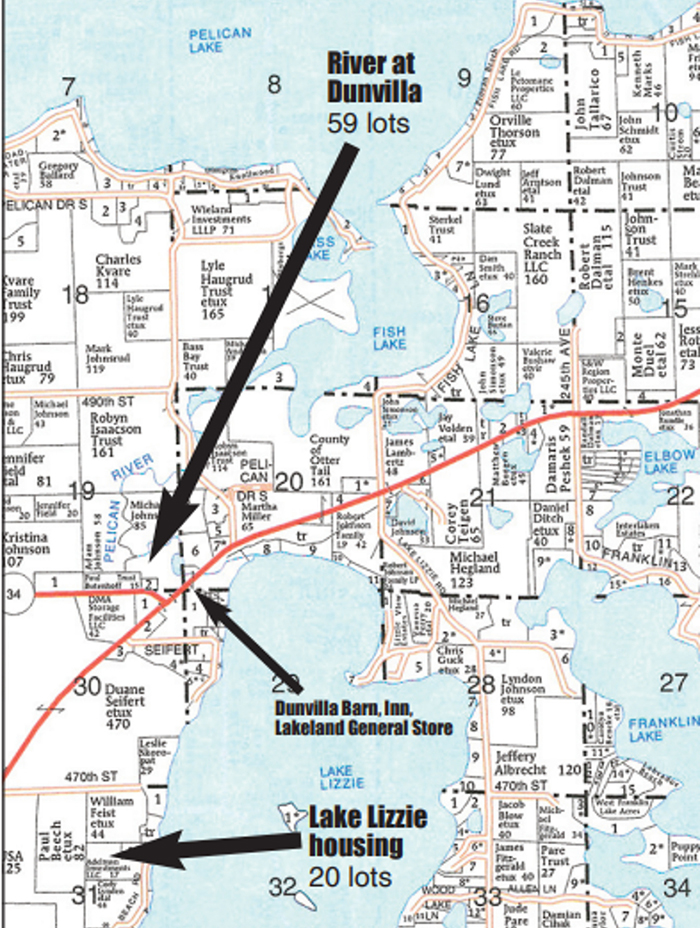 By Louis Hoglund
Pelican Rapids Press
With a stroke of a pen, the Dunvilla area could be transformed from a place on the map into a bustling village, nestled in the Lake Lizzie-Pelican Lake area.
Two residential developments, with 59 residential parcels, were approved by the Otter Tail County board Oct. 10.
A 20-lot development on the west side of Lake Lizzie, west of Poss Beach Road, received final approval.
A 39-lot development, north of Dunvilla and the Inn and Barn event center, also received final approval.
Both Projects are in Dunn Township. The 59 lots, when developed, would increase the single-family housing inventory in a county desperate for more residential options. Thirteen of the lots are shoreline parcels, bordering the Pelican River. The remaining 26 are not in shoreland zones.
"We're trying to grow our residency and tax base," said County Commissioner Wayne Johnson, who represents the greater Pelican Rapids area and Dunvilla on the county board. Johnson, who owns and operates Super Septic, and performed some preliminary work on the developments, abstained from voting on both of the Dunvilla area projects; evidently because of a potential conflict of interest.
Dunvilla development wins final approval
The 39-lot development, titled "River at Dunvilla, earned approval nearly a year ago. But the Oct. 10 final approval was granted following road inspection and other details.
The project is located in Dunn Township, northwest of the Lakeland General Store, and south of Pelican Lake.
Dunvilla, officially, is not a jurisdiction but rather a "place" on the map, named after one of the area's earliest developers—the Dunn family, of Dunn Lodge fame. Dunvilla is not an incorporated municipality but is within the jurisdictional borders of Dunn Township.
Lizzie project wins final approval
A 20-lot residential development on the west side of Lake Lizzie was tabled for more information at a September county board meeting.
Wetlands were among the concerns with the development. The project was the source of testimony from Lizzie area residents, concerned about wetland protection, traffic, road safety, and other issues. The county board established conditions, including a stormwater management plan to control run-off to the wetlands – which are scattered throughout the development. Fencing to hold silt and to mark off the wetlands from septic system installations and building site preparation were among the conditions added by the county board. Titled "Adelman First Subdivision," the developer is identified as Adelman Investments LLC, based in Horace, North Dakota.
Residential projects follow event center plan in Lizzie-Crystal area
These residential projects are among several developments in the greater Pelican and Dunvilla area. Last summer, the County Board approved a 275-person capacity event center northeast of Pelican Rapids.
The proposal is on a parcel of undeveloped property west of Crystal Lake, near County Road 4. The event center is in Lida Township, just south of Dunn Township.