Bachmann, 95, recognized for two decades of exemplary service
News | Published on October 31, 2023 at 4:33pm EDT | Author: frazeevergas
0
Celebrations planned for second retirement, 75th wedding anniversary
By Robert Williams
Editor
Alfred Bachmann, of Frazee, was recognized for two decades of work at the Frazee Rest Area at the ripe age of 95-years-old during a small ceremony amongst coworkers and friends on Wednesday, Oct. 25.
"I told my wife if I live until I'm 95 I'll quit," Bachmann said.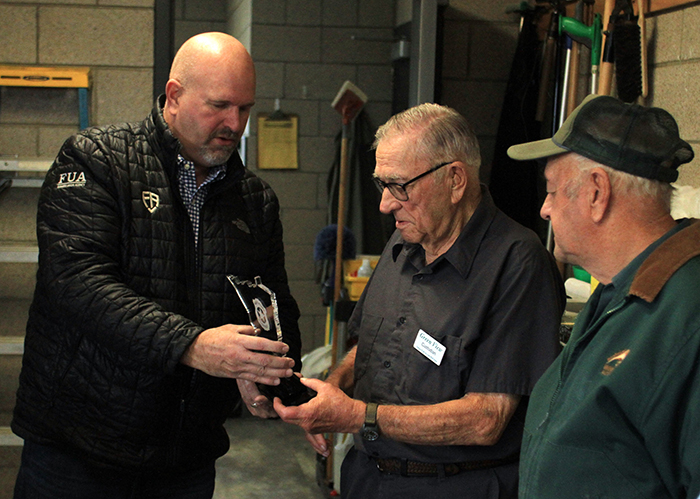 Alfred's retirement is part of a year full of big milestones. He and his wife Marian, 96, recently celebrated their 75th wedding anniversary and continued that celebration on Saturday, Oct. 28, at St. Paul's Lutheran Church-Evergreen with a gathering set up by their children.
"He touches my heart big time and Marian, his wife too," said Loretta Kinnen. "They're a very special couple."
Loretta is the wife of Jim Kinnen, the most recent crew leader of the Rest Area maintenance team.
"They got married the year we were born," Jim said.
"And we're old," Loretta laughed.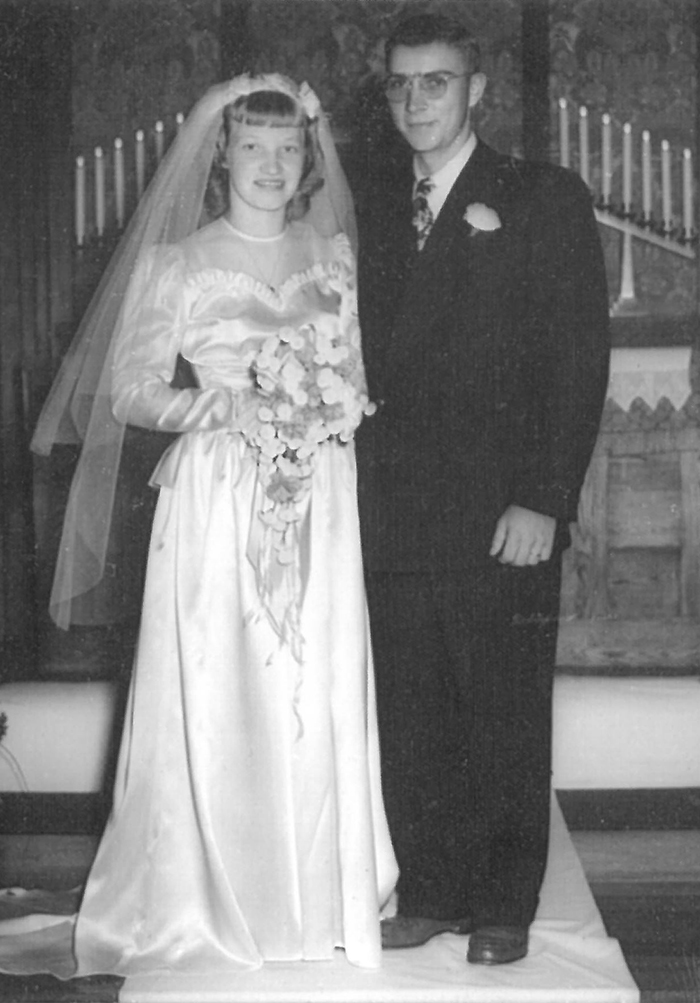 Jim is also retiring from his position, but wanted all the focus to be on Alfred for his amazing commitment to the job, especially at the age of 95.
"He's mowed grass, shoveled snow all winter out there right alongside of everybody else; he hasn't slowed down a bit," friend and Jim Kinnen said.
"Jim really looks out for Al, especially in the winter," said Loretta. "We all know what that's like. A 90+-year-old man out there all by yourself—that's scary."
Alfred and Marian began farming in 1954. Alfred milked cows and sold his milk to the Perham Creamery, where his milk was used to make cheese. He earned five awards for his milk production. He also raised beef cattle until 1976. Though the work was hard, they raised their three children on his income.
"Well, you know Marian and I had two big farms," he said. "In '76, when it got so dry, I had 50-head of beef and 35 milk cows and I had to sell the beef to keep my milk cows. I sold my milk cows. I advertised in West Fargo; I told them to put the ad in there and a guy from South Dakota called me and asked, 'How many head do you got?' I said I've got 50-head of cows, but only 48 calves. I lost two calves. He came and looked at them. They were all black angus and gave me $300 a pair. He came with three semis and loaded them up. We didn't have beef cattle for a few years and then I went into the Gelbviehs."
The Gelbvieh originated in Bavaria, in southern Germany. It is believed to have been developed in the late 18th and early 19th century from self-colored Bernese and Swiss Brown cattle used on the local red or red spotted cattle. Like most European breeds the Gelbvieh was originally selected for meat, milk and work.
"That was the best thing I ever did," said Bachmann. "They were some beautiful beef cattle. I had one bull. I had him for three years and you could go out in the pasture and put your arm around him and say, 'c'mon with me,' and Harold Breitenfeldt by Wolf Lake heard I was going to get rid of him and I had kept heifers. I got a different Gelbvieh bull, a younger one. Harold came and said 'I'll give you market price for him.' He weighed 2,100 pounds and Harold kept him for two years and when he sold him he weighed 2,600 pounds. He said he was just as tame as the day that he got him."
The couple retired from farming in 2000, sold their homestead to a grandson and bought a house in Frazee. Alfred worked two years for Mickelson Turkey Farms, but quit when they started to let go of their older staff.
"They said the egg cases were too heavy for me and I said I can handle one in each hand," said Bachmann. "They got some younger guys to do it."
After a couple months of not working, friend and fellow church member Morris Palmer told Alfred about working at the Rest Area.
"He said I think you'd like it. I applied here and they hired me right away," said Bachmann.
Rest area employees work for Green View, a Minnesota Farmers Union subsidiary that contracts with the state to clean rest stops and office buildings, and do work at some state parks. Nearly all employees are 55 and older.
"This is one of the best things to ever happen," Alfred said. "It gives senior citizens something to do if they want to do it."
Green View Executive Director Mike McShane and Northern Minnesota Field Supervisor Nancy Matis were on hand Wednesday to celebrate Alfred's retirement.
"You have the honor of being the longest employee, but also the oldest at 95-years-young," said McShane. "I tell people throughout all of our meetings throughout the state, I wish I had 10 of you at each site. You can work circles around everyone I know, this room included, especially the guy on your left."
McShane's comments got a laugh from the group gathered. The man on Alfred's left was his nephew Wayne, 81, who also works for Green View. Another nephew, Charles, works for Green View in Brainerd.
Alfred began working for Green View in 2004. A retired carpenter, Wayne, 81, joined Green View as a sub in 2015 after Alfred told him they needed workers. He became full time in 2016.
McShane presented Alfred with a glass plaque in honor of his years of service from 2004-23. During that time, Alfred worked for seven different crew leaders and four different supervisors.
"Well, the only thing I can say is do the best you can and that's it," Bachmann said. "I worked with some darn good guys."
Being recognized for doing the job well was thanks enough for Bachmann.
"The best part is the compliments that you get from the people that say you do a beautiful job," he said. "Just the last time I worked here, a guy knocked on the door and said, 'I want to congratulate you. This is the cleanest rest area I've ever stopped at.'"
Alfred and Marian would often travel through other states and stop at the rest areas where they encountered "some of the dirtiest rest areas ever seen." When travelers visit the Frazee rest stop, he wants travelers to "come here and see what a beautiful, clean place they have."
McShane noted that the Frazee Rest Area is not the busiest, but one of the busiest in the state and frequently is complimented as one of the finest in terms of looks and cleanliness. Each rest area has comment boxes where visitors can leave their opinions and Frazee routinely ranks high on customer satisfaction.
While Alfred admits the job is not glamorous, he liked that he could continue to work. Alfred is an avid outdoorsman and can be found fishing and hunting in his spare time. Retirement for the second time will allow more time for that, but when asked what his plans are for the coming years his answer came quickly.
"Take care of my wife," he said.
Individuals interested in applying for custodial positions at safety rest areas can contact Green View, Inc., at (651) 639-1913 or admin@greenviewmn.com.
Minnesota Farmers Union communications intern Kathryn Petzel contributed to this story.