Social studies teachers experience hands-on Camp Ripley trip
News | Published on October 31, 2023 at 4:21pm EDT | Author: frazeevergas
0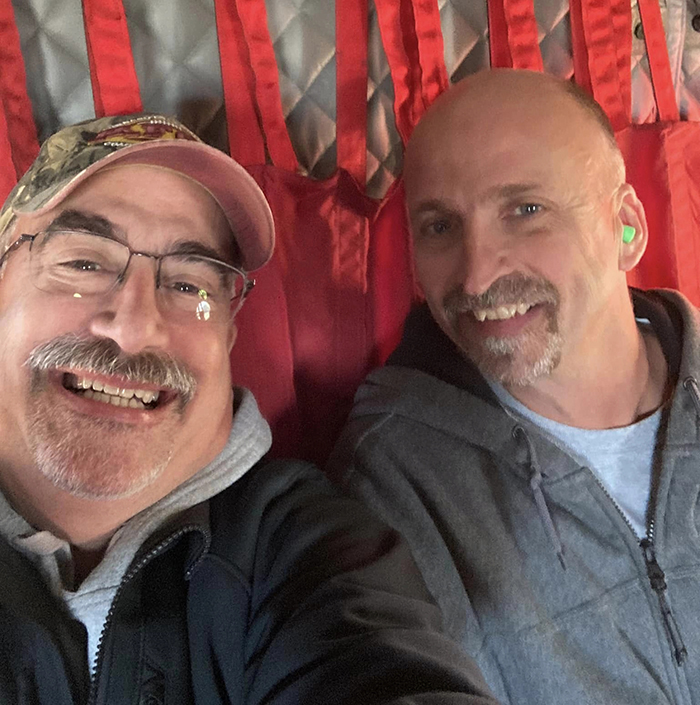 By Robert Williams
Editor
Frazee-Vergas High School social studies instructors Jim Rader and Jason Reierson are advocates for the military recruiters that visit their classes to share potential careers with their students and were invited guests of the Minnesota National Guard for a special trip to Camp Ripley.
"Educator Lift" events are held at various National Guard facilities throughout the year. The purpose of these visits is to familiarize educators with the role and missions of the Citizen-Soldier by flying them to Camp Ripley for a hands-on experience. According to the National Guard, the overall experience is valuable for superintendents, principals, teachers, and guidance counselors to understand the opportunities available to their students by serving in the Minnesota Army National Guard.
The Guard invites teachers from a handful of districts each year to embark on a Chinook helicopter ride from Bemidji to Camp Ripley to tour their facilities, and get a glimpse of what modern day defenders do to keep the country safe.
"For personal reasons, this was very special to me," Rader said. "I am thankful for the invite and opportunity, and would love to go back to experience more."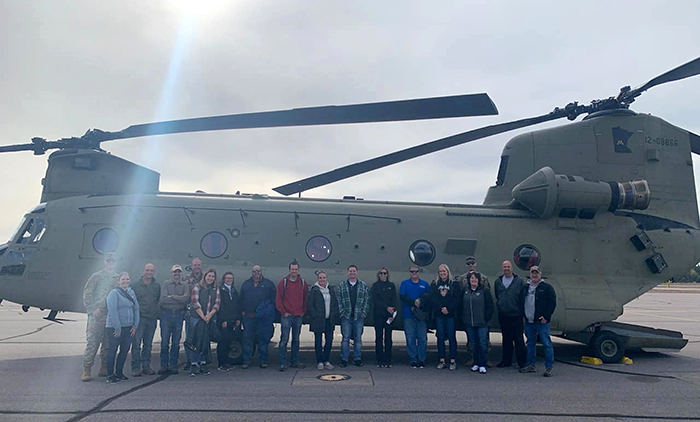 Rader's father DuWayne was in the military and part of a helicopter unit. After graduating from Frazee High School in 1957, he enlisted in the US Army and was stationed in Germany during the Korean War. DuWayne was honorably discharged from the US Army on October 5, 1960. He passed away November 22, 2021.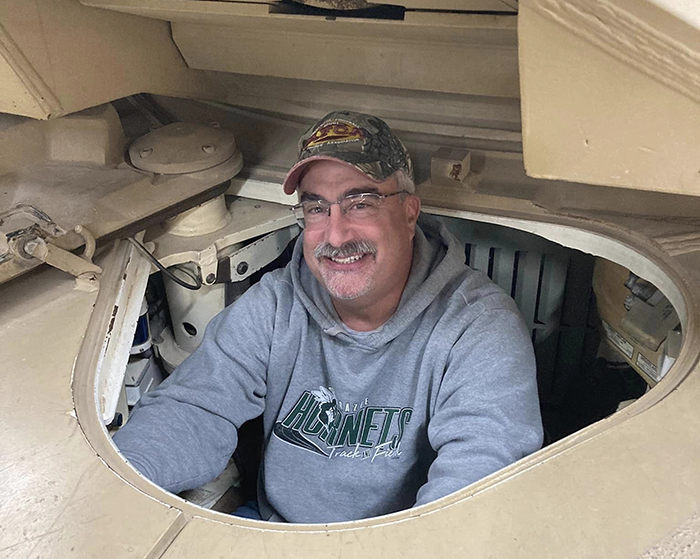 "Which was really kind of ironic," said Rader. "The year that he passed away was the first time we were invited to go, but we were unable to make it work as a district because there was such a shortage of subs that we didn't get to participate in it. It was kind of eerie because my father passes away and the next time a flight popped up we're asked to participate."
Rader said thoughts of his dad were in his head during the flight multiple times.
A local recruiter who visits both Rader and Reierson's classroom invited both teachers again this year and they jumped at the chance. The first stop was Bemidji to board a helicopter.
"We showed up and they gave us a briefing," said Rader. "There were three Sergeants that were there and they told us what would be taking place and what to expect. It was actually a lot of fun. On the way down it was all sealed up. On the way back they had the back hatch open and it was pretty cool. The view was unbelievable."
The group toured multiple facilities at Camp Ripley and got a close look at Bradley fighting vehicles and Abrams tanks. The tour also included an immersive experience at the state-of-the-art Medical Simulation Training Center (MSTC) that opened in 2015.
"It's a training center they use to get medics ready for what they might experience," Rader said. "They see the potential trauma that they might be exposed to. The mannequins they use are so life-like; they bleed. You can take blood pressures and the wound will actually be bleeding. The guy who was giving us the tour of that facility said the first time he ever experienced medical trauma he got tunnel vision and his motor skills were altered because he had not experienced anything close to this before."
The medical unit brings a very real-life experience to trainees.
"That's why they've developed this to get people to actually see it as realistic as possible," said Rader.
The group got to experience a military medical experience where smoke, sounds of gunfire and different colors of light and smells are introduced in a small room while a procedure is taking place. Rader said they can even introduce such smells as a rotting corpse to simulate war-like atmospheres.
"It's to take all of your senses and push them to their limits," said Rader.
The trip also has a tangential meaning to what both teachers do in their classrooms.
"Oftentimes social studies teachers will have a vested interest because you're teaching about, whether it's war in a history class or it's a government class like mine, you're teaching about providing for the common defense and the role of the government providing for our military," Rader said. "You talk a lot about the U.S. military and its application in our day-to-day lives."
The group was also introduced to the Camp Ripley environmental center where there is a taxidermy collection of every animal found in Minnesota, along a small arms repair warehouse and the obstacle and challenge courses the camp allows school sports teams and staff to use for free for team building exercises.
"It's a public service they provide; they said the only thing you have to do is get here," said Rader.
Getting to interact with the group of teachers is also a refreshing change for the tour guides who are on base.
"The Sergeants that were taking us around said they enjoyed this a lot more because they don't get to see civilians very often living there all the time," said Rader.
For more information on the Guard, including Educator Lift events, visit www.recruiting.minnesotaarmynationalguard.com