Early screening may save a life from lung cancer
News | Published on November 7, 2023 at 10:54am EST | Author: frazeevergas
0
Quick, painless scan leads to early detection for one Essentia Health patient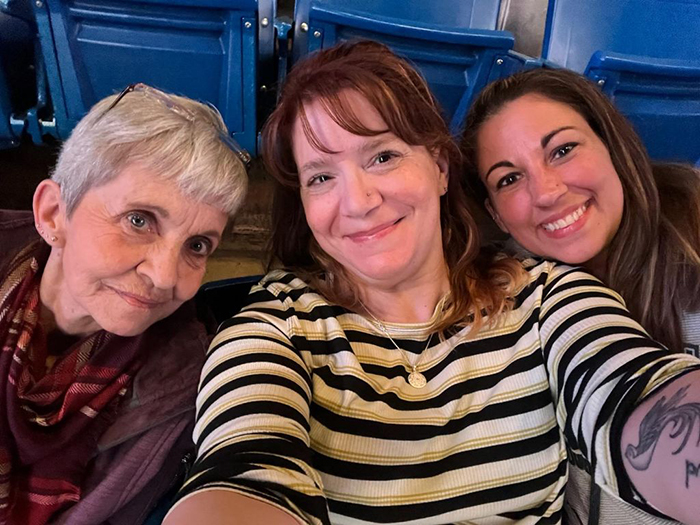 Carol Thumma knew something wasn't right in late summer of 2020.
"I had stepped outside to enjoy my morning coffee and a smoke, and I noticed that when I walked back inside, typically normal sounds sounded different," explained Thumma, who continued to hear what she described as an auditory echo throughout the day.
In addition, she felt nauseous, had a bad headache and her blood pressure kept spiking.
Thumma decided to visit walk-in care at the Essentia Health-West Fargo Clinic the next day. After tests and labs, it was recommended that she connect with family medicine provider Dr. Katherine Neubauer.
"I remember she reviewed everything and then looked at me and asked what I thought about getting a screening lung scan," said Thumma.
At the time, Thumma was 61 and had smoked for many years. She admitted that she was hesitant at first, but ultimately decided to go ahead with the low-dose computed tomography (LDCT) scan.
A LDCT scan is a computerized scan that uses special X-ray equipment to take detailed pictures of a patient's lungs. It features a low dose of radiation and is quick and painless. You don't have to take any medicine and no needles are used.
LDCT scans occasionally show abnormal areas—called "nodules"—in the lungs. In Thumma's case, something was spotted on top of her right lung.
A positron emission tomography (PET) scan and biopsy confirmed that Thumma had early-stage lung cancer.
Thumma underwent surgery on Nov. 23, 2020, to remove the affected lobe. She has since followed up with Essentia's oncology team every six months for the last three years—and has remained cancer-free.
"If Dr. Neubauer hadn't been diligent and recommended that lung scan, I would have never known," said Thumma. "I wasn't having a single symptom that would have led me to believe I had lung cancer. It's a very silent but deadly issue."
Thumma no longer smokes. She encourages others with a smoking history to get an LDCT scan.
"It might just save your life, because it did mine," added Thumma. "Heaven only knows what would have happened if I let that go on. From the first scan to before surgery, the affected area had grown.
"Don't mess with it, especially if you have that smoking history. Listen to your body and to your providers when they recommend these things."
November is Lung Cancer Awareness Month and the perfect time to consider a lung cancer screening.
Lung cancer causes more cancer-related deaths in the United States than any other type of cancer, according to the Centers for Disease Control and Prevention (CDC). It's the third-most common cancer in the U.S.
Lung cancer symptoms may include:
• Coughing that gets worse, doesn't go away or includes blood.
• Chest pain.
• Shortness of breath.
• Wheezing.
Often, lung cancer symptoms don't show up until the cancer has spread or is in an advanced stage. Screening helps detect cancer early even if you don't have signs or symptoms. When lung cancer is caught early, it can be easier to treat.
Talk to your primary care provider to determine if a lung cancer screening is right for you. Most insurance companies cover screenings as part of preventive care. Contact your insurance carrier for more information about your coverage.
One of the best ways to reduce your risk of lung cancer is by quitting smoking. At Essentia, we can help patients ditch smoking with the help of our smoking-cessation experts.