Vergas approves Lake Street grant application
News | Published on November 7, 2023 at 11:21am EST | Author: frazeevergas
0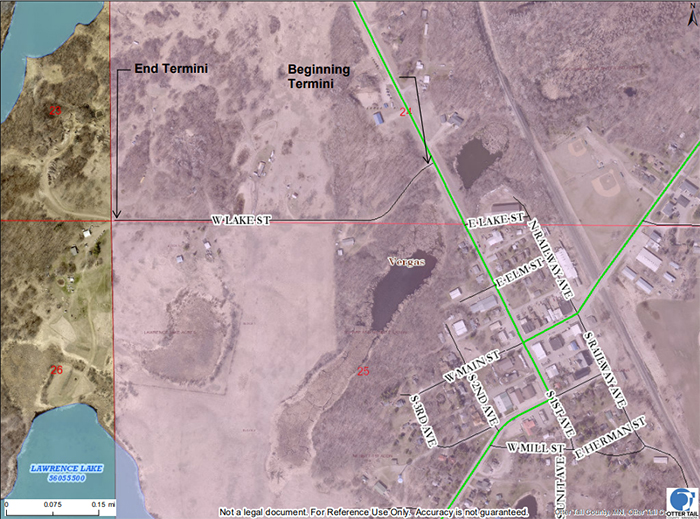 By Robert Williams
Editor
Widseth funding employees obtained approval from the Vergas City Council to request a Minnesota Department of Transportation (MnDOT) Local Road Improvement Program grant of $202,470 for the reconstruction of West Lake Street from the intersection at County State Aid Highway 17 at a special council meeting held on Monday, Oct. 30.
"The outcome of the project would be paving and adding shoulders to West Lake Street. It's a little less than half a mile out there and this would cover 60 percent of the construction costs," said Funding Specialist Ryan Zemek.
The other 40 percent would be covered by the city.
According to the project's description, West Lake Street is a .38 miles of city street. There are several new residential developments along the street. Currently, the street is unpaved, has slopes exceeding 1:3, no clear zone, and lacks shoulders, making it ill-equipped for the increasing daily traffic. The city of Vergas is proposing improvements that will bring the road to a 7-ton structural design, with a 22-foot width lane, 2-foot shoulder, and a 9-foot clear zone. The improved road will have a useful life of at least 20 years. Project components include a new aggregate base, bituminous surfacing, adding shoulders, ditch grading, and new culverts to enhance drainage efficiency.
To qualify for the grant the project met four of six criteria:
• Part of an economic development plan
• Provides capacity or congestion relief to a parallel trunk highway system or county road.
• Connect to a regional tourist destination.
• Project provide a direct connection to the regional system, trunk highway, or a county road
The passed resolution will need to be passed at the county level also, due to Vergas' population being less than 5,000, which is a MnDOT requirement. The county acts as a fiscal agent of the grant.
"This would help us immensely if we were successful in getting this grant."

Bruce Albright, council member
Widseth Senior Funding Specialist Gail Leverson noted that she has already gotten approval from County Engineer Krysten Foster of the county's willingness to support the grant and the project. Foster will present the resolution at the next County Board of Commissioners meeting on Tuesday, Nov. 14.
Lawrence Lake Acres
The City of Vergas will hold a public hearing on Tuesday, Nov. 14, at 6 p.m., regarding a $10,000 Community Growth Partnership Application for a home being built in the Lawrence Lake subdivision.
The grant program is funded by the Otter Tail County Community Development Agency. The goals of the program are to increase the tax base and improve the quality of life in Otter Tail County.
Up to five homes in the subdivision can apply for the $10,000 grant. Approval will negate property owners from applying for the County's Big Build program, which is a single and two-Family tax rebate program.
Liquor Store
Liquor Store Clerk Felicia Singer elected to have an open meeting to discuss her employment after Manager Kyle Theisen made a recommendation to the council for her termination at the October council meeting.
The meeting was conducted as a Loudermill hearing presided over by City Attorney Thomas Winters. The purpose of a Loudermill hearing is to provide an employee an opportunity to present their side of the story before the employer makes a decision on discipline.
After being sworn in, Theisen reported his reasons was the store not being opened on Sunday, Sept. 17, a shift Singer was scheduled to work.
According to Theisen, there was no acknowledgement or apology from Singer about the absence and her refusal to meet with Theisen and City Clerk/Treasurer Julie Lammers to discuss the incident. Officially, Lammers is Theisen's supervisor per the current organizational chart of the city.
"The main reason is consistently not listening, not following orders from her boss; it was not from the fact that Sunday was closed," said Theisen. "There was going to be some kind of discipline for that, but the meeting that I wanted her to come in to discuss—she probably would have had her job unless something went south in that meeting."
Singer claimed the reasons for termination were not justified. She refuted Theisen's accusations as inaccurate statements and skewed information.
Singer spoke for nearly an hour describing her decade-plus of employment at the Liquor Store, while refuting Theisen's claims. She also questioned Lammers' position as an acting Human Resources employee of the city and reiterated she had previously filed multiple complaints against Lammers, which were the reasons Singer was unwilling to meet with her.
Singer claimed she followed the chain of command and her complaints were ignored.
"Why would anyone bring forth any concerns if this is how they're treated?" Singer said.
After more discussion, Singer submitted her resignation verbally to the council, of which Theisen was supportive of accepting.
Council member Natalie Fischer made a motion to accept the resignation, but got no second.
"I think we should be able to work this out," council member Paul Pinke said.
Council Member Dean Haarstick spoke on Singer's behalf. Singer responded with appreciation to the council in trying to work the situation out, but stated she is not able to do so.
A second vote to accept Singer's resignation was had, which was approved under the stipulation Singer departs as an employee in good standing and is eligible for a letter of recommendation, if requested.