Frazee Fire member among trio receiving lifesaving award
News | Published on November 17, 2023 at 1:19pm EST | Author: Robert Williams
0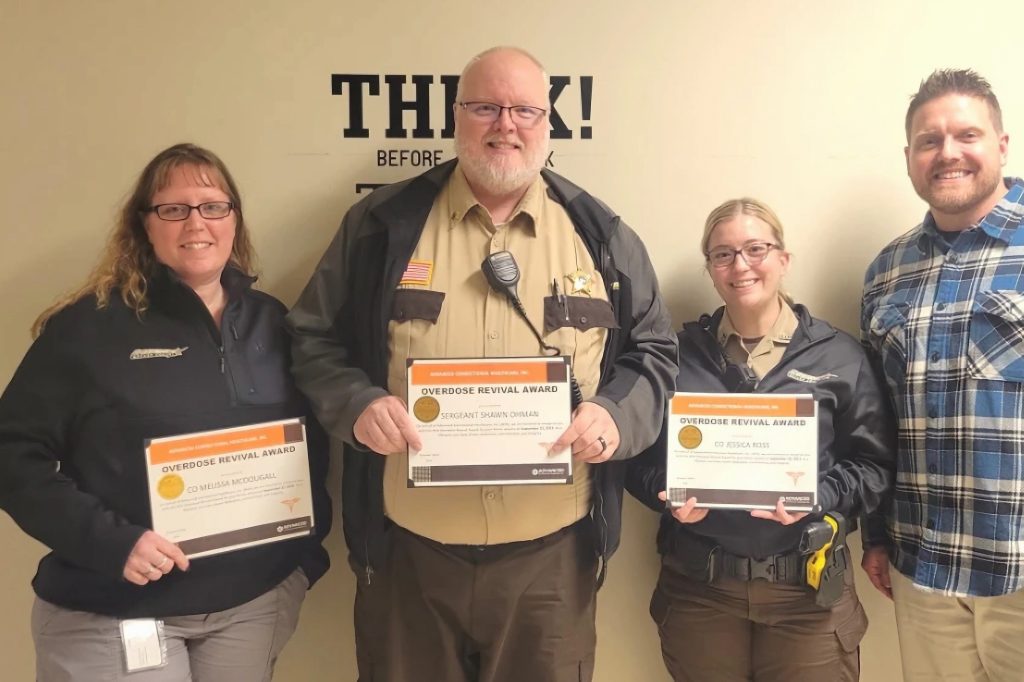 Becker Commissioners discuss county salary system
By Robert Williams
Editor
Three Becker County Jail staff members were honored at the Becker County Board meeting Tuesday for saving the life of a jail inmate who was suffering from a drug overdose in September. The award was presented by Advanced Correctional Healthcare, Inc., and acknowledged at the latest commissioners' meeting by Becker County Chief Deputy Shane Richard Tuesday, Nov. 7, in Detroit Lakes.
Richard described the incident from Sept. 22, 2023:
Correctional Officer Melissa McDougall alerted Sgt. Shawn Ohman of an unresponsive patient. Ohman noted upon arrival that the patient (unidentified) was slumped over in a chair with their face turning gray and blue.
McDougall called 911 as Correctional Officer Jessica Ross arrived on scene.
The patient had a pulse but was not breathing. Ohman administered two doses of Narcan and sternum rubs, which had no effect.
Multiple doses of Narcan were given to the patient before the patient took a deep breath, but was still unconscious.
Ohman and Ross moved the patient to the floor and administered breathing using a bag valve mask. The patient eventually regained consciousness. EMS arrived soon after, and the patient was transported to a local hospital for further care.
"On behalf of Advanced Correctional Healthcare, Inc., we are honored to present the ACH Overdose Revival Award to Sergeant Ohman, Correctional Officer McDougall, and Correctional Officer Ross for their heroic actions," Richard said. "As lifesavers, you have shown dedication, commitment, and integrity."
Chairman Barry Nelson spoke on behalf of the board.
"Congratulations and a huge thank you to the staff out there," he said. "It's a difficult job and when you hear the success stories or the attention to detail of their work I think it's an asset to say what great employees we have out there."
Sgt. Ohman has also been a Frazee Fire Department member since 2009.
Classification and Compensation
The Becker County Board of Commissioners rejected the findings of an $80,000 Classification and Compensation study to update the salary system for county employees.
Concerns about a proposed point-system salary schedule for Becker County employees led to Commissioners choosing to remain on its current, albeit outdated, band-and-grade system.
Hopes are to give the board more flexibility in retaining essential employees, especially assistant county attorneys, deputies and corrections officers.
County Attorney Brian McDonald addressed the board thanking them for supporting an additional position in his office before addressing the classification and compensation study.
"It's without debate that the biggest loser in that proposal is my assistant county attorneys – proposing an indefinite freeze or reduction compared to what staff was told they were capable of making when they were hired," said McDonald. "Without my assistant county attorneys, I can't do my job."
McDonald summarized that he did not agree with market value for a licensed attorney in this area that was provided by David Drown and Associates, who conducted the$80,000 study.
McDonald noted he had one attorney resign, who took an opportunity with the public defender's office earning significantly more as an assistant than McDonald is scheduled to make next year.
A job posting to backfill this position has been open for 14 days and gotten no applicants.
"That shows that we are not competitive," said McDonald. "It's a real, dark time for county attorney offices in rural Minnesota right now."
Large state pay increases for public defenders are also contributing to the difficulty in retaining assistant county attorneys, according to McDonald.
Assistant Becker County Attorney Deven Nice, who is the employee leaving, raved about the positives working in McDonald's office and noted the only reason he is leaving is because he received a $50,000-a-year increase in salary by becoming a public defender.
Jepson led a conversation on not accepting the change because she was unable to get sufficient answers to specific questions she had about the study.
County Administrator Pat Oman noted protocols need to be updated regarding the former system and that the new system is the change that is being recommended. Oman advised commissioners to discuss with the consultant since there are minimal options in staying with the current system. Oman also discussed updates to the appeal process for county employees. Oman stressed that he wants to provide the information needed for the board to make an informed decision.
Board member Meyer and Nelson were both against accepting the new system.
"I'm not concerned if the employees are they happy or not; I'm concerned with are we using taxpayers' money wisely to get this correct?" said Meyer. "We can't vote on this until I feel it's right. To me, it doesn't seem like it's equitable, fair or correct."
Later in the discussion, Meyer clarified his statement about employees stating, "It concerns me that we aren't treating our employees and our taxpayers correctly, fairly and equitably."
Nelson questioned why information was withheld from some board members when it was requested for the whole board to be notified.
Jepson cited a lack of market information for at least 40 positions, along with needing more information. The board took no action and elected to stay with the current system for now.
Oman's goal is to get a response from the consultant in the next week to address missing information and other questions board members have.
Becker County Deputy Sheriff Shane Richard addressed the issue later in the meeting noting that he is aware of five vacancies his office will likely be attempting to fill in the coming year.
"Our last hire, we had two applicants," he said. "We really need to focus on retaining our employees also…it's important to get this done right. Band and grade, yes, needs some improvements. The second part of that is the pay. We need to keep the troops that we have here because we're not going to have the staff to do the job."
Richard thanked the board for their efforts and wanted to put weight on their decision in regards to providing law enforcement staff with competitive salary packages to keep them on board.
Toad Mountain
Discussions continued on the potential sale by owners of the Toad Mountain property. The owners have stated they would like the property to be in county hands and used as public land. The purchase would be made with grant dollars through the efforts of Trust for Public Lands, a national nonprofit that aims to expand national and local parks, build greener schoolyards, create trail systems, and protect community forests and cultural sites.
"There will be some expenses for us at some point," said Chairman Barry Nelson.
According to Nelson, an initial plan for the park area would cost approximately $8,000, with a full master plan running close to $40,000.
"I think there is support for it and I think it is a good opportunity in the long run that money will come back to the county," Board Member Erica Jepson said.
Environmental Services Administrator Steve Skoog presented a tentative timeline that included the potential process from appraisal to grant funding, regional park designation and purchase.
There is no purchase agreement and discussions are in the very early stages between all parties.
"At this point, without committing to it, we'll get that information from the seller and from the Trust for Public Lands, if they get more information on their end that they'll bring back as a proposal to the county so we get more of a complete information package and we'll bring it back to our committee," said Skoog.
Should the county elect to not pursue the property, it may end up in the hands of the Minnesota Department of Natural Resources (DNR), something which Chairman Nelson said should be examined for pros and cons versus county ownership.
Cormorant Lakes Watershed
According to a report by Becker County Administrator Pat Oman, the term for Cormorant Lakes Watershed District (CLWD) managers Mike Foley and Lyle Hansen expires December 31.
The watershed is requesting the commissioners to publish appropriate notice of the need to
fill the position, a 3-year term, and to select a candidate.
Both Foley and Hansen have expressed an interest in continuing in the capacity of Manager for the next term.
The term expirations for the other manager positions are as follows:
Sam Blattenbauer – December 31, 2024
Jeff Moritz – December 31, 2024
Ellis Peterson – December 31, 2025
Appointments are made by the County Commissioners, the normal procedure is to send written notice of the confirmation to both the appointee and CLWD Administrator.
County Museum
Becky Mitchell, the Executive Director at Becker County Historical Society and Museum reported that over 1,000 people participated in the Halloween Haunted House that was housed at the former county jail over four days.
The DaVinci exhibit has attracted over 2,000 visitors. Marketing is continuing around the region and schools are beginning to visit with classes.