Neighbor to Neighbor social outing visits Forest Edge Gallery
News | Published on November 17, 2023 at 1:38pm EST | Author: frazeevergas
0
Non-profit looking for more senior program participants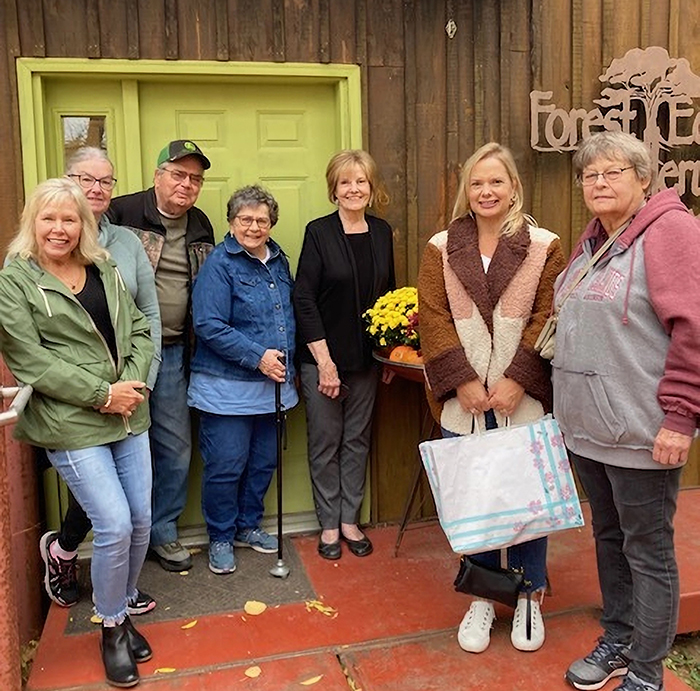 By Robert Williams
Editor
Neighbor to Neighbor Social Programs Coordinator Julie Howard is looking for ways to increase participation in the numerous social and wellness events for those 60-years of age and above provided by the Frazee-based non-profit organization.
Neighbor to Neighbor was established in 2001 and founded by a group of Frazee and Vergas residents with a passion to help area elders to remain in their homes as long as possible. Part of their services also involves getting people out of their homes, like a recent group visit to Forest Edge Gallery in Vergas.
"We've really ramped up our calendar in October; we did our first outing and went to Maple Hills Orchard and did the hayride which was super fun," Howard said. "Before they closed up for the season, we caught up with Forest Edge Gallery."
The group was met by gallery owner Helena Johnson, who showcased the incredible work done at the gallery by both she and her husband, potter and metal artist Patrick Shannon, along with various regional artists.
"It's so neat," Howard said. "It was just great and Helena was set up for us in the back room and talked to us about an hour about the artists they are featuring now and people could ask questions."
The gallery also hosts art classes, something that Neighbor to Neighbor has put on the schedule for next summer. Visits like the gallery stop are part of the overall goal of Neighbor to Neighbor.
"It's part of the goal to talk about aging, brain health and what we can do," said Howard. "Learning things that are new and different is one of them to help build new connections in the brain and we can continue to do that into our eighth and ninth decade. Events and outings like this do that and it was very exciting."
Neighbor to Neighbor provides residents from Frazee, Vergas and the surrounding seven townships with many options to prevent nursing home placement by providing services such as transportation, meals on wheels, referrals, household and handyman services, health and exercise classes, friendly visits, wheelchair and medical hardware loans, health and wellness assessments and senior social outings.
"We're trying to get more people to participate," said Howard. "One of our most popular things that we do is people love bingo, so we've tried to connect it with an event."
Last week, the group had a bingo event that coincided with National Pizza Day. The November schedule is a rather quiet month, but the group will be back with more functions beginning in December.
One planned event will have a traditional Christmas meal of Shepherd's Pie, along with decorating a tree and bingo on Dec. 15 at 4 p.m.
Howard will also be presenting another installment on her series on aging dealing with brain health on Dec. 20.
Neighbor to Neighbor also provides monthly blood pressure clinics, hosted by volunteer Christine Hall.
The office is located at 405 West Maple Avenue in the Skyline Business Center.
For more information visit Neighbor to Neighbor sites at www.n2nlah.org and facebook.com/N2NFrazee/
Howard can be reached via email julie@n2nlah.org or by office phone 334-3559.