Hornet Zone school store back up and running
News | Published on November 21, 2023 at 10:25am EST | Author: frazeevergas
0
Teachers of the Year honored by school board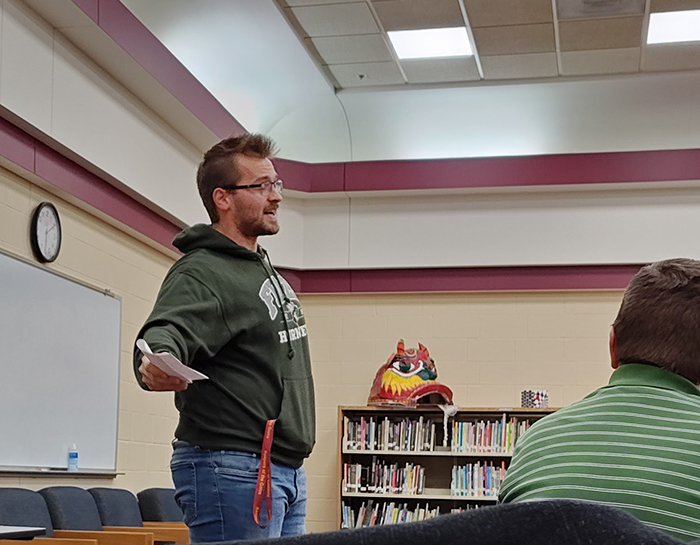 By Robert Williams
Editor
Roger Thorp provided an update on the Hornet Zone at Frazee-Vergas High School during the monthly meeting of the school board Monday, Nov. 13.
The Hornet Zone is the school store that is combined with an Introduction to Business class to give kids a retail experience that entails bookkeeping, ordering and set-up.
"Getting the Hornet Zone back up and going I wasn't sure how many kids we would have, but we have eight kids, which is a pretty solid group for that class and those kids were extremely excited to revamp the place," said Thorp.
One of the first things the class did was put in the initial order and choose designs for sweatshirts and other apparel.
"One of the things this group wanted to attack was that there was this idea throughout the student body that the clothing in the Hornet Zone was extremely expensive," Thorp said. "That group wanted to find a solution for that."
The student group found items on sale to start them at a lower class and make them more accessible to all students. They also elected screen prints, rather than embroidery to keep costs down.
"What is usually posted as a $40 sweatshirt is now $35," said Thorp.
The store also delivers products to the elementary school to share with younger students.
The Hornet Zone will be handling letter jacket orders also.
Thorp sees the Hornet Zone as an extension of the business class that allows undecided students a look into potential working opportunities.
"Not just running a school store, but actually looking at careers that these kids are interested in," said Thorp. "I've been trying to work through a few, different exercises to get them interested and have a direction."
The store is open daily from 8-8:15 a.m., and during senior high lunch.
Funds from the store have been used to help out with the upgrade to the sound system in the main gymnasium.
Thorp was also reassigned as 0.3 Social Studies teacher later in the meeting. He is teaching a pair of new classes: History of Music and a Study Skills course.
"I'm glad we were able to pull together some kind of music offering for students," said High School principal Jason Smith.
History of Music is an elective for students who choose not to participate in choir or band.
Musical
A few cast members joined Band Director Brian Selander for a preview of this year's fall musical "High School Musical Jr." that was performed Nov. 17-19.
Selander was assisted by Joan LaSart, Lacie Lepisto and choreographer Mary Zink.
Selander, volunteers and his students had to adjust to a quick timeline with Selander taking over both the music and singing portions of the play after the departure of former Choir Director Jennifer Nannenga at the beginning of the school year.
Selander complimented his students on their dedication to practice that occurs after school and extracurricular activities.
"Their dedication to do this at a small school like this where they have to do everything is outstanding," said Selander. "There is no way I could do this without their dedication and the volunteers we had."
Teachers of the Year
Tanya Mahoney and Tavia Bachmann were recognized as this year's Teachers of the Year in their respective schools. See the Nov. 14 issue of the Forum for features on both instructors.
High school principal Jason Smith commented on his first experience with how the Teacher of the Year is awarded here in Frazee compared to his other experiences.
"A way different picture here," he said. "Called all the kids from the high school down, brought in family, lights and sound, the whole bit; it was a great, great ceremony and like I said, you're pretty quick to figure out who the movers are and who the people are who are really tuned in. I don't know if we could have found a better choice and had a better selection than Tavia Bachmann for our teacher of the year."
Personnel
The board approved the hiring of the following positions:
Assistant FFA Advisor Dawn Hanson
Social Media Coordinator for PK-12 Michelle Sharp
C Team/9th Grade Girls Basketball Coach Daniel Stiel
0.3 Social Studies Teacher Roger Thorp
Speech Advisor Kaitlyn Hoekstra
The approved the acceptance of the following resignations:
Food Service Worker Sheryl Mahnke, effective November 17, 2023. Recommendation: Assistant Wrestling Coach Clay Nagel, effective immediately.
Fall Sports
Activities Director Nick Courneya gave a review of Fall Sports activities and participation.
Participation numbers:
• Cross country 10 boys, 6 girls
• Football 69
• Volleyball 85
• Swim/Dive 2
• Trap 13
Courneya also reported on FFA, including the national convention, along with the Robotics team that recently captured the Northern Robotics Conference championship.
Winter Sports
The board approved a Cooperative Sponsorship for Boys and Girls Alpine Skiing and for Boys Swim & Dive with Detroit Lakes High School beginning with the 2023-2024 school year.
Enrollment
Current enrollment numbers:
Grade – May '23 Nov. '23
Kindergarten 60 51
First grade 59 62
Second grade 57 59
Third grade 59 57
Fourth grade 58 61
Fifth grade 68 59
Sixth grade 75 68
Total 436 417
Seventh grade 66 73
Eighth grade 68 62
Ninth grade 72 69
Tenth grade 56 74
Eleventh grade 57 57
Twelfth grade 51 59
The district received the enrollment option applications for out of the district to: Detroit Lakes (1), Houston Public School – Minnesota Virtual Academy (1) and none into the District.
Hornet pride
The board accepted the following donations:
• Bell Bank donated $25 for a Custom Bank Card
• The Fastbreak Club gave a donation $1,200 for the Sound System
• Frazee Volleyball Boosters donated $850 for the Sound System
• The sound system upgrade in the main gymnasium is installed. Courneya thanked the following groups for their financial assistance: basketball, volleyball, wrestling booster clubs; Jerry Hanson with Success Builders; MHS; Student Council and the Hornet Zone.