Perham Post Office renamed in honor of Charles P. Nord
News | Published on November 21, 2023 at 10:43am EST | Author: frazeevergas
0
Bill sponsor Rep. Fischbach in Perham for the ceremony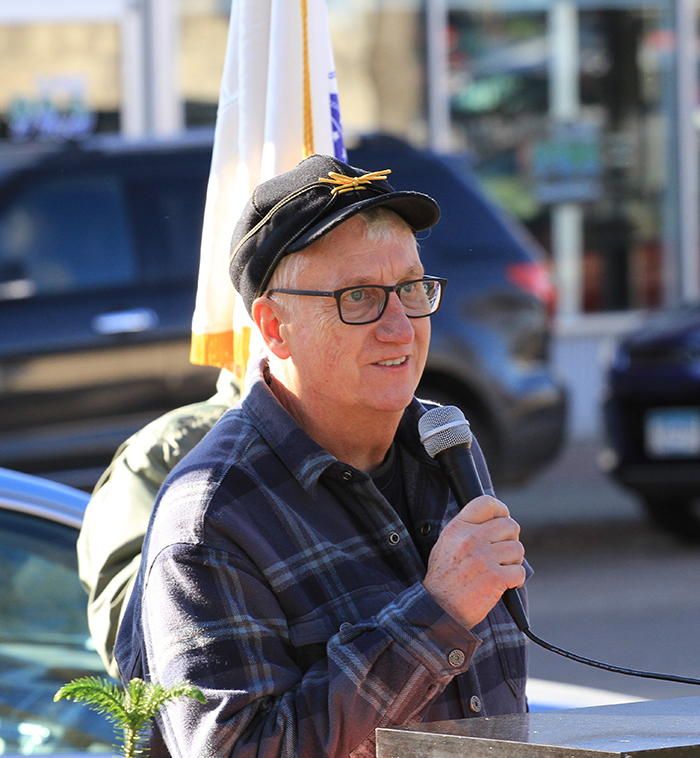 By Robert Williams
Editor
The Perham Post Office was officially renamed in honor of Chief Warrant Officer 2 Charles P. Nord, a Minnesota National Guardsman who was killed in a helicopter crash near St Cloud, December 5, 2019.
The renaming ceremony was held Friday, Nov. 17, hosted by the U.S. Post Office Communications team with Rep. Michelle Fischbach as the keynote speaker. Fischbach sponsored the legislative bill to rename the post office.
The bill was enacted after being signed by the President on December 27, 2022.
"It was my honor to carry that legislation," said Fischbach. "Renaming this post office, we really demonstrate what Charles' life meant and what service, it was not only about the community but also to our nation. After his family moved to Perham, very quickly his peers recognized what kind of person Charles was. He was kind and confident and humble and had a wonderful sense of humor. It put a smile on everyone's face and he never took himself too seriously and by graduation, Charles was a friend to all. He was compelled to serve and he enlisted in the National Guard and quickly rose through the ranks. It was in that service to the National Guard that Charles found his calling to be a helicopter pilot."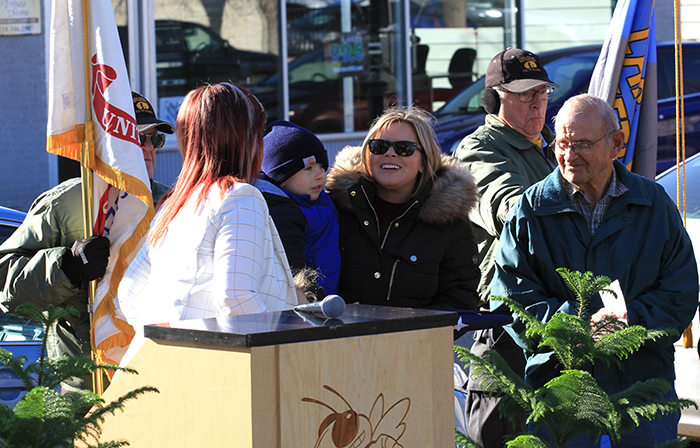 Charles served a tour in Kuwait with the 211th General Support Aviation Battalion.
Fischbach also spoke directly to the Nord family in attendance, directing her comments to Charles' wife Kaley.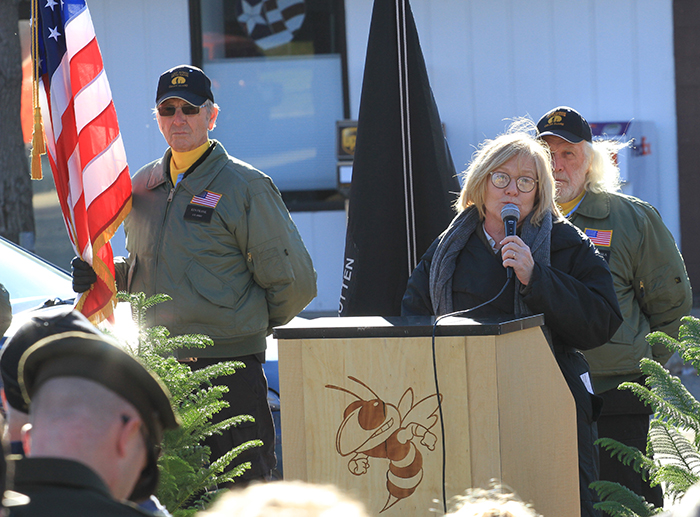 "I want to thank you, Kaley, for your strength and your service, and the whole family's service to the country because our service members are nothing without their families that support them. Thank you to all of you for your service and your sacrifice."
Charles' father Paul Nord was not planning to speak at the ceremony, but was given the opportunity by master of ceremonies Desai Abdul-Razzaaq of USPS Communications.
"When we heard they were going to do this and the bill was introduced, that was shocking to us and it is a real, big honor," Nord said. "This naming is going to be a legacy. His name will be there, hopefully, for hundreds of years."
Paul also cited the words of Stanford University neuroscientist and author David Eagleman, who said there are three deaths: the first is when the body ceases to function. The second is when the body is consigned to the grave. The third is that moment, sometime in the future, when your name is spoken for the last time.
"That really kind of struck me when I started thinking about this," said Nord. "First of all, his name is read into the Congressional records forever, because this country is not going anywhere and second of all, his name is going to be on this building. What a wonderful thing."
Ben Lien was in attendance representing Sen. Amy Klobuchar, who was unable to attend. Klobuchar was recently in Perham to visit the Children's Corner Learning Center. Lien played a recorded statement from the senator.
"I was so impressed by the work of the businesses and the children's center and local government; it was really an amazing visit," she said. "I especially want to thank the Nord family for giving us the opportunity to honor the legacy of their beloved son and father and husband."
Klobuchar gave a review of Charles Nord's affinity for Perham and personal history as a Perham High School graduate to his time in the Guard and the close relationships he had with his friends and family.
"I think we all know there is little consolation when a person of such integrity and decency is ripped away from us so soon," Klobuchar said. "But the memory of his heroism and the values he exemplified in a life well led in only 30 years will live on forever."
USPS Minnesota and North Dakota district manager Angela Bye gave the official dedication of the post office and presented a flag that was flown above the Perham Post Office to Kaley Nord.
Born in Breckenridge on June 6, 1989, Charles Paul Nord grew up on his family's farm where he liked spending his days working on the dairy farm with his father and grandfather. He also loved getting to ride on the tractor when it was time to plant or cut hay.
Shortly after high school graduation, Charles felt he had to give back to his nation sooner rather than later. He joined the National Guard in order to work as a tank crew member. He advanced to become a Staff Sergeant.
Charles was accepted into the Warrant Officer training program in September 2015, paving the way for him to attend Fort Rucker, Alabama, helicopter flying school and consequently Charles was promoted to Chief Warrant Officer 2. In May 2019, Charles moved back to Minnesota where he built his family's new home near Perham.
In 2019, Chief Warrant Officer 2 Charles P. Nord lost his life alongside fellow Guardsmen Chief Warrant Officer 2 James A. Rogers Jr. and W.O.C. Kort Plantenberg when their helicopter experienced a mid-flight mechanical failure.
The Nord family was also honored in late July when the Minnesota Wheels of Honor and Tribute to the Troops motorcycle riders stopped at the Vergas City Cemetery for a ceremony and to meet the family. The Nord family moved to Vergas in 2001.
Fischbach was also in Vergas this past summer at the renaming of the Vergas Post Office in honor of longtime mail carrier Jon Glawe.