Sen. Rasmusson hosts event at Thumper Pond
News | Published on November 21, 2023 at 10:20am EST | Author: frazeevergas
0
Showcases state, federal funding for local communities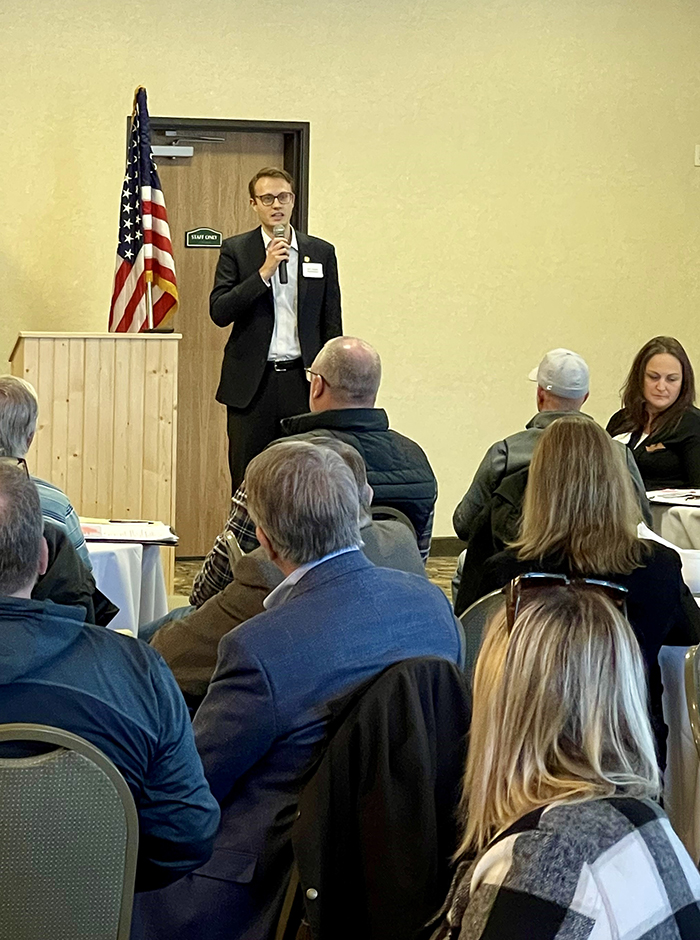 On Thursday, Nov. 2nd, Senator Jordan Rasmusson (R-Fergus Falls) hosted an event at Thumper Pond Resort in Ottertail for city and county officials to learn about state and federal funding opportunities available for local projects.
Approximately 80 local officials from Senate District 9 were in attendance, including Vergas Mayor Julie Bruhn and Clerk-Treasurer Julie Lammers.
"My goal with this event was to make sure our area isn't missing out on state and federal funding opportunities for local projects. By leveraging non-local funding, communities can build projects at a lower cost to local property taxpayers," said Sen. Rasmusson. "I appreciate the local leaders who are working to better their communities, and I look forward to continuing to partner with them as they seek funding for key infrastructure investments."
During the event, local representatives from the Minnesota Department of Employment and Economic Development, Minnesota Department of Transportation, United States Department of Agriculture and more presented on grants and loan programs available. They also provided examples of how transportation, public facilities and local housing funding have assisted local communities.
"It was a well-attended event with a lot of useful information," said Tanya Bakken, city clerk for the cities of Dalton and Wendell. "It was great to not only have the senator there but also many of my peers and other people from the district! I left with new ideas for how the cities of Dalton and Wendell can be competitive when seeking state and federal funding. I found it particularly helpful to learn about the resources available for city infrastructure projects and the overview on the process for communities seeking state bonding dollars."