Charles Perrine, 87
Published on February 9, 2021 at 4:22pm EST | Author: Chad Koenen
0
Charles (Chuck) Perrine, age 87, of Frazee, MN, passed away peacefully on January 22, 2021 at Sanford Medical Center in Fargo, ND.
A Celebration of Life will take place at a later date, to be announced this summer.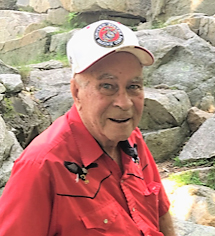 Charles was born on April 13, 1933, in Albert Lea, MN, to Flourus and Bertha (Miller) Perrine. Charles proudly served in Korea as a United States Marine. After being honorably discharged from the Marine Corp, he married Evelyn Mindermann.
Charles and Evelyn raised five children in Frazee, MN, where he worked for many years as a Custodian at the Frazee High School, and also drove school bus for Anderson Bus Company. Charles enjoyed playing golf every chance he got at the Frazee Golf Course. He taught his boys to play and loved playing golf with them. After retiring, he moved to Portland, Oregon. There, he went back to work for a period of time, driving school bus and working at a local college as a custodian. Charles moved back to Detroit Lakes, where he spent his summers living next to Forest Hills Golf Course, enjoying life and golfing. His winters were spent in Mission, TX, where he lived close to a golf course, where (you guessed it!) he enjoyed life and playing golf!
Charles is survived by his five children: David (Maxine) Perrine of St. Germain, WI, Daniel Perrine of Detroit Lakes, MN, Douglas Perrine of Vergas, MN, Bruce (Joyce) Perrine of Perham, MN, and Lori (Dean) Drewes of Snellman, MN; sister, Phyllis McClanahan of Oceanside, CA; 9 grandchildren; 13 great-grandchildren; and 2 great-great-grandchildren.
Charles was preceded in death by his parents, Flourus and Bertha Perrine; sister, Vicki Cheadle; and his wife of 33 years, Evelyn Perrine.
www.FureyFH.com