Eldon Loibl, 89
Published on February 18, 2021 at 6:28am EST | Author: Chad Koenen
0
Eldon (Eldy) Duane Loibl, 89, of Frazee, MN passed away on Sunday, February 14, 2021, his 28th wedding anniversary with Marlyce, at Oak Crossing, Detroit Lakes, MN.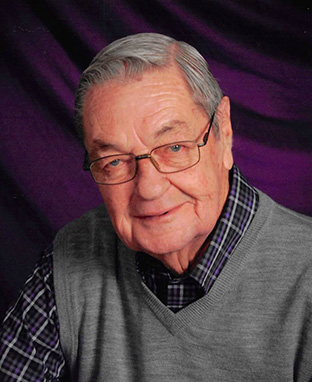 Eldy was born to Steven and Olga Loibl on April 18, 1931 in Fingal, ND. He graduated from Fingal High School and worked on the family farm. Eldy enlisted in the U.S. Army and was stationed in Germany. While in the Army, he married Marlys Weidner, and upon honorable discharge, moved to Valley City, ND. Eldy and Marlys had two children, Terrance (Linda) Port Colborne, Ontario Canada and Tamie Loibl of Scottsdale, AZ. He attended Valley City State Teachers College, receiving a degree in Mathematics.
Eldy was employed at the U.S. Post Office for 30 plus years. During the high school basketball season, Eldy could be found on the court refereeing games with his brother, Maynard. In his spare time he kept himself busy as a handyman. Eldy had a great sense of humor and was known as a jokester to all who knew him. While working at the post office, he managed the Country Club and later the VFW in Valley City.
One of his greatest accomplishments was building the VFW into a thriving business. Eldy and Marlys purchased a cabin on Rose Lake near Vergas and enjoyed lake life. Marlys passed in 1988. Eldy then moved to Rose Lake permanently. He caught many fish and kept his yard like green velvet. His favorite pastime was mastering jigsaw puzzles and creating intricate pieces of art with his scroll saw.
On February 14, 1993, Eldy married Marlyce Nygard and they enjoyed many winters in Mesa, AZ, golfing, playing cards, dominos with many friends and family.
Eldy is survived by his children, granddaughters Charish (Heath) Hammond of Texas, Kaytlyn Loibl of Ottawa, grandson Private Nicholas Loibl, Germany. He is also survived by Marlyce's children and grandchildren, Larry (June) Nygard and Linda (Kevin) Mickelson and grandchildren Matthew (Christine), Nathan (fiancé, Sarah), Ryan (Shelby); Kyle (Leaha) Mickelson and Brooke (Jack) Stigman; and 6 great grandchildren.
Funeral Service will be 1:00 PM, Friday, February 19, 2021, at Bethlehem Lutheran Church of Frazee.
Visitation will be 2-hours prior of the funeral from 11:00-1:00 PM. Burial will take place at a later date at Fargo National Cemetery.
Arrangements with Furey Funeral Home of Frazee. www.FureyFH.com