George Seiler, 70
Published on April 25, 2023 at 2:42pm EDT | Author: frazeevergas
0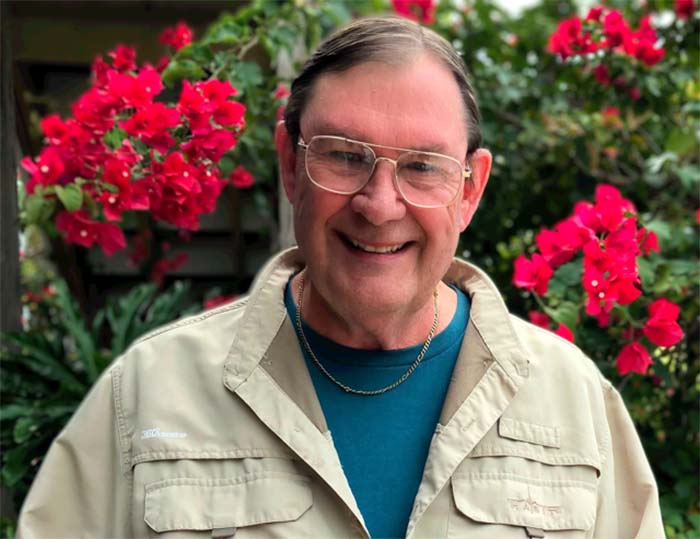 George Earle Seiler, 70, Frazee, passed into Heavenly Rest with Jesus on April 13, 2023, at the Frazee Care Center.
George Seiler was born November 18, 1952, in Miami, Florida to Rean and Janet Seiler. He moved with his mother and siblings to Melbourne Beach, Florida in 1964, and graduated from Melbourne High School in 1972.
George enjoyed many interests in his lifetime.
In 1973, he was the 100th graduate of the Gemological Institute of America in Los Angeles, California, and also attended Stetson University in DeLand, Florida from 1974 to 1977, graduating with a Bachelor of Arts in Economics.
He worked as a gemologist in the jewelry trade until 1984. He also used his varied talents to work in carpentry, and as a real estate agent and broker. He was very computer savvy and he and his brother, Stephen, created one of the first online real estate listing sites.
George opened a nursery business in 1984. That venture introduced him to the love of his life, Mary Ebeltoft, and the couple married November 9, 1985.
In 1996, the couple moved to Frazee, Minnesota, her parents' hometown, where Mary had spent her summers at Fischer Lake.
An avid outdoorsman, George loved to hunt, fish, waterski, surf and sail. When the Seilers moved to Frazee, one of their new adventures was having horses and horseback riding.
The Seilers explored various business ideas when they relocated, and decided to channel their farming and marketing skills into George & Mary's Best Darn Chickens 'Round, which they later expanded to include grass-finished beef and pork.
George was an excellent chef, and blessed his wife and many other family members and friends with his cooking. That included more than 10 years providing delicious meals for Harvest Fellowship Church's Kids' Club, which grew to host over 100 souls to feed at Tuesday evening suppers.
Friends will remember George for the spiritual example of how he lived his life, including his gracious hospitality and nourishment of others. To extend that gift, the family asks that memorials be directed to Harvest Fellowship Church's new kitchen (806 Frazee Road, Frazee, MN 56544).
George was preceded in death by his parents, sister Janet, in-laws Bill and Rose Ebeltoft, and brother-in-law Paul Eppling.
His memory will be cherished by his wife Mary, brothers Stephen (Deborah) Seiler of Melbourne Village, FL, and Henry (Carol) Seiler and their son Charlie Seiler of Palm Bay, FL, sister-in-law Sandra Eppling of St. Petersburg, FL and Frazee, aunt Patricia Ebeltoft Pfeifer of Kennewick, Washington, many cousins, family and friends.
David-Donehower Funeral Home is serving family members, who will gather for a private remembrance this summer.