Lorie Totland-Kern, 60
Published on October 24, 2023 at 3:16pm EDT | Author: frazeevergas
0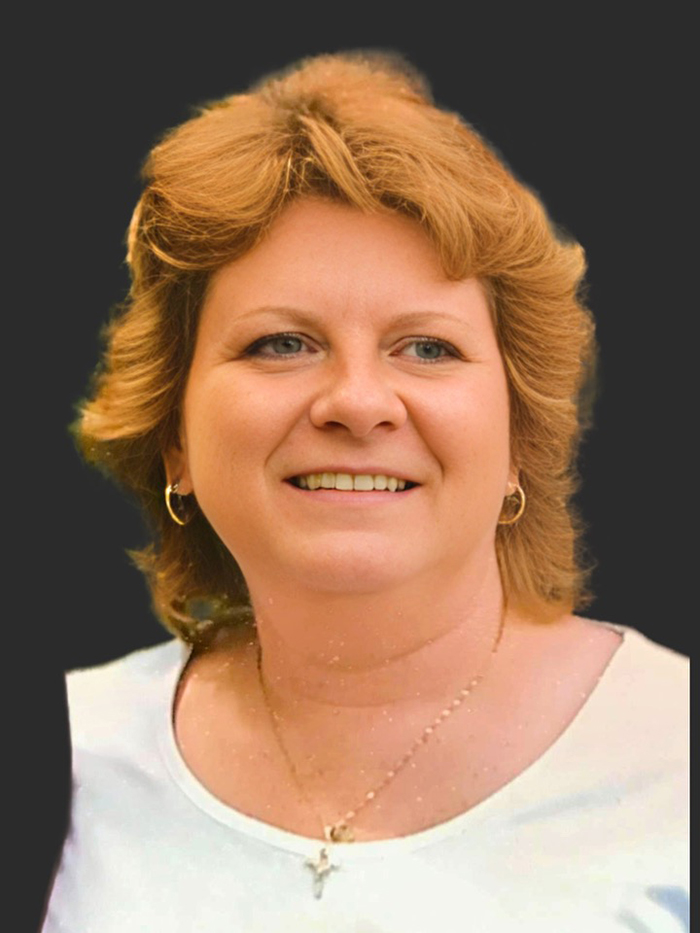 Lorie Totland-Kern, age 60, of Frazee, MN, passed away peacefully surrounded by her loved ones Saturday, October 21, 2023, after a valiant battle with cancer.
Lorie Mae Totland was born June 22, 1963, in Detroit Lakes, MN, to Leonard and Judy (Blauert) Totland. She was baptized February 2, 1964, at First Lutheran Church in Detroit Lakes, MN. Lorie grew up on the family farm with her eight siblings in rural Detroit Lakes. She attended school in Detroit Lakes and Deer Creek, MN. While attending Deer Creek School she was a Wildcat Cheerleader, a role that was fitting for her booming personality. Lorie was a member of the Cloverdale 4-H Club for many years in her youth. Her 4-H years sparked a love for flowers and gardening. Her Strawberry Rhubarb Jam was enjoyed by many, and a spare jar was never turned down when she offered one up to guests and family. 
Growing up on the family farm instilled Lorie with a very strong work ethic. She always put her heart and soul into her job. Over the span of her life, Lorie worked several different type of jobs. She was one of the most compassionate CNAs that a person could ever ask for. She loved her residents like family. Lorie managed restaurants and did her best to teach hard work and dedication to many young restaurant servers. Lorie was proud to work for the VA Hospital in both St Paul and Fargo as an office assistant for over eleven years. She loved serving those veterans with all her heart. Lorie finished out her working years in the food service area at the Frazee School. She enjoyed the interaction with all of the children on a daily basis.
Lorie was united in marriage June 11, 2019, to Harvey Kern in Frazee, MN. They made their home there and enjoyed spending time together in their garden, tending to their home, listening to music and dancing.
Lorie inherited a love for dance and music from her dad. She enjoyed kicking her heals up every chance she could. It did not matter if it was a polka, a waltz, a jitterbug or a line dance, she would rule the floor. Lorie also enjoyed singing and often sang karaoke and was very good at it. She once won a contest when she lived in St Paul and got to make her own private CD at a recording studio. The radio was always on at her home and she loved to sing along with her favorite artists. From her mother she inherited the passion for her children and coffee. Her children and grandchildren were always the topic of conversation when she poured a hot cup of coffee and sat down at the table for a visit with her friends and family. Visiting over coffee and spending time with her kids were two of the things she loved to do the most. She will be greatly missed by her family and friends.
Lorie is survived by her husband, Harvey Kern; her children Brian (Kari Pederson) Totland of Frazee, MN, and Bridget (Steven) Schussman, Bemidji, MN; best friend Lori Bengtson; grandchildren Jerica, Lane (Kaylie), Taylor, Kylie, MaKenna, Levi, Owen, Leighton, Audrey, Weston, and Braxton; great grandchildren Addie and Bryson; siblings Linda Stach, Dennis (Mary) Totland, Lois (Jerre Sperling) Ditterich, Carol (Wayne) King, Janet (Joey) Bruemmer, Duane Totland, Vickie (David) Nettum, and Julie (Lee) Roberts; numerous nieces and nephews, great nieces and nephews, and great-great nieces and nephews.
Lorie was preceded in death by her grandson Lance Totland, her parents, her grandparents, four brother in laws and two sister in laws.
Visitation: 12PM – 1PM, Saturday, October 28, 2023 at Harvest Fellowship Church, Frazee, MN.
Celebration of Life: 1PM, Saturday, October 28, 2023 at Harvest Fellowship Church.
Inurnment: Oak Grove Cemetery, Detroit Lakes.
Arrangements are in the care of Furey Funeral Home, Frazee, MN.