Lorraine Weeding, 90
Published on July 12, 2022 at 11:06am EDT | Author: Chad Koenen
0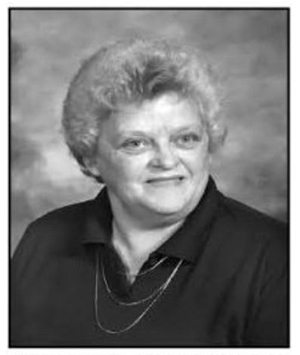 Early Sunday morning, July 3, while surrounded by her four children, Lorraine Ann Weeding was called home after a short illness and reunited with husband, John, who had passed away three years ago.
Lorraine was born to Carl and Betsy Olson in Portland, North Dakota on May 26, 1932. She was one of eight children. Growing up on the family farm in Portland, Lorraine learned many lessons. The values she learned with her family of three brothers and four sisters continued until her last days. Going hand in hand with the love she had for her family and friends was her faith in God, a faith that lasted until the end when she asked Him to take her home. She spent time helping with chores outside, cooking and cleaning. But one lesson she learned that brought her joy was how to make lefse, a flat potato bread. This is a tradition that was eagerly passed to her grandchildren that will continue to bring happy memories, especially at Christmas time, which was a favorite time of year for her. Another lesson she carried through the years was her ability and love of sewing; depending on the time of year, she was sewing wedding dresses, Barbie doll clothes, Halloween costumes or quilts.
Lorraine attended business college in Fargo, North Dakota. While at business college, Lorraine was introduced to John (Jack) Weeding. Their love grew as they spent the weekends going out dancing. On February 14, 1954, they were married and began their adventure together; eventually having four children. Jack and Lorraine spent several years with their children in Fargo, where Lorraine was a stay-at-home mom, and Jack worked as a bookkeeper for a local business. They eventually moved to Detroit Lakes, Minnesota where they purchased a bowling alley, after that they moved to a combination skating rink, convenience store and gas station. They were married for 64 years before Jack was called to heaven, and there was not a day that went by she did not miss him.
Lorraine was always a caregiver. From her days working at the Frazee Care Center and Vergas Assisted Living, she was always finding ways to give to others. This did not stop after she retired, many days she could be found cleaning for a neighbor, doing someone's hair, or trying to help with the Bethlehem Lutheran Church Christmas Shop. This always brought Lorraine joy helping children pick out and wrap presents for their family members. Every life she touched was given a little extra love and laughter.
When she was not helping others, one might find her playing a game of cards, the board game Aggravation with the ladies. In terms of family, nothing put a twinkle in her eyes like her time with the grandchildren, especially her great-grandchildren. Other activities she enjoyed were riding through Tamarac National Forest and Refuge looking for deer and other wildlife, watching the Minnesota Vikings, family vacations at the lake including pontoon rides, sewing and doing crossword puzzles. It was the little things in life that brought her joy, and she has always served as a reminder that without faith and love, little else mattered. For that, we will always have that daily reminder of a mother, grandmother and friend surrounding us.
Lorraine was preceded in death by her husband, Jack Weeding; parents, Carl and Betsy Olson: brothers, Johnny Olson, Carl Olson, and Hartvick Olson, and a sister, Eleanore (Ellie) Osland.
Lorraine is survived by her children Deb (Bruce) Sweere (Perham), Peggy (David) Todryk (Milwaukee), Pam (Randy) Graham (Frazee), and Tim (Lori) Weeding (Menagha): 10 grandchildren and 18 great-grandchildren; sisters, Harriet Schmidt, Marjorie Montplaisir, and Irene Anderson.
Visitation will be held at the Bethlehem Lutheran Church, Frazee, Monday, July 18 at 10:00 AM. The funeral will follow at 11:00 AM.  www.FureyFH.com